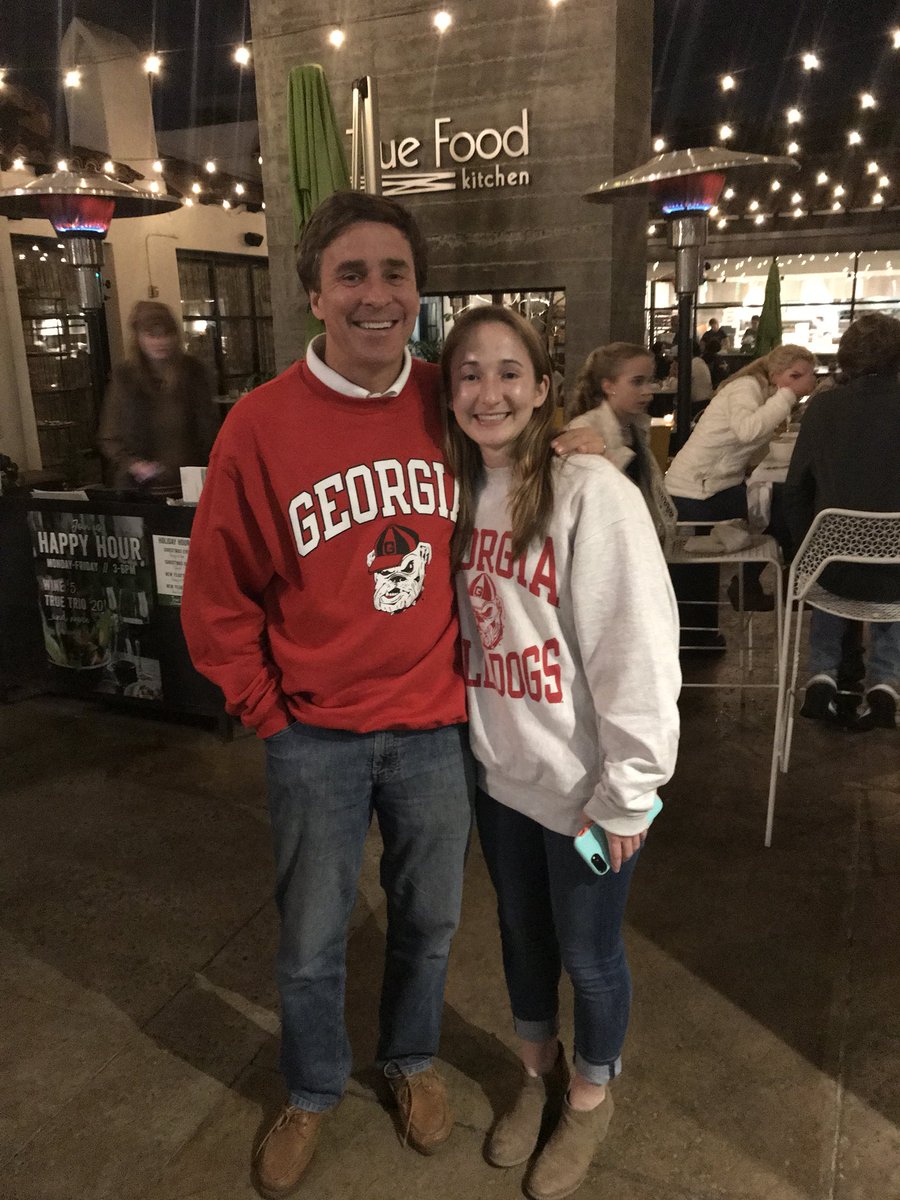 The Georgia fan base has taken Pasadena by storm. Fans get to experience the Los Angeles lifestyle with a Georgia spin. The amenities all have G's on them and they are just getting the ultimate treatment. However, not every Bulldog fan got to make the trip to LA. The fans that stayed home enlighten Bulldawg Illustrated on what they plan on doing for the game. Some of the fans we spoke to are in Pasadena, but most are in Georgia and surrounding areas celebrating. 

Georgia fans at home are getting creative with how they plan to watch the game. Some are grilling out while others plan to watch it at some of the watch parties across the state.
Mrs. Judy Power, @judy_power on twitter said that her group which includes two UGA graduates would party on her back porch. But don't worry she notified the neighbors to not worry in case they get too loud to not call the police!
Party on our back porch, watching Dawgs with UGA graduates(my son and Daughter-in-law), oldest son and two grandsons. It's a family celebration! Food and adult libations. I've notified neighbors not to call police.

— judy power (@judy_power) December 29, 2017
Some Georgia fans aren't certain where they will end up, but Stephen Gillbreath, @preacherman_116 on twitter explained that his plans just might change.
I plan on watching from home right now. That's subject to change lol

— Stephen Gilbreath (@preacherman_116) December 28, 2017
Another fan, Jamie Robinson,@J2424Robinson on Twitter, who resides in Tennessee, but has always loved the Georgia Bulldogs says they will be watching and grilling out for the Rose Bowl. I'm sure he will put on a show for his friends as he says he will be yelling at the TV, until they get to celebrate after the game.
I'm having friends over and grilling out where they can watch me scream and hopefully celebrate after

— JAMIE R. ROBINSON (@J2424Robinson) December 28, 2017
Ninja Dad or @USMCRon1963 on Twitter let intern Savannah Richardson know that he and his wife SuzieQ would also watch from home! It looks like they will have the spread to feed the troops!
Will be watching from the comfort of my home, just me and SuzieQ," Ninja Dad says. "Tailgate right here, ribs, wings with sides and fake beer (non-alcoholic)."
Finally, Tyler Herring @tylervherring on Twitter says that he will head to Atlanta to see the Rose Bowl. Herring will try his luck in a raffle to win National Championship tickets at the venue as well.
I'll be going to The Battery here in Atlanta to watch the game at the Sports and Social place," Herring says. "Hoping to win those NC tickets they're raffling off!"
Most Bulldogs will enjoy the game in the comfort of their homes, but some like Herring will venture out to enjoy the game. Either way, it sounds like these fans have the food and fun to go along with watching the game!
As for the fans in Pasadena, they will have a lot more opportunities to venture out and party with the rest of the Bulldog Nation.
Stacey Bryant, @sbgriffdawg left for California on December 29 and is attending two tailgates and parties. She will attend the Rose Bowl parade and then go to the game to cheer on the Bulldogs at the Grandaddy of them All!
We decided to purchase a package online and do everything through that while out in California," Bryant says. "My husband, Jeff Bryant and I plan on attending a couple parties and tailgates before the game.Then we will attend the Rose Bowl parade and see all the beautiful floats and roses along with the sweet Rose Bowl princesses. I love a good parade and the Rose Bowl parade is high on my bucket list, so I am the most excited about it other than witnessing the game."
Angela Pitts @angela_pitts told intern Savannah Richardson that her party will go to the Rose Bowl Parade and eating at one of the world famous food trucks California is so well-known for!
We will attend the Rose Bowl parade then leave to go to Rose Bowl game & we plan on eating at one of the famous food trucks that will be parked nearby for game day

— 🌹Angela Pitts🌹 (@angela_pitts) December 29, 2017
Georgia fans near and far will make sure they witness the game. Whether they get to see the game in person or stay at home, the team will be supported. One thing is for sure these fans travel and according to Bryant, the fans are everywhere. Videos have emerged of plan rides where passengers 'Call the Dawgs' and pilots playing 'Glory Glory' over the loudspeaker to welcome fans to LA. Give these fans a challenge and they will answer. It will be interesting to see just how much the Rose Bowl stadium is full of Georgia fans and how much red will be in that stadium.
Recent Articles by Savannah Leigh Richardson


[pt_view id="8722077nva"]