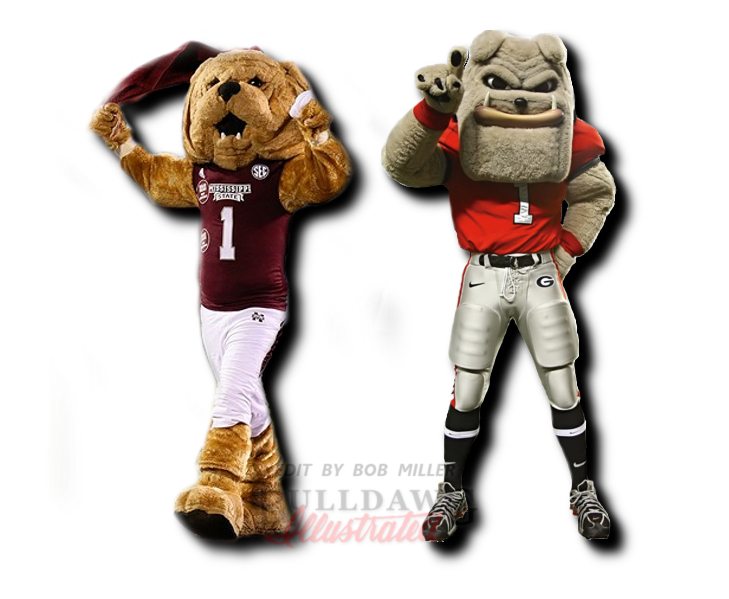 Did you know Georgia vs. Mississippi State… ?


MISSISSIPPI STATE

Mississippi State's women's basketball team was NATIONAL RUNNER-UP a year ago, ending Connecticut's 111-game winning streak in the Final Four.
The grandest accomplishment in Mississippi State men's basketball history came in 1996, as the Maroon Bulldogs advanced to the Final, joining Kentucky for a TWO-TEAM SEC PRESENCE.
Amongst the top accomplishments for MSU head coach DAN MULLEN came in 2010, as he led the Starkville Maroons to wins over Florida, Georgia, and Michigan.
In the first-ever College Football Playoff Poll released in 2014, the NUMBER ONE ranked team was the Mississippi State Bulldogs.
Mississippi State won the 1941 Southeastern Conference championship, the following year Georgia captured its FIRST SEC TITLE.
As a rookie last season, MSU alum DAK PRESCOTT had a tremendous season for the Dallas Cowboys, throwing for 23 touchdowns against four interceptions.

GEORGIA

In Georgia's memorable 29-22 victory over Mississippi State in 1982, both starting quarterbacks, JOHN LASTINGER and JOHN BOND, were Valdosta High School greats.
One of the Bulldogs most impressive wins over MSU was a 47-0 victory in Athens in 1997, Georgia's first SHUTOUT of a conference foe since blanking Florida 44-0 in 1982.
The Godfather of SEC Baseball RON POLK, in between his two stints in Starkville, led Georgia to the 2001 College World Series and Southeastern Conference championship.
Between Mississippi State's wins over Georgia in 1974 and 2010, the Bulldogs from ATHENS won NINE CONSECUTIVE meetings against the Starkville counterparts.
Georgia's ALL-TIME RECORD against Mississippi State in Sanford Stadium is 10-1, with the lone loss coming 19-7 in 1956.
In Georgia's 20-17 win over Mississippi State to open the 1966 SEC Championship season in Jackson, HAPPY DICKS had the game-saving interception for the Dogs.




---
Recent Articles by Murray Poole


[pt_view id="2fb799183g"]