[su_spacer size="20″]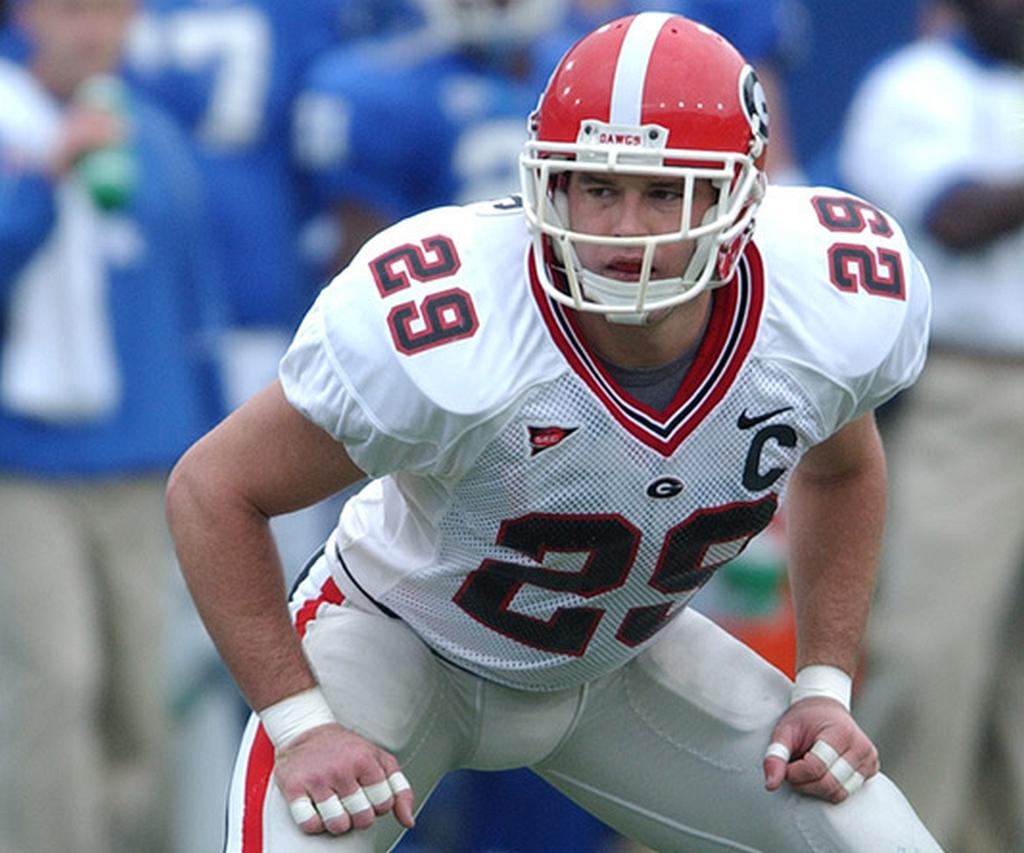 [su_spacer size="40″] If you haven't seen or heard from Burt Jones lately, this is to confirm that he is doing well since he finished Georgia as one of the most accomplished walk-on players of the Mark Richt era. He is a successful businessman and a state Senator, who keeps Georgia on his mind.
[su_spacer size="40″] You remember Burt for making big plays and becoming not only a consequential performer, but also a leader. He was elected special teams captain of the 2002 Bulldogs who won the Southeastern Conference championship, the first for Richt.
[su_spacer size="20″]
When you talk to him, he says he says he is only trying to make things better for his native state when he walks the halls of the Capitol, but those who know him, wonder if there is a higher political notion for Jones who has always been more than a mere participant—getting things accomplished with his quiet, understated style.
[su_spacer size="40″] While he had no affiliation with campus politics during his time at Georgia, he admits that he has always had "an interest in the political process." He was elected to the state senate in 2012 and will run for re-election in 2016. He says that he has no interest in higher office, he, nonetheless rule that out. "Right now," he says, "I want to do what I can to improve government. I am also busy with family and business."
[su_spacer size="40″] In his soft spoken style, he talks about how important it was for his team to win the SEC championship, not drawing any attention to himself for plays like picking up a blocked punt against Arkansas in the Georgia Dome and lunging for the goal line. Decory Bryant blocked the Razorback punt which led to Georgia's first touchdown and a dominating performance to lead to a trip to the Sugar Bowl where the Bulldogs defeated Florida State,
[su_spacer size="40″] "It is fun to walk on, find a spot where you can compete and find playing time," Jones said. "To be able to enjoy an opportunity to play between the hedges and to be recognized for your play, the most important thing is see the team do well. That 2002 season and the success we had was such a wonderful experience. That was the highlight of my career.
[su_spacer size="40″] "Every time I come to Athens and enjoy a game between the hedges, I reminisce about the good times we enjoyed. If you enjoy your teammates and you have success— that is something that you will remember with the greatest of affection for the rest of your life."
[su_spacer size="40″] Jones credits his relationship with UGA as being significant in business and particularly in his budding political career. He remembers introducing himself to a voter in Bostwick, the small community in Morgan County. He was an old timer, a county codger who was plain spoken and overwhelmed with candor. Burt offered him his card and asked if he would vote for him. As he did, Burt noted that he had played for the Dawgs. The man looked at Burt's card, paused for a moment and then said, trying to determine if Burt was running as a Republican or Democrat remarked, "Democrat or Republican, don't matter. If you played for the Bulldogs, I'll vote for you." Enough of those out there in Burt's district must have felt the same way. He was elected on his first political race. "It was obvious," Burt said, "that having a tie with the University of Georgia certainly benefitted me in my first political race."
[su_spacer size="40″] "When Burt was in grade school, his parents brought him to games when led to a bonding that has always endeared Burt to the Georgia campus. He played touch football as his family tailgated at the Pharmacy School. Then he would go to Sanford Stadium and find his way down to the hedges where he tip-toed to watch the Bulldogs warm up, thinking how nice it would be to walk out on the field one day as a Georgia football player.
[su_spacer size="40″] His dream would come true, leaving him with lasting memories. Saturday, Burt Jones is back in Sanford Stadium, serving as honorary captain between the hedges.
[su_spacer size="40″] "How nice it is to have this experience," he said of the invitation. "I had a high regard for Coach Richt when I played for him and now to have him invite me back to serve as an honorary captain leaves me with the greatest of feelings for him and for my alma mater. He really had an impact on my life.
[su_spacer size="40″]
---
[su_spacer size="40″] Make sure to check out
Bulldawg Illustrated's
latest print edition:
Two Damn Good Dogs
, digital issue available for free online. CLICK
HERE
.
[su_spacer size="80″]