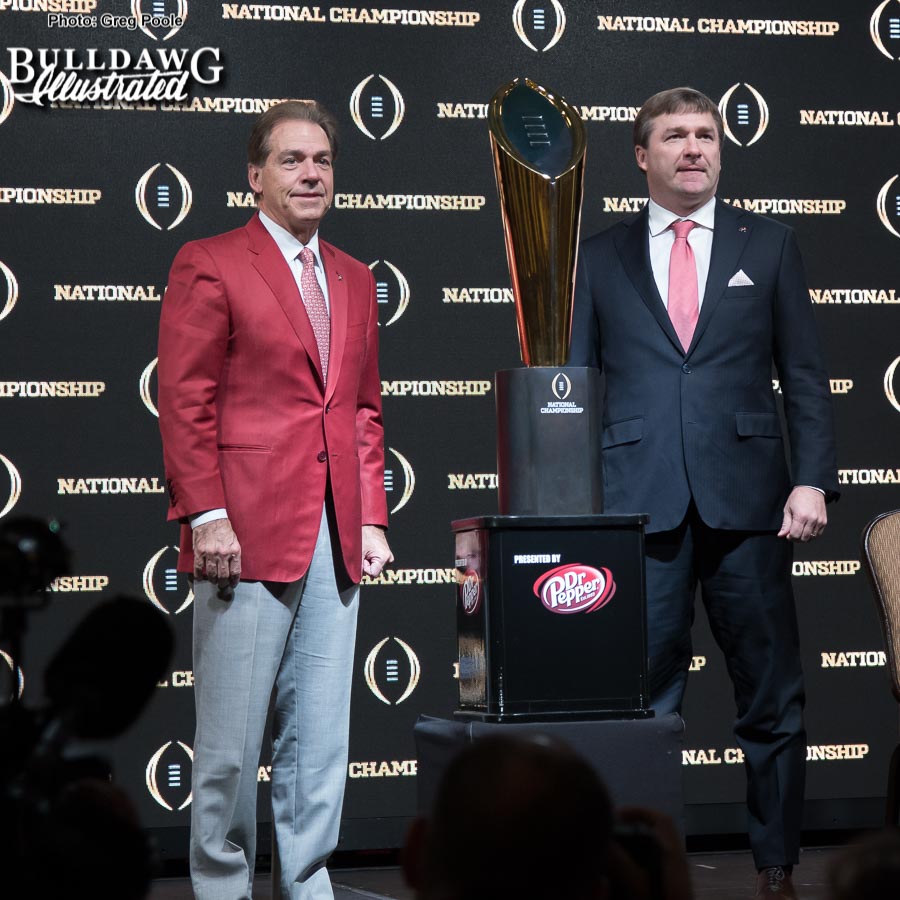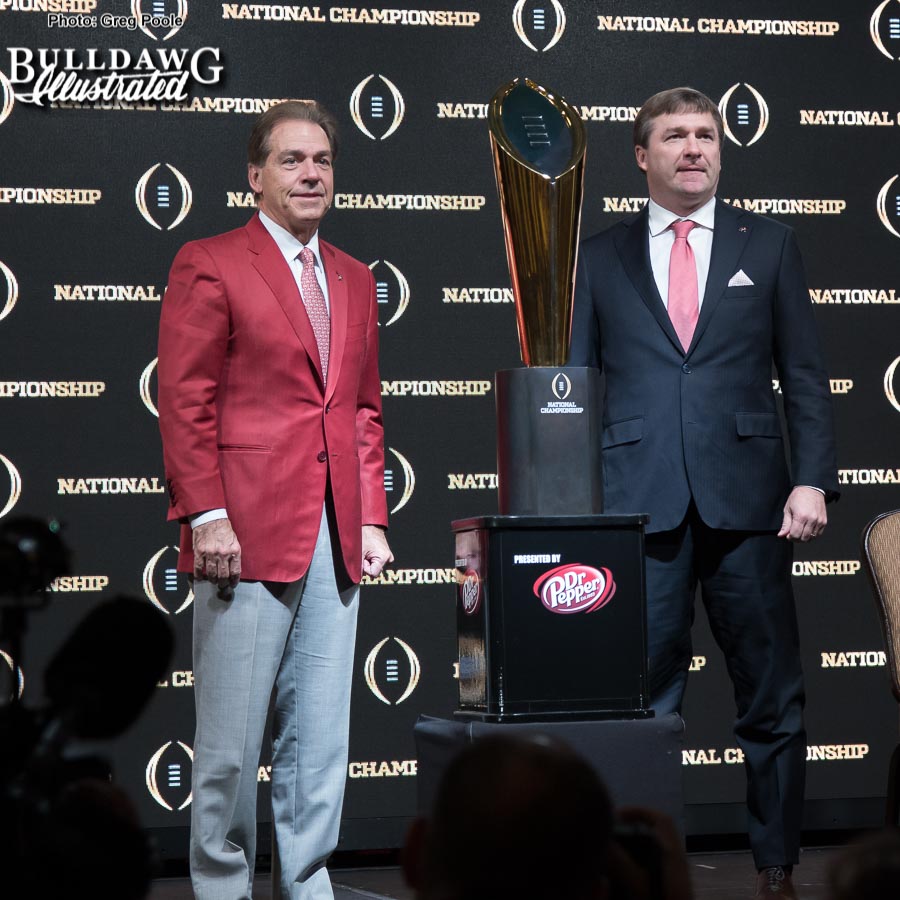 ATLANTA – With Monday night's CFP National Championship Game drawing ever so closer, both Georgia head coach Kirby Smart and Alabama head coach Nick Saban still have concerns as their teams conclude practice and begin the countdown for the all-SEC national finals at Mercedes-Benz Stadium.


Smart and Saban offered their final thoughts on the championship game at Sunday morning's press conference at the Sheraton-Atlanta Hotel, the media headquarters for this year's title tilt.
"For us, it's probably simple," said Smart, whose 13-1, Southeastern Conference champion Bulldogs are coming off a dynamic 54-48 double-overtime victory over Oklahoma in the Rose Bowl semifinal game. "Alabama's got extremely physical offensive and defensive lines. They are as big and as physical as we've faced, and we know we like to run the ball and we like to stop the run, but when you look at the unit that he's comprised and got, it's a dominant, physical team."
"We've got to match the physicality," Smart said. "They do a tremendous job in all phases. There's no weakness when you look across the board. They play their best players on special teams. We've taken a lot of pride in special teams this year at the University of Georgia, and we know what we're up against in these guys because they've got tremendous athletes, tremendous speed, and they've had some injuries to deal with, they've overcome those and created some depth with a lot of the injuries they've had getting some guys back."
"But the biggest concern for us will be the size of the offensive and defensive lines and the physicality of those guys."
Saban said his biggest concern as his 12-1 Sugar Bowl champion Crimson Tide move against the Bulldogs Monday night is all wrapped around Alabama's execution.
"I would say that my biggest concern is how do we execute in terms of things that are important in having success in a game," said Saban. "Some of them Kirby mentioned; because they're two physical teams, can you control the line of scrimmage, are you going to make the kind of errors in a game that are going to be critical factors in the outcome of the game, and turnovers would be a big part of that. Tackling, I always worry about in bowl games and games where you haven't played for a long time," Saban added. "We missed some tackles in last week's game (in 24-6 win over Clemson), and the quality of running backs that they (Bulldogs) have and the skill players that they have, I think those factors are going to be huge in a game in terms of doing a good job in those areas."
"When you're playing against a really good team, and probably two teams that are fairly evenly matched and two teams that philosophically are not a whole lot dissimilar in terms of the things they want to do to win. Run the ball, don't turn the ball over, play good field position, be good on special teams, so it's going to be the errors and execution that have a critical effect on the outcome of the game."
"But I think we're playing against an outstanding team," said Saban. "I think Kirby and his staff have done a fabulous job at Georgia in terms of the high level that their players compete at, the quality of players that they have, how well they play together as a team, and certainly they deserve a lot of congratulations for what they've been able to accomplish this year, and I think it's two great teams, will be a great, competitive game, and our players are certainly looking forward to the challenges and the opportunity of playing in the championship game."
All week, leading up to the championship clash, much has been made about the relationship between Smart and Saban, what with the Georgia coach having served nine years on the Alabama staff under Saban. Sunday morning, Smart was asked what is the single biggest thing that he learned from Saban?
"Well, this is not the first time I've answered this question this week, so I'll be happy to answer it again," replied Smart. "But probably the single greatest thing is just the level of commitment to the organization, holding everybody in the organization to a standard that he kind of embraced himself. He never asked anybody in the organization to work any harder than he did. He held every person on the staff — and I'm not talking about just the coaching staff, I'm talking about the entire organization, to be at their best."
"And I think that's sometimes a lost art in some organizations," Smart said. "You see successful business organizations run that way, but you don't always see athletic programs run that way, and I think he does a tremendous job of that, and if there's anything I took, it's being in that seat and having to be in command, make decisions, and make sure that everybody understands the message that's coming from the top down and the standard that you want people to work to. I've got a lot of respect for him. And I don't think people appreciate what he's been able to do in the most competitive college football league for a long time, and when you start talking about what he's been able to do, I think it's pretty incredible."
Whereas Clemson and Alabama had a full nine days last year to prepare for the championship game, Monday's contest will mark only a seven-day period since Georgia and the Crimson Tide won their semifinal matchups. And to compound that fact, the Bulldogs had to make the long flight back from Los Angeles after the Rose Bowl win while the Tide, though having a shorter distance to travel back to Tuscaloosa, did have the return flight from the Sugar Bowl in New Orleans. That said, were the coaches able to approximate practice during the week, kind of get it close to a normal week as much as they could? How satisfied were Smart and Saban as to the way their players adapted to that situation?
"You know, I think it was a challenge," said Smart. "I think everybody forgets last year there were nine days between these games, and I certainly think it's a fast turnaround. I think a big deal has been made about it. But we all know that both teams really had the same time. Our travel was different, but they played a much later game. So they had to play much later at night and get finished much later at night, so it's tough in both parts."
"I think I saw early in the week the trouble with it, but as the weeks passed, these guys have been practicing for 15 games, and also they've had practice for bowls, really 15 practices," Smart continued. "You start looking at some of the cumulative effect, and you've got to be smart with your team. You've got to know what you're doing. In a perfect world I'd like to have a little more time between the championship games, but that's the way it fell this year, and that's the way it is: so much time to prepare for one game, and then a really quick turnaround that creates a lot of pressure on these kids for the short turnaround."
Saban said the short time of preparation wasn't ideal but shouldn't have an effect on the game's outcome Monday night.
"Basically, as coaches, we had probably about a normal amount of time that we would have for a normal game during the season," said Saban, who with a win on Monday would match the record six national championships won by legendary Alabama coach Paul "Bear" Bryant. "I think the circumstances are a little bit different because of the travel, bowl games, staying in a place, trying to get back, those types of things. But it was a little tougher turnaround for the players. I don't know if it's physically, emotionally, psychologically, however you want to put it, early in the week, to refocus on another big game. But I think as the game, as the week went on, you saw them recover, and I think they're all excited about playing in the game.
"The situation is the same for both teams," declared Saban, "and I don't think it'll have any effect on the outcome based on the circumstances. It'll just be about the players who go out there and how they compete in the game."
Saban said he's extremely proud of the job his former defensive coordinator has done in steering the Bulldogs into the national championship game, in just Smart's second season at the UGA helm.
"Well, I'm extremely proud of anyone on our staff who goes on and does a good job," Saban said. "One thing that I've said is I always tell guys, and I told Kirby this when he left, be your own man, be yourself, do it the way you think it ought to be done. Don't try to be somebody else. I think he's done a fantastic job of that."
One media rep advised Saban that he seemed to yell at Kirby a lot less on the sideline when he was at Alabama, than he did some assistants.
"You know, I don't know — I don't yell at my assistants very much at all, I don't think, but there are occasions where you get upset with, whether it's a circumstance in the game or a situation in the game, or maybe you did something that's sort of out of the plan, and you get a little upset about it," Saban said.
"I don't really ever recall getting really upset at Kirby. I'm sure that he can remember a few times that I got on him unjustifiably, and maybe a couple times where maybe it was justified, I don't know. But look, it's always about trying to make somebody better and make them understand, and I think we play a very emotional game sometimes, so I never want to get angry, and I never want to be mad, and I never want to show disappointment in a player or a coach. But Kirby did as good a job as anybody ever did for us in the time that he was with us and whatever his role was and especially when he was in a position of responsibility."
With all the pre-game preparation virtually over, what are the head coaches doing with their teams in the next 24 hours leading up to Monday's 8:15 p.m. kickoff
"I'm just doing whatever he (Saban) did, so not a whole lot of difference," answered Smart. "I mean, we're trying to go watch a movie tonight, and they're trying to go watch the movie at the same place, so we're having to offset 10 minutes," he said, drawing laughter.
"But I think every program I've ever been a part of there's some similarities in what they do the day before the game, and I think every coach has his — I don't know if you'd call it superstitions or routine might be a better word that they use to get themselves ready, get their staff ready and get their players ready. But I think the next 24 hours can be critical," said Smart. "I've talked a long time about this playoff being perspective, with what perspective do you take this game? And I think that's the one spot that Alabama has a competitive advantage because they've got a huge chip on their shoulder thanks to you guys and some of you guys saying they shouldn't have been included, so they've got something to prove. And I think every team that gets in the playoff has got something to prove. But how you approach things in the last 24 hours and what you do mentally are really important to your team's success."
"I think the hay in the barn analogy that you used is probably not something that I ever really think of it that way," countered Saban. "I think that from yesterday's practice, which is about 48 hours from the game, give or take, I think the mental practice that a player has, whether it's making calls, watching film, whether you have meetings, whether you have walk-throughs, whether you have chair drills, I think those mental reps that they get, I think physically the hay is in the barn. You're not out there blocking and tackling people, and we've always tried to focus in those — from Thursday's practice until the game, having several opportunities for guys to get the kind of mental practice where they may be able to eliminate some mental errors in a game that could affect the outcome of the game."
After those responses, the coaches were specifically asked what movie their teams will take in Sunday night?
"To be honest with you, I'm not sure of the name of it," replied Smart. "I'm excited about it, but I've been told it has a lot of purpose. We've got a special release. I think Alabama was able to watch it last week. I think it's '12 Strong.'"
"Yeah, it's a good movie," said Saban. "I don't know what we're watching. Don't ask."
---
Recent Articles by Murray Poole
[pt_view id="2fb799183g"]