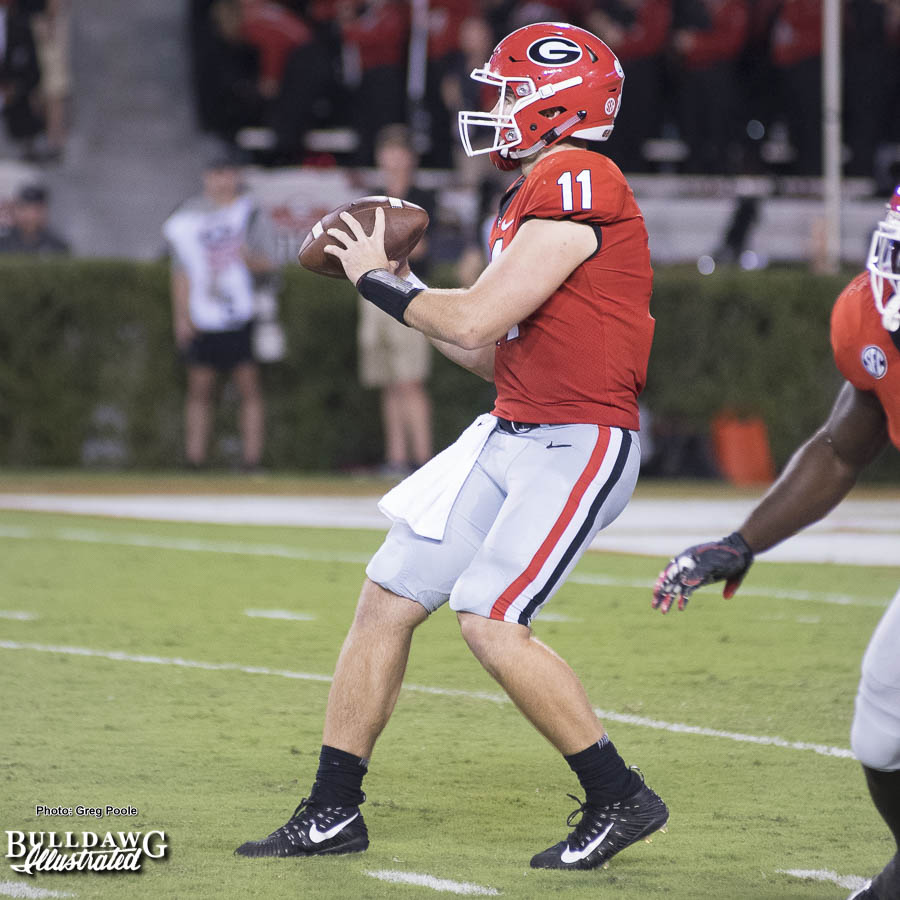 It was an East versus West SEC showdown between the hedges at Sanford Stadium on Saturday night in Athens where Georgia hosted Mississippi State, and it did not take long for the Bulldogs in red and black to assert their dominance.


On the first offensive play of the game for UGA, Offensive Coordinator called a "flea-flicker" play where Jake Fromm took the snap, handed off to tailback Nick Chubb, and Chubb flipped the ball back to Fromm. The true freshman quarterback then found a wide-open Terry Godwin for a 59-yard touchdown pass. Georgia never looked back as they rolled up 404 yards of total offense and 31 points on Mississippi State. Meanwhile, the Georgia defense continues to dominate and held State in check most of the night. The Starkville Bulldogs could only manage 3 points off of three trips into the red zone, and their potent rushing offense, which had been averaging 298 yards per game, was held to 177.


Georgia continues to run the ball via committee as Nick Chubb gained 81 yards and 2 touchdowns on 15 carries, D'Andre Swift had 69 yards on 10 carries, Sony Michel toted the rock 7 times for 32 yards, and Brian Herrien got 9 carries for 26 yards on the night. As a team, UGA rushed for over 200 yards again on the ground for a net total of 203.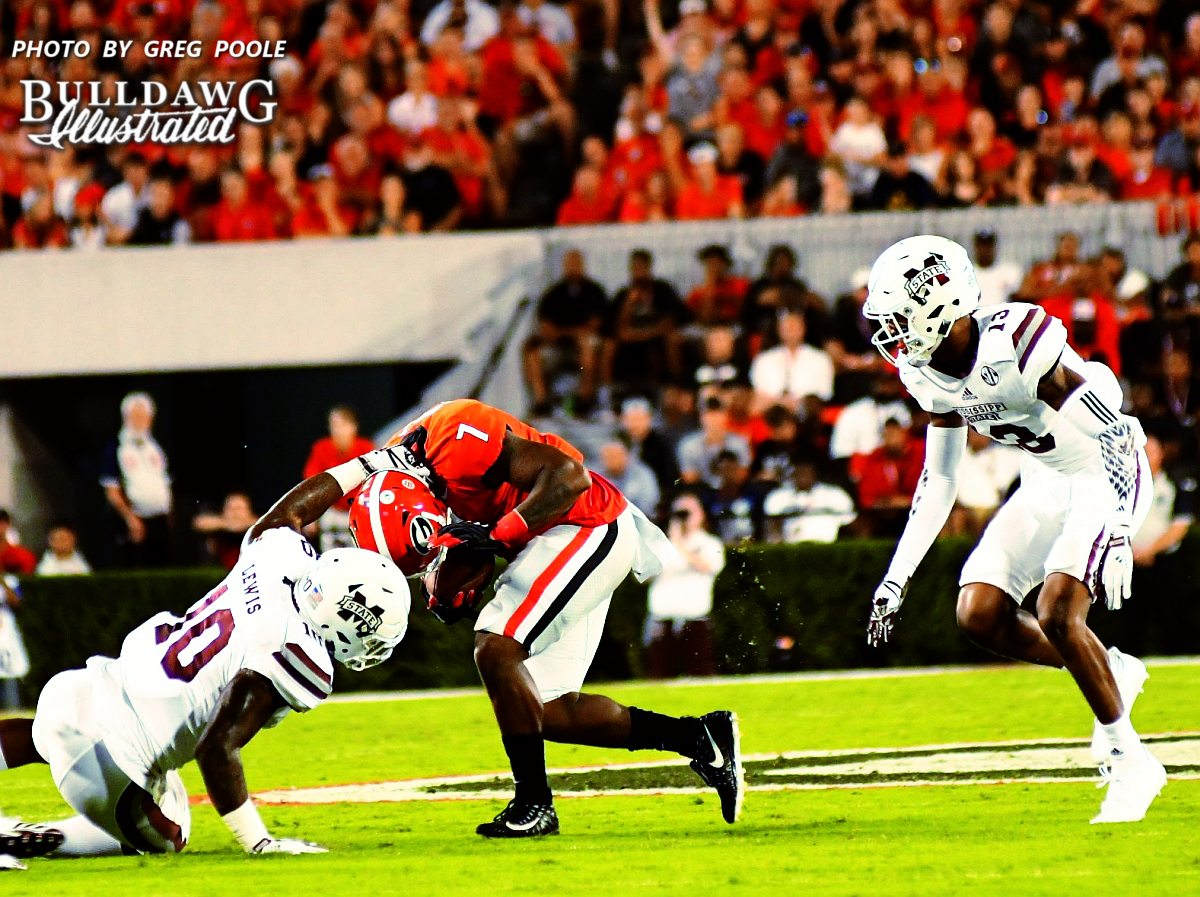 Jake Fromm was efficient passing the ball, going 9-of-12 for 201 yards and 2 touchdowns, but most importantly, he did not turn the ball over. The Classic City Dogs weren't perfect in the turnover department, however, as D'Andre Swift did lose a fumble after Fromm completed an 8-yard pass to the freshman tailback in the second quarter. The call was questionable as his knee appeared to be down before he lost the ball, but officials did not overturn the call on the field as there was not enough evidence after reviewing the play via replay. That would be Georgia's only turnover on the night, though.


And the Georgia D would help out the offense in that regard by not allowing Miss State offense to capitalize on the turnover. In fact, UGA's defense would cause Mississippi State quarterback Nick Fitzgerald to throw two interceptions during the course of the game with Deandre Baker picking off the first one in the third quarter and senior safety Dominick Sanders would follow suit on State's next offensive series with an interception of his own, marking his 13th pick of his career.


Redshirt sophomore defensive back J.R. Reed continues to impress and led the team in tackles with 10 on the night. He also had 3 pass breakups. Roquan Smith was the second leading tackler again with 8. Georgia was not able to sack Fitzgerald but did affect him with pressure and hits. Like a heavyweight boxing match, those body blows added up.


Special teams were again phenomenal for Georgia as Rodrigo Blankenship was perfect on kickoffs with all six into the end zone for touchbacks. The redshirt sophomore kicker also booted a 49-yard field goal and was a perfect 4-for-4 on PATs. Cameron Nizialek punted the ball four times for an average of 45.4 yards per kick and had a long of 54. None of Georgia's punts were returned by Mississippi State.


Here are the complete final stats from the UGA-Mississippi State game along with the participation report.


Team Statistics
Statistic
MS
UGA
FIRST DOWNS
Total
15
15
Rushing
10
7
Passing
5
7
Penalty
0
1
RUSHING
Total (Net)
177
203
Attempts
37
42
Avg. Per Rush
4.8
4.8
Rushing TDs
0
2
Yds. Gained
179
213
Yds. Lost
2
10
PASSING
Total (Net)
103
201
Comp.-Att.-Int.

15

–

33

–

2

9

–

12

–

0

Avg. / Att.
3.1
16.8
Avg. / Comp.
6.9
22.3
TDs
0
2
TOTAL OFFENSE
Yards
280
404
Plays
70
54
Avg. / Play
4.0
7.5
Fumbles – Lost

0

–

0

1

–

1

Penalties – Yds.

4

–

35

4

–

35

PUNTING
Punts – Yds.

7

–

315

4

–

182

Avg. / Punt

45.0

45.5

Inside 20

4

1

50+ Yds.

3

1

Touchbacks

1

0

Fair Catch

4

3

KICKOFFS
Total – Yds.

2

–

130

6

–

390

Avg. Yds. / Kickoff

65.0

65.0

Touchbacks

1

6

RETURNS
Punt: Total – Yds. – TDs
0-0-0

1–3-0

Punt: Avg. / Return
0

-3.0

Kickoff: Total – Yds. – TDs
0-0-0

1-25-0

Kickoff: Avg. / Return
0

25.0

INT: Total – Yds. – TDs
0-0-0

2-37-0

Fumble: Total – Yds. – TDs
0-0-0
0-0-0
MISCELLANEOUS
Misc. Yards

0

0

Poss. Time

28:41

31:19

3rd. Down Conv.

6

 of 

16

5

 of 

11

4th. Down Conversions

1

 of 

2

0

 of 

1

Red-Zone: Scores – Chances

1

–

3

1

–

1

Sacks: Total – Yds.

0

–

0

0

–

0

PAT: Total – Made
0-0

4-4

Field Goals: Total – Made

1

–

1

1

–

1
Offensive Stats
MS – Passing

| Player | Cmp | Att. | Yds. | TD | INT | Long | Sack |
| --- | --- | --- | --- | --- | --- | --- | --- |
| Fitzgerald,Nick | 14 | 29 | 83 | 0 | 2 | 21 | 0 |
| Keytaon Thompson | 1 | 4 | 20 | 0 | 0 | 20 | 0 |
| TOTALS | 15 | 33 | 103 | 0 | 2 | 21 | 0 |
UGA – Passing

| Player | Cmp | Att. | Yds. | TD | Int. | Long | Sack |
| --- | --- | --- | --- | --- | --- | --- | --- |
| Jake Fromm | 9 | 12 | 201 | 2 | 0 | 59 | 0 |
| TOTALS | 9 | 12 | 201 | 2 | 0 | 59 | 0 |
MS – Rushing

| Player | Att. | Gain | Loss | Net | TD | Lg. | Avg. |
| --- | --- | --- | --- | --- | --- | --- | --- |
| Gibson,Nick | 5 | 53 | 1 | 52 | 0 | 39 | 10.4 |
| Fitzgerald,Nick | 10 | 47 | 0 | 47 | 0 | 14 | 4.7 |
| Williams,Aeris | 11 | 24 | 0 | 24 | 0 | 5 | 2.2 |
| Hill,Kylin | 7 | 22 | 1 | 21 | 0 | 9 | 3.0 |
| Keytaon Thompson | 2 | 15 | 0 | 15 | 0 | 13 | 7.5 |
| Mixon,Keith | 1 | 11 | 0 | 11 | 0 | 11 | 11.0 |
| Lee,Dontavian | 1 | 7 | 0 | 7 | 0 | 7 | 7.0 |
| TOTALS | 37 | 179 | 2 | 177 | 0 | 39 | 4.8 |
UGA – Rushing

| Player | Att. | Gain | Loss | Net | TD | Lg. | Avg. |
| --- | --- | --- | --- | --- | --- | --- | --- |
| Nick Chubb | 15 | 83 | 2 | 81 | 2 | 28 | 5.4 |
| D'Andre Swift | 10 | 72 | 3 | 69 | 0 | 20 | 6.9 |
| Sony Michel | 7 | 32 | 0 | 32 | 0 | 8 | 4.6 |
| Brian Herrien | 9 | 26 | 5 | 21 | 0 | 7 | 2.3 |
| Jake Fromm | 1 | 0 | 0 | 0 | 0 | 0 | 0.0 |
| TOTALS | 42 | 213 | 10 | 203 | 2 | 28 | 4.8 |
MS – Receiving

| Player | Rec. | Yds. | TD | Long |
| --- | --- | --- | --- | --- |
| Thomas,Deddrick | 2 | 41 | 0 | 21 |
| Jackson,Jesse | 2 | 15 | 0 | 12 |
| Gray,Donald | 2 | 13 | 0 | 7 |
| Williams,Aeris | 5 | 12 | 0 | 9 |
| Mixon,Keith | 3 | 12 | 0 | 5 |
| Hill,Kylin | 1 | 10 | 0 | 10 |
| TOTALS | 15 | 103 | 0 | 21 |
UGA – Receiving

| Player | Rec. | Yds. | TD | Long |
| --- | --- | --- | --- | --- |
| Terry Godwin | 2 | 80 | 1 | 59 |
| Javon Wims | 2 | 43 | 0 | 27 |
| Isaac Nauta | 1 | 41 | 1 | 41 |
| Mecole Hardman | 1 | 18 | 0 | 18 |
| D'Andre Swift | 1 | 8 | 0 | 8 |
| Jackson Harris | 1 | 8 | 0 | 8 |
| Sony Michel | 1 | 3 | 0 | 3 |
| TOTALS | 9 | 201 | 2 | 59 |
Defensive Stats
---
Recent Articles by Bob Miller


[pt_view id="83405b425p"]