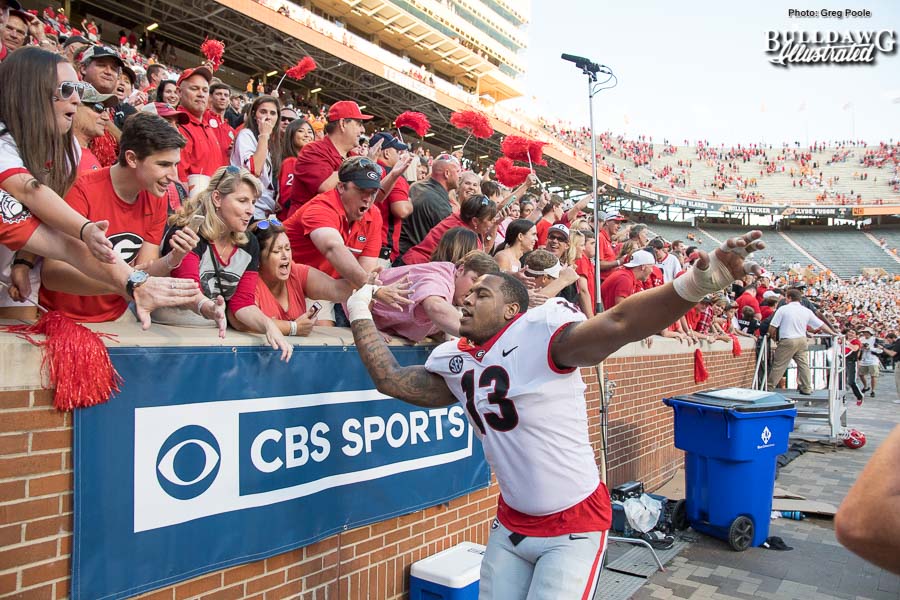 The seventh-ranked Georgia Bulldogs remain undefeated, getting their fifth win on the season with an emphatic 41-0 victory over SEC Rival Tennessee on Saturday evening in Knoxville. Let's dive into the final stats and look at the participation report for Georgia vs. Tennessee.


The Dog's defense once again was dominant, only allowing the Volunteers to amass 142 total yards of offense. Tennessee running back John Kelly was held in check, gaining only 44 yards on 16 carries, an average of only 2.75 yards per rush. The junior had been averaging 112.5 yards per game and 5.48 yards per carry. Perhaps even more impressive is Georgia held Tennessee to just 80 yards through the air as both Volunteer quarterbacks struggled against UGA's pass rush and secondary. Quinten Dormady was held to 5-of-16 passing and was intercepted twice while Jarrett Guarantano only completed six passes for 17 yards.


In fact, if it was not for one pass play of 44 yards in the second-quarter, a play which John Kelley fumbled and lost, the Georgia-D would have held the Volunteers to under 100-yards of total offense on the afternoon. Tennesse had a difficult time sustaining drives on offense, only converting one of their 12 third-down attempts and managed only 7 total first downs.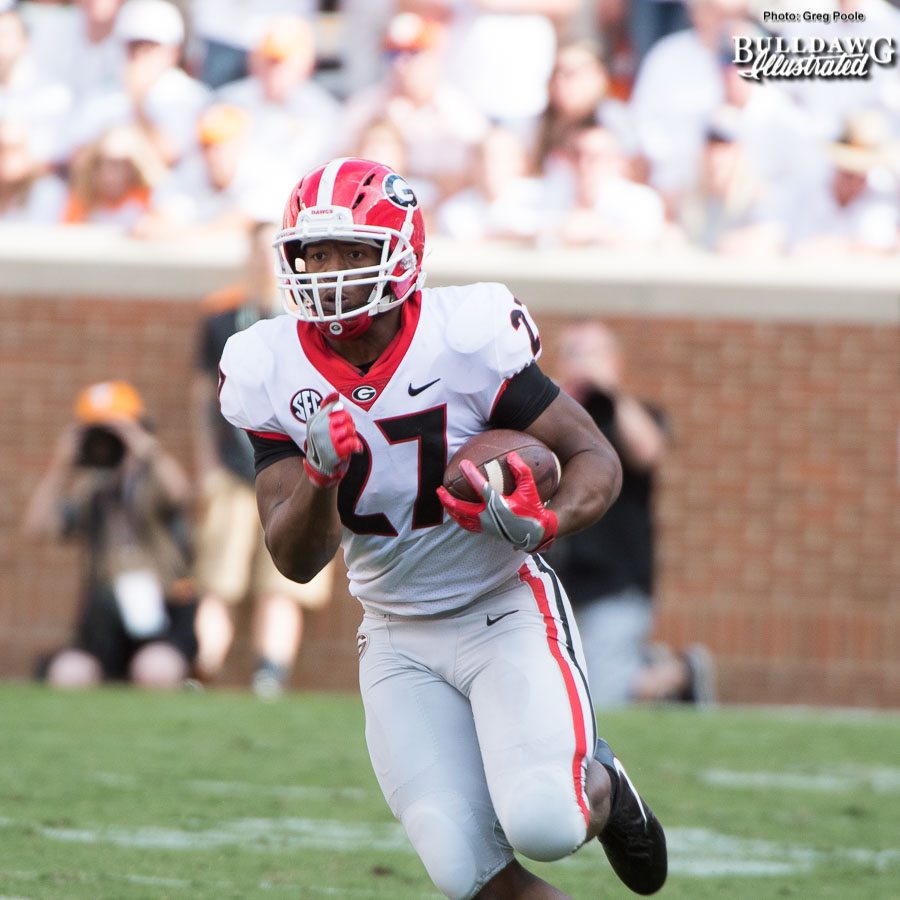 On offense, the Bulldogs continued to grind and pound it out, rolling up 294 yards of their 378 yards of total offense on the ground. Seven Georgia players carried the rock 55 times including quarterback Jake Fromm using his legs on 7 carries for 20 yards and 2 touchdowns. Note, that 2 of those attempts were actually QB sacks. Wide receiver and return specialist also had 1 carry, which resulted in a 2-yard loss.


The other five rushers were tailbacks with Nick Chubb leading the charge on 16 carries for 109 yards, averaging a healthy 6.8 yards per carry. His fellow senior teammate, Sony Michel, was second on the night with 11 carries for 64 yards and a score. Elijah Holyfield had 7 carries for 51 yards while true freshman D'Andre Swift had 5 for 36 yards.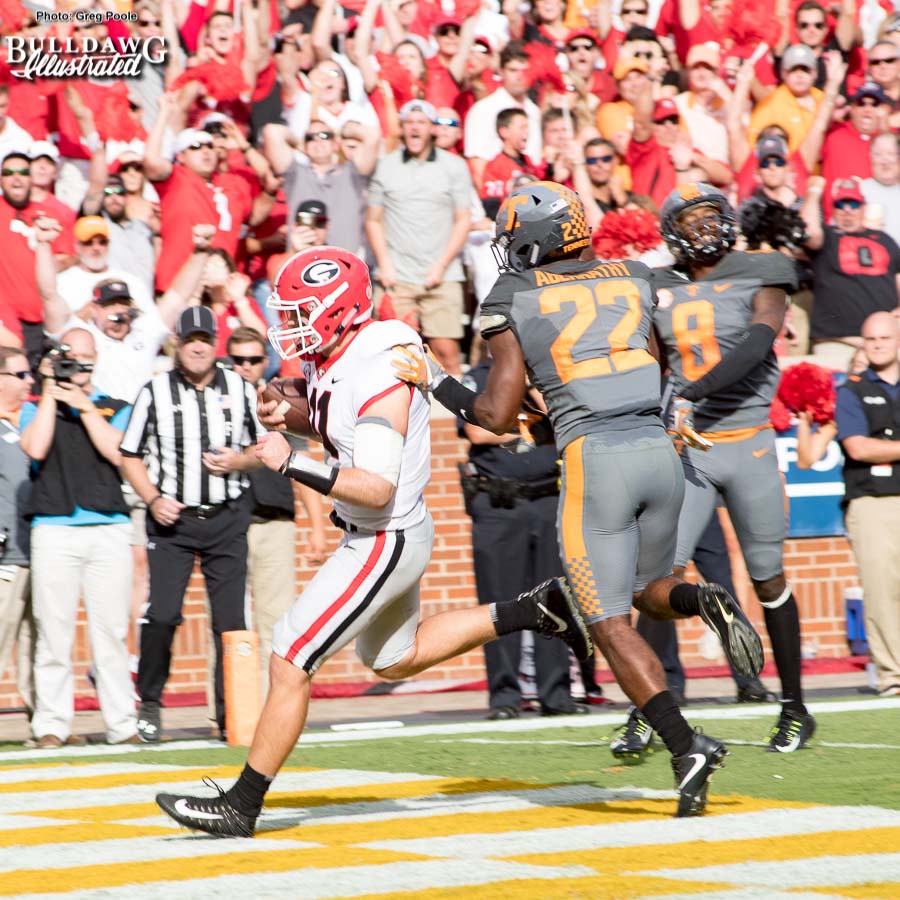 Jake Fromm was not perfect passing the ball but did enough to keep the Tennessee defense off balance. The true freshman was 7-for-15 for 84 yards and one touchdown to one interception. Sophomore Jacob Eason returned to the field in the 4th quarter since he suffered a sprained knee in the first game of the season. He attempted 1 pass but it was ruled incomplete.


Terry Godwin and Javon Wims were UGA's leading receivers on the evening. Godwin had 2 receptions for 43 yards while Wims had 3 for 33 and a touchdown. D'Andre Swift had 1 catch for 5 yards and tight end Isaac Nauta also had 1 reception for 3 yards.


Georgia special teams again were stellar. Punter Cameron Nizialek's average was not as high in this contest as it has been in previous ones but that had to do with punting to try to pen Tennessee inside the twenty on a shorter field at the end of stalled drives near midfield. Nizialek had 5 punts for 176 yards with a long of 59 yards. Three of his five punts were downed inside the 20. And Tennessee did not have a successful return.


Rodrigo Blankenship was once again Mr. Automatic on kickoffs with 7 of his kicks going into or through the end zone for touchbacks. Blankenship was good on his one field goal attempt from 38-yards out and perfect on all 5 of his PATs. David Marvin also got some work in the fourth quarter and had a 65-yard kickoff that was returned by Tim Jordan to the Vol's 26-yard line. Marvin attempted one field goal from 19-yards out and successful.


On returns, Georgia did not have any kick returns, but Mecole Hardman, Jr. returned 4 punts for 45-yards with a long return of 28.


With the win, the Bulldogs get their 800th win in the history of the University of Georgia football program and 22nd win over Tennessee. It is still early in the race to the division title and the SEC Championship game, but Georgia is in second place in the SEC East with two conference wins on the heels of first-place Florida who currently have three. Next Saturday, the Bulldogs travel back to the state of Tennessee, this time to the city of Nashville and a date with the (3-2) Vanderbilt Commodores. That game is scheduled for a 12 Noon kickoff


Here are the complete final stats along with the participation report.


Team Statistics
Statistic
UGA
UT
FIRST DOWNS
Total
20
7
Rushing
13
3
Passing
5
2
Penalty
2
2
RUSHING
Total (Net)
294
62
Attempts
55
29
Avg. Per Rush
5.3
2.1
Rushing TDs
4
0
Yds. Gained
316
85
Yds. Lost
22
23
PASSING
Total (Net)
84
80
Comp.-Att.-Int.

7

–

17

–

1

11

–

23

–

2

Avg. / Att.
4.9
3.5
Avg. / Comp.
12.0
7.3
TDs
1
0
TOTAL OFFENSE
Yards
378
142
Plays
72
52
Avg. / Play
5.2
2.7
Fumbles – Lost

3

–

0

2

–

2

Penalties – Yds.

6

–

65

5

–

26

PUNTING
Punts – Yds.

5

–

176

9

–

373

Avg. / Punt

35.2

41.4

Inside 20

3

1

50+ Yds.

1

4

Touchbacks

0

2

Fair Catch

1

1

KICKOFFS
Total – Yds.

8

–

515

1

–

65

Avg. Yds. / Kickoff

64.4

65.0

Touchbacks

5

1

RETURNS
Punt: Total – Yds. – TDs

5-49-0

0-0-0
Punt: Avg. / Return

9.8

0
Kickoff: Total – Yds. – TDs
0-0-0

3-60-0

Kickoff: Avg. / Return
0

20.0

INT: Total – Yds. – TDs

2

–

34

–

0

1

–

0

–

0

Fumble: Total – Yds. – TDs
0-0-0
0-0-0
MISCELLANEOUS
Misc. Yards

0

0

Poss. Time

34:59

25:01

3rd. Down Conv.

9

 of 

16

1

 of 

12

4th. Down Conversions

0

 of 

0

0

 of 

1

Red-Zone: Scores – Chances

6

–

6

0

–

0

Sacks: Total – Yds.

3

–

17

2

–

13

PAT: Total – Made

5-5

0-0
Field Goals: Total – Made

2-2

0-0
Offensive
UGA – Passing

| Player | Cmp | Att. | Yds. | TD | INT | Long | Sack |
| --- | --- | --- | --- | --- | --- | --- | --- |
| Jake Fromm | 7 | 15 | 84 | 1 | 1 | 24 | 2 |
| D'Andre Swift | 0 | 1 | 0 | 0 | 0 | 0 | 0 |
| Jacob Eason | 0 | 1 | 0 | 0 | 0 | 0 | 0 |
| TOTALS | 7 | 17 | 84 | 1 | 1 | 24 | 2 |
UT – Passing

| Player | Cmp | Att. | Yds. | TD | Int. | Long | Sack |
| --- | --- | --- | --- | --- | --- | --- | --- |
| Quinten Dormady | 5 | 16 | 64 | 0 | 2 | 44 | 1 |
| Jarrett Guarantano | 6 | 7 | 16 | 0 | 0 | 9 | 2 |
| TOTALS | 11 | 23 | 80 | 0 | 2 | 44 | 3 |
UGA – Rushing

| Player | Att. | Gain | Loss | Net | TD | Lg. | Avg. |
| --- | --- | --- | --- | --- | --- | --- | --- |
| Nick Chubb | 16 | 109 | 0 | 109 | 0 | 23 | 6.8 |
| Sony Michel | 11 | 67 | 3 | 64 | 1 | 21 | 5.8 |
| Elijah Holyfield | 7 | 51 | 0 | 51 | 0 | 32 | 7.3 |
| D'Andre Swift | 5 | 36 | 0 | 36 | 0 | 22 | 7.2 |
| Brian Herrien | 6 | 20 | 0 | 20 | 1 | 6 | 3.3 |
| Jake Fromm | 7 | 33 | 13 | 20 | 2 | 12 | 2.9 |
| Mecole Hardman | 1 | 0 | 2 | -2 | 0 | 0 | -2.0 |
| TEAM | 2 | 0 | 4 | -4 | 0 | 0 | -2.0 |
| TOTALS | 55 | 316 | 22 | 294 | 4 | 32 | 5.3 |
UT – Rushing

| Player | Att. | Gain | Loss | Net | TD | Lg. | Avg. |
| --- | --- | --- | --- | --- | --- | --- | --- |
| John Kelly | 16 | 46 | 2 | 44 | 0 | 8 | 2.8 |
| Carlin Fils-Aime | 3 | 16 | 0 | 16 | 0 | 10 | 5.3 |
| Jarrett Guarantano | 5 | 9 | 13 | -4 | 0 | 6 | -0.8 |
| Ty Chandler | 2 | 7 | 0 | 7 | 0 | 7 | 3.5 |
| Tim Jordan | 1 | 7 | 0 | 7 | 0 | 7 | 7.0 |
| Quinten Dormady | 1 | 0 | 4 | -4 | 0 | 0 | -4.0 |
| TEAM | 1 | 0 | 4 | -4 | 0 | 0 | -4.0 |
| TOTALS | 29 | 85 | 23 | 62 | 0 | 10 | 2.1 |
UGA – Receiving

| Player | Rec. | Yds. | TD | Long |
| --- | --- | --- | --- | --- |
| Terry Godwin | 2 | 43 | 0 | 24 |
| Javon Wims | 3 | 33 | 1 | 14 |
| D'Andre Swift | 1 | 5 | 0 | 5 |
| Isaac Nauta | 1 | 3 | 0 | 3 |
| TOTALS | 7 | 84 | 1 | 24 |
UT – Receiving

| Player | Rec. | Yds. | TD | Long |
| --- | --- | --- | --- | --- |
| John Kelly | 4 | 47 | 0 | 44 |
| Ty Chandler | 3 | 15 | 0 | 9 |
| Josh Palmer | 1 | 9 | 0 | 9 |
| Jeff George | 1 | 7 | 0 | 7 |
| Ethan Wolf | 1 | 3 | 0 | 3 |
| Tim Jordan | 1 | -1 | 0 | 0 |
| TOTALS | 11 | 80 | 0 | 44 |
---
Recent Articles by Bob Miller


[pt_view id="83405b425p"]