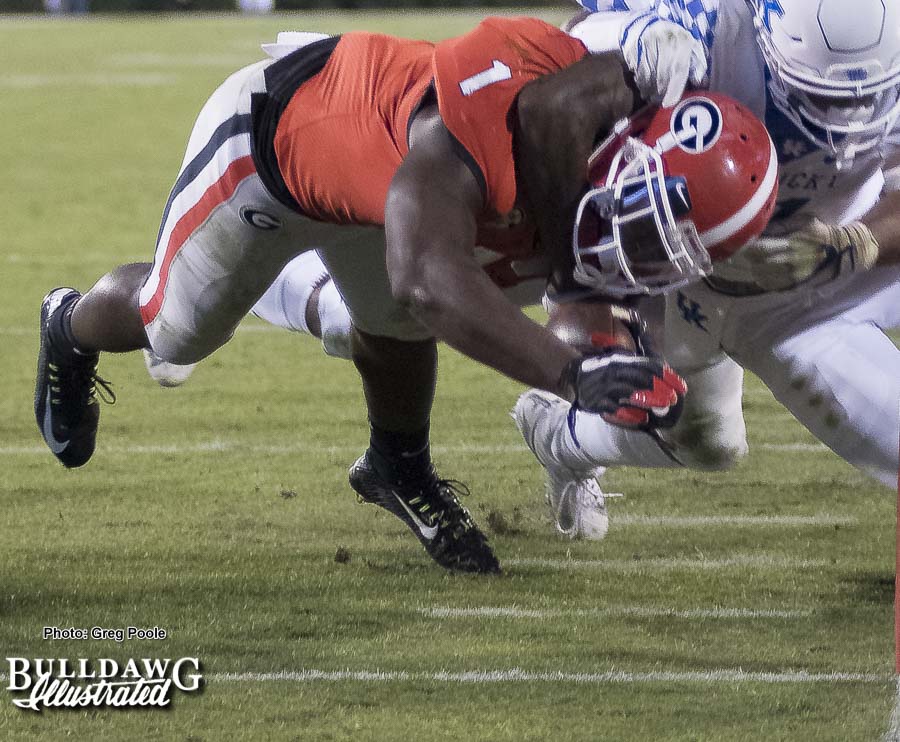 Here is the final stats and participation report from 7th-ranked Georgia's tenth win of the season, 42-13 over Kentucky on Saturday evening in Sanford Stadium.


With the victory over the Wildcats, Georgia moves to (10-1) overall on the year and (7-1) in the SEC, and the 2017 Bulldogs also become the first UGA football team to go undefeated against the SEC East since the conference split into divisions in 1992. It is also the first time in 5 years, since 2012, that Georgia has gone undefeated (6-0) at home in Sanford Stadium. Saturday's game was also the final home game for 31 UGA seniors, who were honored in a ceremony prior to kickoff. The Bulldogs move to 57-12-2 all-time versus the Wildcats.
Georgia's twelfth and final regular season game will be next Saturday on Nov. 25th in Atlanta, GA versus Georgia Tech at Bobby Dodd Stadium and has been set for a 12 Noon kickoff on ABC. The Bulldogs will then face the winner of the SEC Western Division in the Southeastern Conference Championship game on Saturday, Dec. 2nd in the Mercedes-Benz Stadium in Atlanta at 4:00 p.m. ET on CBS.
Team Statistics
Statistic
UK
UGA
FIRST DOWNS
Total
17
25
Rushing
10
17
Passing
5
7
Penalty
2
1
RUSHING
Total (Net)
124
381
Attempts
37
44
Avg. Per Rush
3.4
8.7
Rushing TDs
1
5
Yds. Gained
137
389
Yds. Lost
13
8
PASSING
Total (Net)
138
123
Comp.-Att.-Int.

12

–

23

–

1

9

–

14

–

1

Avg. / Att.
6.0
8.8
Avg. / Comp.
11.5
13.7
TDs
0
1
TOTAL OFFENSE
Yards
262
504
Plays
60
58
Avg. / Play
4.4
8.7
Fumbles – Lost

1

–

0

0

–

0

Penalties – Yds.

2

–

30

7

–

59

PUNTING
Punts – Yds.

5

–

211

2

–

96

Avg. / Punt

42.2

48.0

Inside 20

2

1

50+ Yds.

0

1

Touchbacks

1

0

Fair Catch

2

2

KICKOFFS
Total – Yds.

4

–

255

7

–

452

Avg. Yds. / Kickoff

63.8

64.6

Touchbacks

2

4

RETURNS
Punt: Total – Yds. – TDs
0-0-0

1-20-0

Punt: Avg. / Return
0

20.0

Kickoff: Total – Yds. – TDs

3

–

69

–

0

2

–

61

–

0

Kickoff: Avg. / Return

23.0

30.5

INT: Total – Yds. – TDs

1

–

14

–

0

1

–

0

–

0

Fumble: Total – Yds. – TDs
0-0-0
0-0-0
MISCELLANEOUS
Misc. Yards

0

0

Poss. Time

29:40

30:20

3rd. Down Conv.

4

 of 

13

4

 of 

8

4th. Down Conversions

1

 of 

2

0

 of 

0

Red-Zone: Scores – Chances

3

–

3

3

–

3

Sacks: Total – Yds.

1

–

3

3

–

13

PAT: Total – Made

1

–

1

6

–

6

Field Goals: Total – Made

2-2

0-0
Offensive
UK – Passing

| Player | Cmp | Att. | Yds. | TD | INT | Long | Sack |
| --- | --- | --- | --- | --- | --- | --- | --- |
| Stephen Johnson | 12 | 22 | 138 | 0 | 0 | 45 | 3 |
| Bowden Jr, Lynn | 0 | 1 | 0 | 0 | 1 | 0 | 0 |
| TOTALS | 12 | 23 | 138 | 0 | 1 | 45 | 3 |
UGA – Passing

| Player | Cmp | Att. | Yds. | TD | Int. | Long | Sack |
| --- | --- | --- | --- | --- | --- | --- | --- |
| Jake Fromm | 9 | 14 | 123 | 1 | 1 | 27 | 1 |
| TOTALS | 9 | 14 | 123 | 1 | 1 | 27 | 1 |
UK – Rushing

| Player | Att. | Gain | Loss | Net | TD | Lg. | Avg. |
| --- | --- | --- | --- | --- | --- | --- | --- |
| Benny Snell | 22 | 94 | 0 | 94 | 1 | 12 | 4.3 |
| Sihiem King | 7 | 26 | 0 | 26 | 0 | 10 | 3.7 |
| Stephen Johnson | 8 | 17 | 13 | 4 | 0 | 7 | 0.5 |
| TOTALS | 37 | 137 | 13 | 124 | 1 | 12 | 3.4 |
UGA – Rushing

| Player | Att. | Gain | Loss | Net | TD | Lg. | Avg. |
| --- | --- | --- | --- | --- | --- | --- | --- |
| Nick Chubb | 15 | 151 | 0 | 151 | 2 | 55 | 10.1 |
| Sony Michel | 12 | 87 | 0 | 87 | 3 | 37 | 7.3 |
| D'Andre Swift | 7 | 66 | 0 | 66 | 0 | 25 | 9.4 |
| Brian Herrien | 3 | 48 | 0 | 48 | 0 | 30 | 16.0 |
| Jake Fromm | 2 | 21 | 3 | 18 | 0 | 21 | 9.0 |
| Elijah Holyfield | 2 | 16 | 0 | 16 | 0 | 9 | 8.0 |
| TEAM | 3 | 0 | 5 | -5 | 0 | 0 | -1.7 |
| TOTALS | 44 | 389 | 8 | 381 | 5 | 55 | 8.7 |
UK – Receiving

| Player | Rec. | Yds. | TD | Long |
| --- | --- | --- | --- | --- |
| Blake Bone | 1 | 45 | 0 | 45 |
| T. Richardson | 3 | 43 | 0 | 19 |
| Garrett Johnson | 4 | 36 | 0 | 18 |
| C.J. Conrad | 1 | 7 | 0 | 7 |
| Kayaune Ross | 1 | 4 | 0 | 4 |
| Bowden Jr, Lynn | 2 | 3 | 0 | 3 |
| TOTALS | 12 | 138 | 0 | 45 |
UGA – Receiving

| Player | Rec. | Yds. | TD | Long |
| --- | --- | --- | --- | --- |
| Javon Wims | 6 | 83 | 1 | 27 |
| Mecole Hardman | 2 | 24 | 0 | 15 |
| Terry Godwin | 1 | 16 | 0 | 16 |
| TOTALS | 9 | 123 | 1 | 27 |
Defensive