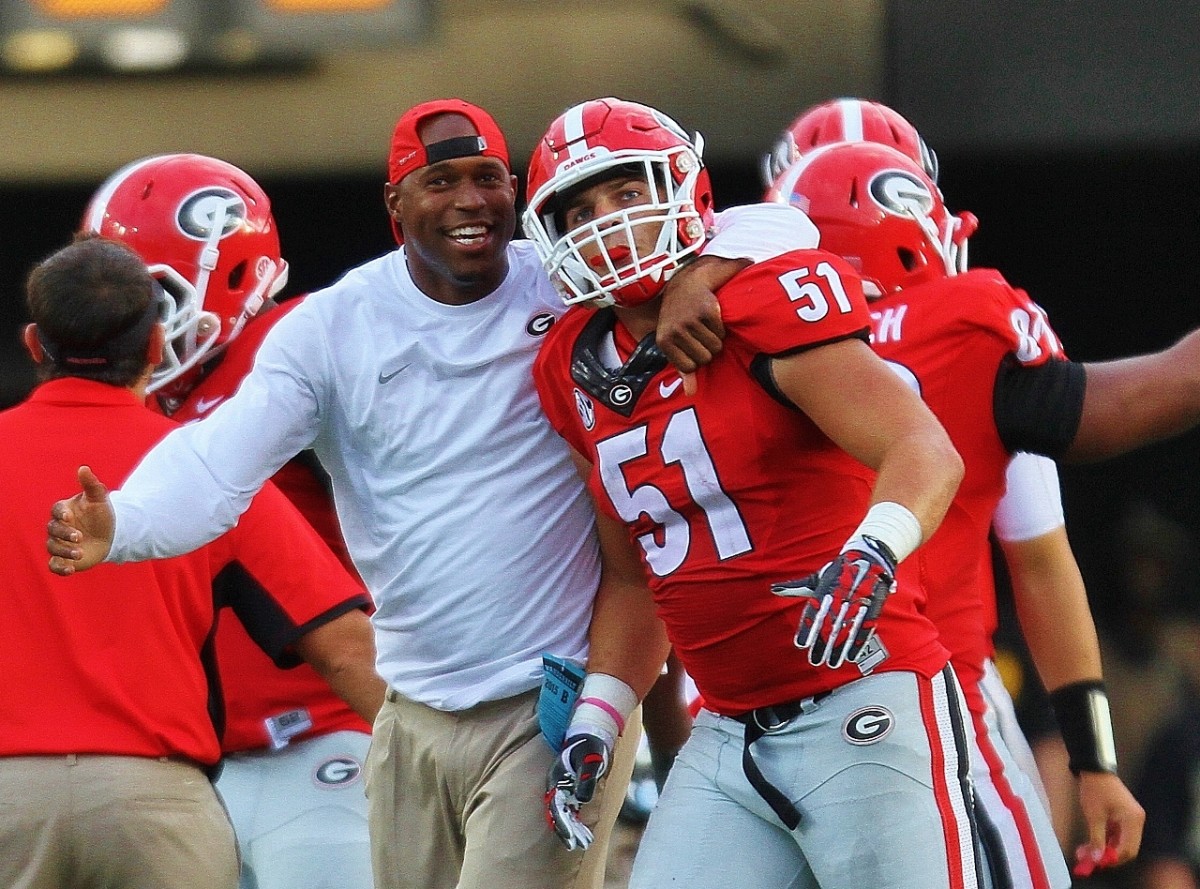 [su_spacer size="20″] Never apologize for winning ugly. Except for a couple of field goals, a maladroit spell in the fourth quarter and a bungled kickoff return—haven't we played that song before?—Georgia dominated Vanderbilt on the road while playing freshman after freshman after freshman on defense.
[su_spacer size="20″]
Yet the 31-14 point totals on the scoreboard, with the CBS nation looking on the most recent Saturday afternoon, reflected that anybody thinking of playoffs at this point in the long season needs to take out the old video of Jim Mora's rant about NFL playoffs with his underperforming Indianapolis Colts in 2001. All during the second half in Nashville, Mora's saucy rant kept flashing through my mind.
[su_spacer size="40″] At this point, and that should be underscored—this point—Georgia has more questions than Richard Nixon had during Watergate. Quarterback Greyson Lambert didn't turn any heads for most of the game, but that one scoring drive which ended with him faking the defense skillfully and gliding into the end zone untouched was a thing of beauty. We just need to see more of that more often.
[su_spacer size="40″] It is attitude that counts—more than ever. Kids today, like the rest of society, have short attention spans. They are easily distracted. They have difficulty consistently focusing on the task at hand. They would check their iPhones in the huddle if the coaches would let them. How can you get up for Louisiana Monroe? How can you not notice that Vanderbilt got beat by Western Kentucky the week before Georgia showed up in Nashville? Regardless of the competition, there is dysfunction with this young team that is a big concern.
[su_spacer size="40″] What will be the Bulldogs' assessment of Kentucky's upset of South Carolina in Columbia? Will they figure that the Gamecocks are like Georgia, a team which is better than is has appeared early in the season and will come to the Hedges this weekend with resolve and commitment to derail Georgia's objectives and goals? Will they bond with a determination to put Steve Spurrier in a permanent scowling mode?
[su_spacer size="40″] How does Arkansas lose to Toledo in Little Rock?
[su_spacer size="40″] How does Auburn luck out a victory at home against Jacksonville State? How did Louisville lose to Houston? How did Florida Atlantic scare Miami? This could be a chaotic season in college football. Already, Portland State has defeated Washington State and Temple has beaten Penn State.
[su_spacer size="40″] You begin with the fact that everybody has SOME players and everybody has a few playmakers, talented players with speed. When your team collectively yawns in regard to the competition, coaches then need to think about investing their millions in conservative stocks rather than spending any of it.
[su_spacer size="40″] Getting the players zoned in at the right time is the challenge that confronts coaches week after week in college football. Before Auburn played Missouri in the SEC playoffs in 2013 in the Georgia Dome, I walked on the field pre-game to visit with Rodney Garner who had left Georgia to coach Auburn's defensive line.
[su_spacer size="40″] I gave him the typical opening question when old friends meet up. "What do you think?" I asked. "Got no idea," Rodney said. "Today, you never know who will show up and when they get here, you never know who will play?" Accentuating the positive and eliminating the negative has never been more of a challenge for football coaches.
[su_spacer size="40″] With conference games coming up, you can generally expect teams to become more focused. In the back of all players' minds there is the goal of winning big games and becoming one of the four teams to fight it out to see who the national champion will be. Keeping mentally focused? Some will succeed, most won't.
[su_spacer size="40″] Kirby Smart, the Georgia graduate who holds the title of defensive coordinator at Alabama, told me last year that after Alabama lost to Ohio State in the first round of the playoffs that the Alabama players did not see the Buckeyes as being as good as the coaches tried to tell them. In other words, the Tide players did not respect Ohio State pregame.
[su_spacer size="40″] Nobody in college football keeps his team on edge more that Nick Saban. That is why Alabama has won so many big games. But, as last year's playoffs confirm, even he could not get his kids mentally prepared for the most improved team in college football.
[su_spacer size="40″] Georgia obviously has some talented football players, some playmakers and very good coaches. The team needs a killer instinct, and there needs to be a sense of urgency this week versus the Gamecocks or the red and black partisans will be crying in their beer Saturday night. They will be eating sour grapes, their teeth will be set on edge and they will be making a list of who ought to be fired
[su_spacer size="80″]