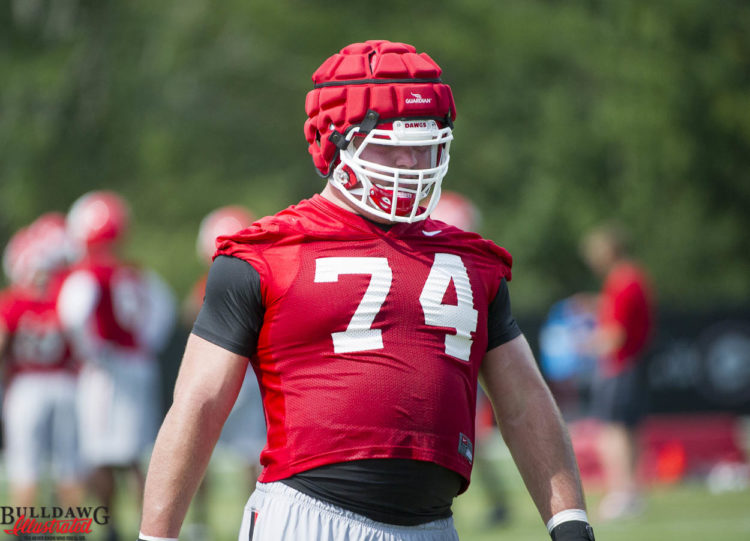 The Bulldogs first fall practice always brings in a sense of excitement for the players, coaches, and especially the fanbase. This is what stood out to me in the first fall practice that should have fans excited for the upcoming season and overall the future of the Bulldogs program.
One of the main things that I looked for in the practice was how the offensive and defensive line performed because of the depth concerns in these positions and their overall gravity to a team like Georgia, who places a large importance on the battle in the trenches.
With the offensive line, the main thing that I saw was how Coach Sam Pittman demanded his players to give their all through a drill and if he did not believe you were doing that, then he would definitely let you know that. An interesting and exciting thing to hear yesterday was Coach Pittman saying that freshman Ben Cleveland was winning the drill over the other lineman and seemed to be having a great overall first practice. Although it is only the first practice, Cleveland's success has to be thrilling for the fans because so far he is living up to the hype that surrounded him when he first got on campus.
In the drills we saw with the defensive line, most of the players were doing their job and overall Rocker seemed pleased with their body of work. However, one player that Rocker really gave a huge compliment to was freshman Michail Carter. During a drill, Rocker got really excited and even yelled that he "loved the viciousness" from Carter. Once again it is only the first practice but seeing freshman put forth the effort to work hard now and compete points to where I believe the University of Georgia is headed in the not so distant future.
The final position group that stood out and that I'm sure everyone wants to hear about is the running backs. For starters, Nick Chubb looked like the Chubb of old and seems to be able to go full speed through every drill. Coach Smart said in his press conference yesterday that Chubb was participating in all drills with the team and that that would continue through fall practice. Chubb looked good through the drills and was able to run hard in each of them, which should be encouraging for the staff and fanbase as game one against the North Carolina Tar Heels gets ever closer.
Although the staff would definitely want to have one of their top running backs in Michel or Chubb for that game, the other running backs looked very capable of handling the workload. One player that carried that first guy off the bus look was freshman Elijah Holyfield. He looked massive and should have a huge role in the Bulldogs near future.