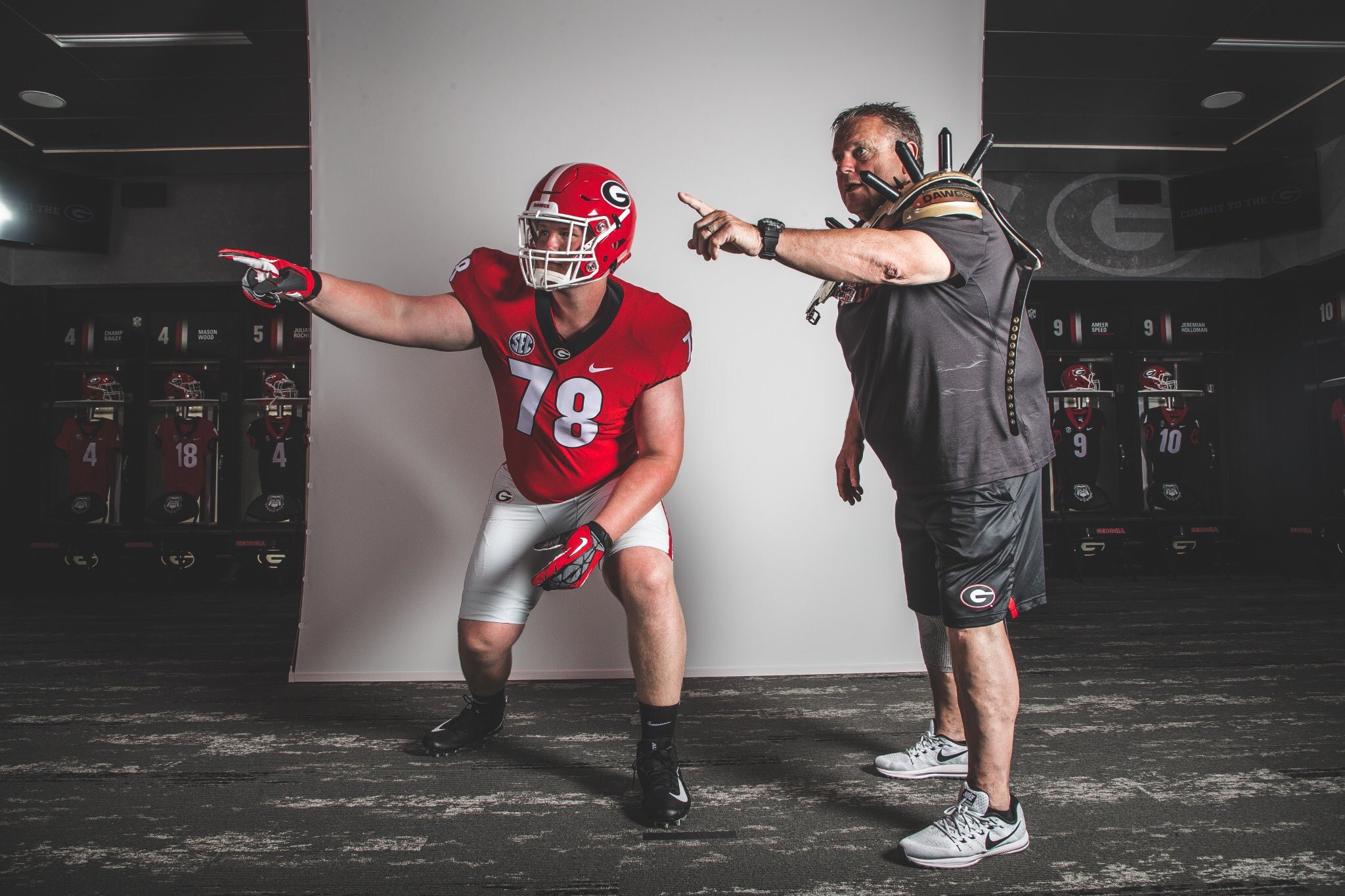 Over the next couple of weeks, we here at Bulldawg Illustrated are going to be looking at Georgia football's incoming freshman class of 2020 in a new series called First Year Look. The Bulldogs' 2020 class features 25 signees that collectively finished as the No. 1 recruiting class in the country, according to 247Sports and Rivals.
All 25 of Georgia's incoming freshman have reported to campus before workouts started on June 8. Now, they are prepping for their first preseason camp. Over the past couple of days, Bulldawg Illustrated has taken a look a good portion of the 2020 class, and today we will move on to Chad Lindberg.
Per the 247Sports Composite, Lindberg was rated the No. 140 overall player in the class of 2020, the No. 13 nationally ranked offensive tackle, and the No. 23 best prospect out of Texas. He committed to the Bulldogs back in July 2019 and signed with the team during the early signing period back in December. He arrived on campus earlier this month after the NCAA permitted student athletes to return amidst the coronavirus pandemic.
Lindberg was one of the few offensive lineman in this class who were recruited by Sam Pittman and were retained by new offensive line coach Matt Luke. Pittman got Lindberg to commit just before the start of his senior season and there was no drama throughout the rest of his recruitment. When Pittman left for Arkansas, Lindberg honored his commitment and stayed with UGA.
"I was sold on more than just the coach," Lindberg said after he signed his letter of intent. "Loved Pittman but loved the university and the program. I feel the anticipation and energy for historic seasons."
"Physical offensive lineman recruited mostly as a tackle who could provide guard flexibility as well. Possesses outstanding size that is college-ready on paper. Run-game mauler who thrives in drive-blocking situations. High motor. Intelligent on and off the field. Tenacious block-finisher who plays with a mean streak that is evident even on tape. Takes his target to the ground if opportunity is there. Does a good job for a taller lineman of playing with good leverage. Shows enough athleticism to successfully combo block to the second level, where he is a handful for opposing linebackers. Size provides high ceiling as a pass-blocker, though tape is limited in pass pro. Can improve body control in open space and when engaged. Lateral fluidity will need to get better to stand up to speed rushers in college. Powerful in close quarters, but sometimes catches instead of punches in pass pro. High-floor offensive line prospect with impressive physicality and capability to play tackle or guard at the Power 5 level. Could develop into legitimate NFL Draft prospect."

Gabe Brooks, 247Sports
Lindberg more than likely will end up at right tackle, but he could just as easily play either spot. We could also see him moving inside to play either of the guard positions. He has a big, powerful frame that seems to very versatile when in the trenches. There are still some kinks to figure out, but that's what Matt Luke is there for. He plays with a tapering base and hits a little high, which is something he can easily fix this summer during workouts leading into fall camp.
Even though Lindberg is very talented, don't count out the rest of the incoming tackles in the class of 2020. He will fighting against Broderick Jones, Tate Ratledge, and Austin Blaske for playing time. All three of those also have similar frames like Lindberg. Of course, they will all need work and will have to adjust to the speed of college ball, but expect to see a lot out of this group. For Lindberg, all the intangibles are there, but now it's just a matter of time to see how he excels in Luke's schemes.
Check out the these other First Year Look profiles as well: