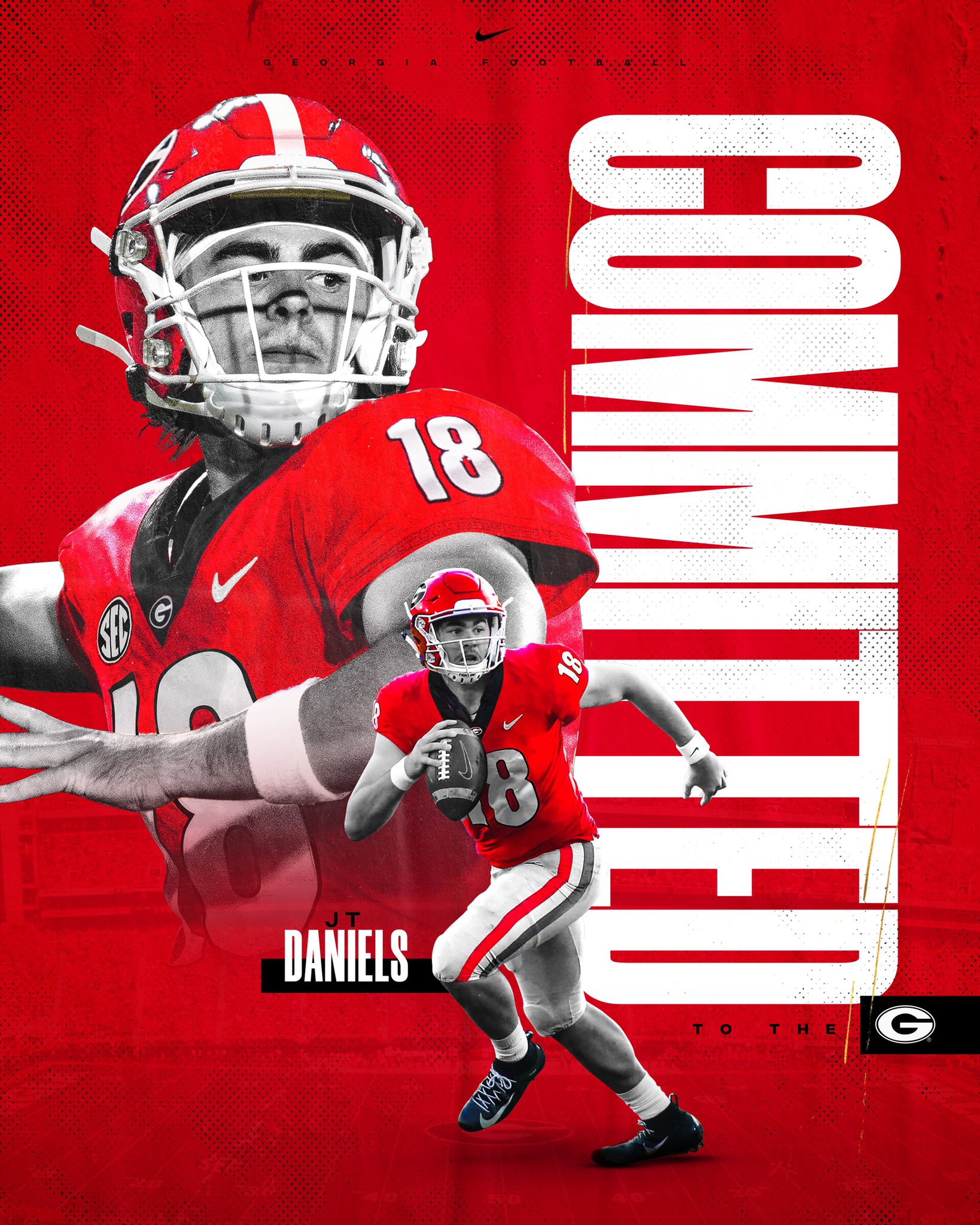 Over the next couple of weeks, we here at Bulldawg Illustrated are going to be looking at Georgia football's incoming freshman class of 2020 in a new series called First Year Look. The Bulldogs' 2020 class features 25 signees that collectively finished as the No. 1 recruiting class in the country, according to 247Sports and Rivals.
All 25 of Georgia's incoming freshmen have reported to campus before workouts started on June 8. Now, they are prepping for their first preseason camp. Over the past couple of weeks, Bulldawg Illustrated has taken a look a good portion of the 2020 class, and now we will move on to the three transfers that UGA added in the offseason.
Today, we will look at USC transfer quarterback J.T. Daniels.
Ranking (2018 Class): Per the 247Sports Composite, Daniels was ranked as the No. 16 player nationally, No. 2 pro-style quarterback, and No. 2 player in California.
Daniels' Story: Daniels showed flashes of greatness during the 2018 season and was considered of the nation's biggest rising stars based on how he finished that season. He threw for over 300 yards passing in USC's final two games against UCLA and Notre Dame. Daniels entered the 2019 season as the starter and got off to a hot start in the first half against Fresno State before suffering a torn ACL that ended his season.
Backup quarterback Kedon Slovis took over and played exceptionally well the rest of the year. At first, Daniels made it known that he was going to stay at USC and compete for the starting job, but eventually he entered his name into the NCAA Student Transfer Portal. He kept his communication with UGA under wraps because they weren't a big target on the national media's radar to land him. As of yesterday, Daniels was cleared by the NCAA and granted immediate eligibility.
Where he fits: Daniels has proven that he is a really skilled passer. He has proven that he has a great arm alongside pin-point accuracy, especially with a lot of confidence and knowledge of the college game because of his two years at USC. He was supposed to be apart of the 2019 recruiting cycle before reclassifying. His game is only going to improve while learning from new UGA offensive coordinator Todd Monken, and competition is only going to make him a better quarterback as he competes with his counterparts this summer.
2020 Impact: From what we've been hearing, Daniels has picked up the new offensive system very well in a short amount of time. Monken's offense is very similar to what Daniels played in at Mater Dei High School. Now that he has been cleared to play, there a few question marks surrounding the starting quarterback position. But the fact that Jamie Newman is a fifth-year senior and had a head start gives him the clear advantage right now. Although, the loss of spring practice kind of levels the playing field. Only time will tell if Daniels will win the starting job.