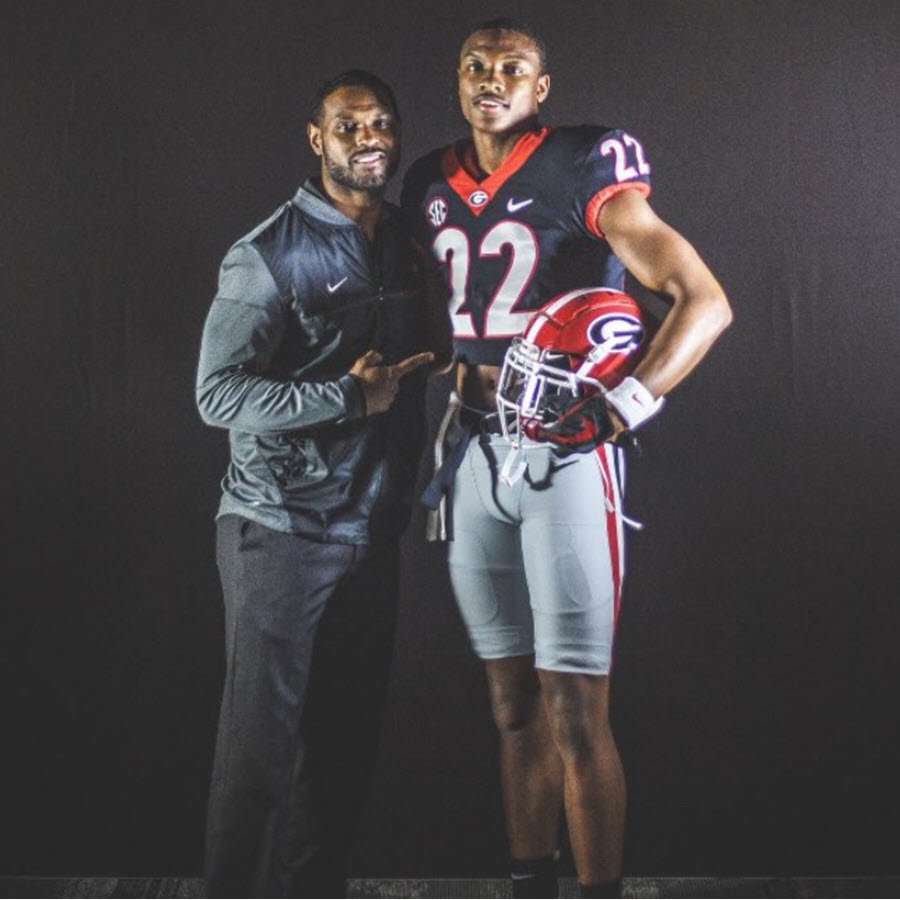 Over the next couple of weeks, we here at Bulldawg Illustrated are going to be looking at Georgia football's incoming freshman class of 2020 in a new series called First Year Look. The Bulldogs' 2020 class features 25 signees that collectively finished as the No. 1 recruiting class in the country, according to 247Sports and Rivals.
All 25 of Georgia's incoming freshman have reported to campus before workouts started on June 8. Now, they are prepping for their first preseason camp. Over the past couple of days, Bulldawg Illustrated has taken a look a good portion of the 2020 class, and today we will move on to Justin Robinson.
Robinson was one of the six early enrollees on campus for the 2020 class. He committed to Georgia way back in March of 2019, and remained true to his pledge by signing with the team during the early signing period last December.
The 6-foot-4, 200-pound receiver joined the Bulldogs back in January and participated in summer workouts.
Robinson was a four-star prospect out of high school and ranked as the No. 296 player in the 247Sports Composite Index. He was ranked the No. 48 wide receiver prospect nationally and the No. 29 player in Georgia. The McDonough native was Georgia's fourth prospect in the 2020 class.
Once Robinson committed to UGA, there never was really any concern as to whether or not he would sign anywhere else. He did take an official visit to Nebraska and did keep in touch with a few other schools, but there was never any attention around him that he might flip his decision.
From what we've been told, Robinson has garnered some positive comments since arriving in Athens. Apparently he has gained some weight since he got on campus and is up just north of 210 pounds. We've also heard that his speed could be a huge factor in why he might see the field early in the year. In high school, he played in a run-heavy offense and has experience in blocking on the edge, which is something that Kirby Smart and his staff like. Though things look positive, he's going to have to develop his route-running and pass-catching abilities to further himself from the four other wide receivers that Georgia signed in his recruiting class.
Robinson can fit well in both the inside and outside spots at receiver, but he'd probably be most suitable at playing the flanker position. With his size and speed, that will give Robinson a cleaner release off the line of scrimmage. It is also will allow him to beat the defensive back to where the timing between him and the quarterback won't be off. His 6-foot-4 frame will give him a lot of advantage in 50/50 ball situations as well.
It's tough to say what exactly fans will see from Robinson during his freshman campaign. His speed could land him on specials teams early in the season, but for him to make his way up the depth chart he will have to put in work this summer. Luckily enough for him, Georgia is in dire need of held at the wide receiver position and Robinson has the frame to help out immediately. It helped that he got to Georgia early though and got to workout during the offseason. He and Jermaine Burton seem they could be the next great receivers in Athens, but both will have to learn the offense this summer.
Check out the these other First Year Look profiles as well: