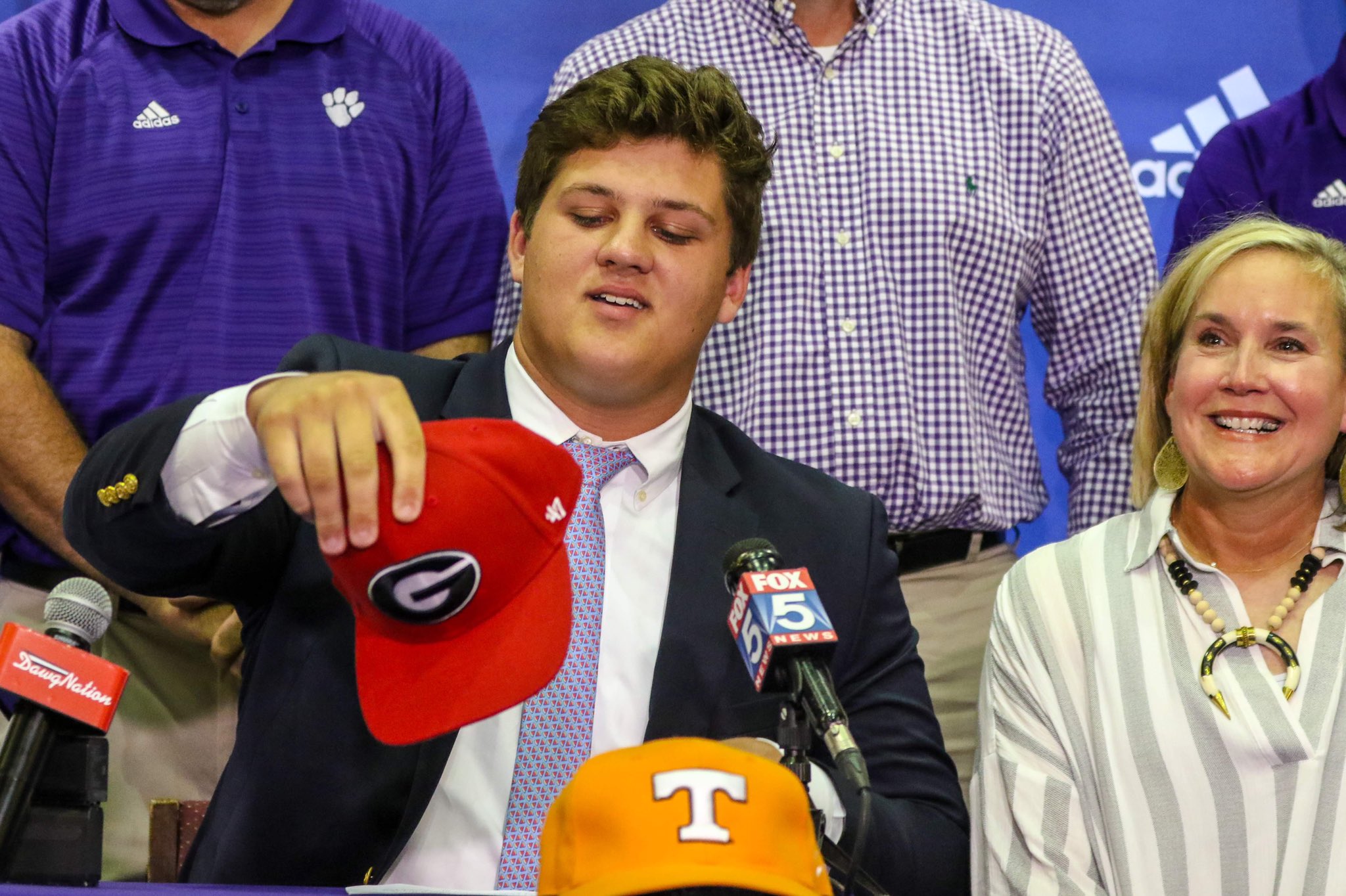 Over the next couple of weeks, we here at Bulldawg Illustrated are going to be looking at Georgia football's incoming freshman class of 2020 in a new series called First Year Look. The Bulldogs' 2020 class features 25 signees that collectively finished as the No. 1 recruiting class in the country, according to 247Sports and Rivals.
All 25 of Georgia's incoming freshmen have reported to campus before workouts started on June 8. Now, they are prepping for their first preseason camp. Over the past couple of days, Bulldawg Illustrated has taken a look a good portion of the 2020 class, and today we will move on to Tate Ratledge.
Ratledge was ranked the No. 37 overall prospect nationally, No. 3 offensive tackle, and No. 5 player in Georgia, per the 247Sports Composite. The Rome, Ga. native grew up a Tennessee Volunteers fan, but former UGA offensive line coach Sam Pittman helped him easily forget that. Pittman made Ratledge a priority when he was in Athens, and got him to commit before his senior season. When Pittman took the head coaching job at Arkansas, Ratledge tested the waters for a bit, but Matt Luke was able to hold his commitment. Ratledge ended up signing with UGA during the first day of the Early Signing Period.
"Prototype left tackle frame with length and athleticism to boot. Former tight end. Like many elite tackles has great footwork, balance and quickness to his game. Pairs natural traits with well above-average strength and an edge shown in carrying out blocks through the whistle. Coordinated individual with body control and redirection ability as pass blocker or run blocker. Patient in his sets with good depth and anchor. Comfortable on the move in the wash or in space. Effective punch, strong hands noticeable on either side of the line of scrimmage. Productive defensive lineman on the edge and inside. The son of a football and wrestling coach. As transition from small school football to Power 5 level begins there could be bumps in the road when relative inexperience is considered. With some time should develop into multi-year starter with All-American ceiling."

John Garcia Jr., 247Sports
Ratledge is a mammoth standing at 6-foot-6 and weighing in around 320 pounds. During the pandemic, it looks like has a gotten a little bit more slim than what he was at the All-American game back in January. Since he is now on campus, look for the UGA nutritional staff to keep him at that size, which should be around 310 pounds.
It's going to be interesting to know how things will pan out for Ratledge at the college level. When he measured in at the High School All-American game in January, his arm length was less than normal for an offensive tackle. But that doesn't exactly mean he won't be able to be a great player at the college level. He has a bright future on the offensive line, especially on the exterior, but we could still see him at a guard position as well.
Regardless of the position, Ratledge is in a position to have a chance to play right away next season because of his size and skill. He will compete with the likes of Broderick jones, Chad Lindberg, and Austin Blaske, who are now all on campus. The lack of spring drills also puts them all in the same boat in terms of learning a new system. Jones and Ratledge are the two that out those four named that are more likely to have a higher chance to play right away.
Check out the these other First Year Look profiles as well: