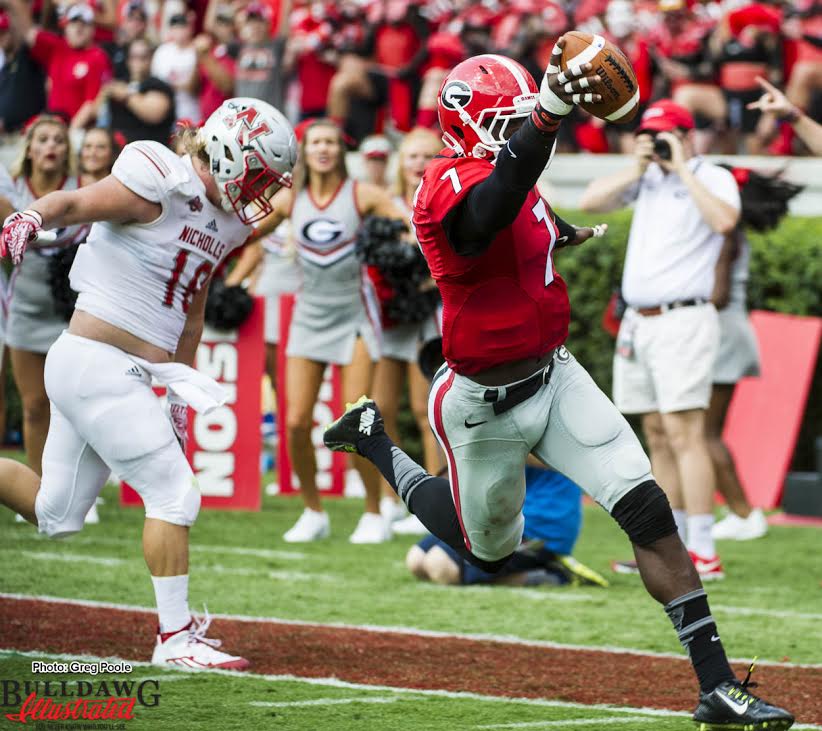 The Bulldogs are 2-0 heading into week 3 of the college football season but hit the road to start conference play against Missouri. However, Georgia cannot make the same mistakes they did against Nicholls State if they expect to come home from Columbia with a win. Murray Poole has five keys for a Dawgs' victory.


1 – PLAY BIG UP FRONT
Only Alabama can boast the consistent and outstanding defensive lines that would top Missouri's since the Tigers joined the Southeastern Conference in 2012. Michael Sam, Koney Ealey and Shane Ray were All-SEC performers and NFL picks. This is the spot where Mizzou just reloads. Remember, two years ago, though Nick Chubb ran for 143 in his first start, the Tigers held him to 3.8 per pop. Kirby Smart and Sam Pittman will have to push the offensive line to play their best game of the season thus far to handle that tough Mizzou front.


2 – FORCE TURNOVERS
Two years ago, while Chubb and the running game keyed the offense, the true difference in the Bulldogs 34-0 victory was a five turnover performance from the defense. Takeaways may again make the difference. Smart, Mel Tucker and the defensive staff will be on the Bulldogs defenders to make the big play take away and swing the game to Georgia.


3 – MAKE THAT KICK! MAKE THAT KICK!
Understanding there aren't All-American kickers out there every year, and Georgia – with Leavitt, Robinson, Butler and Kasay at the head of a Hall of Fame class – has had as many greats as any school ever. William Ham and/or Rodrigo Blankenship have to be true on the medium distance field goals and extra points. At least. Plus get some distance on kickoffs.


4 – RETURN GAME MAGIC
Against a comparable opponent in North Carolina, Isaiah McKenzie made some magic on offense, with three game-changing plays. Now it's time for the special teams to produce six. In Georgia's 9-6 win over Mizzou last season in Athens, a pair of clutch Terry Godwin punt returns swung the momentum and finally the lead in the Bulldogs favor.


5 – MINIMUM THREE 3RD-DOWN AND MEDIUM+ COMPLETIONS
Even if the running game is going good against that stout Tigers front, there will be some third-and- eight/longer type plays that the Bulldogs must convert. Georgia will lean on those talented tight ends, but wide receivers have to get open and make the catch over the middle and at the sticks. Michael Chigbu could be the Bulldogs go-to third down split end.