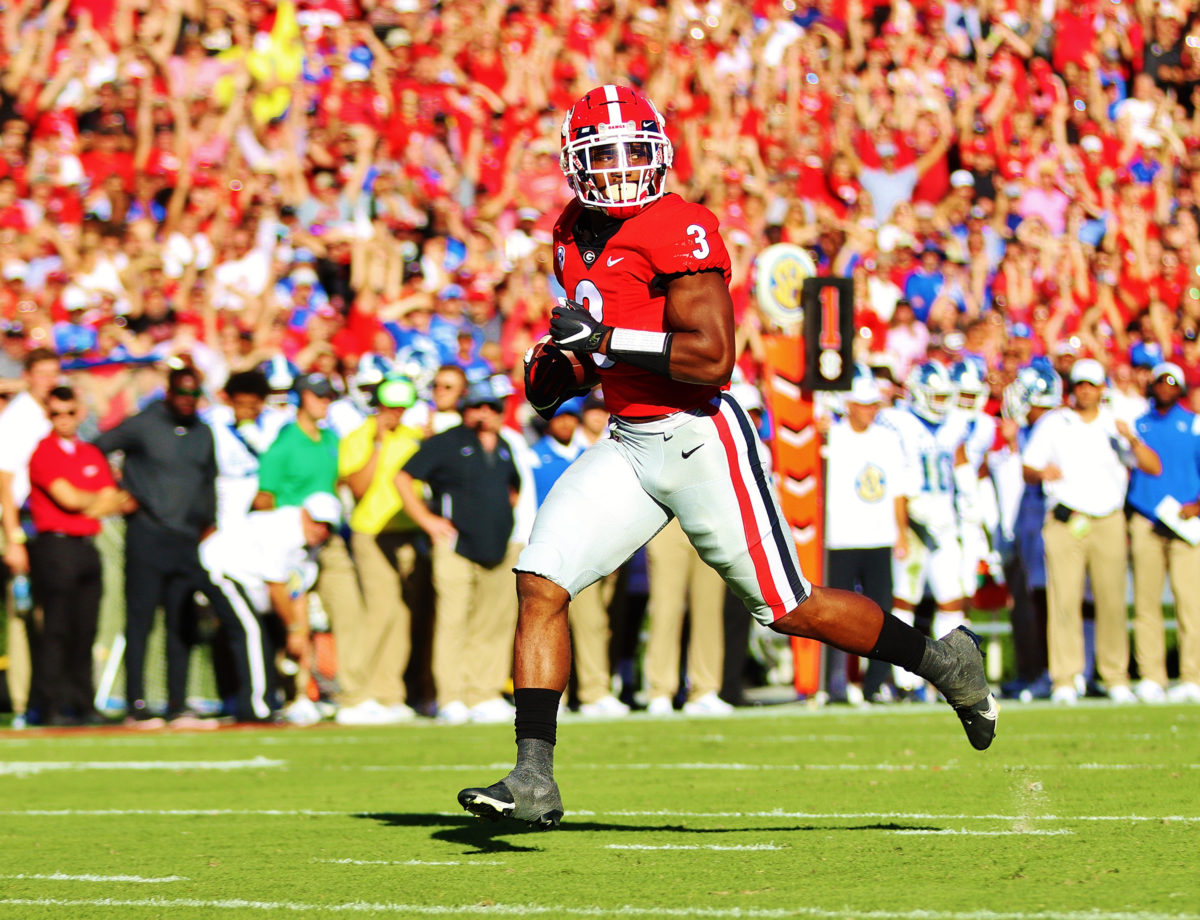 1
Run the Ball Successfully – From Trippi to Sinkwich and Walker, from Kevin McLee to Worley and Henderson, to Hampton and Edwards, to Knowshon and Gurley, to Chubb, Michel and Swift, when Georgia has beaten Florida, the Bulldogs have had big days on the ground. It's usually been the lead dog in the backfield, and the names above are amongst the best ever. The Bulldogs have been sharing the load at running back this season, and those ball carriers have to be at their best before Georgia's strong front. The Bulldogs have been very good with the rushing attack, especially in October. Win the run game, win the game.
2
Stop the Run – There's the flip side. Georgia's rush defense has been tremendous thus far this season, one of the very best in college football. Florida will of course try and establish the run in Jacksonville. The Gators have a big offensive line, slippery backs and mobile quarterbacks that can test a defense and slow down the rush. Emory Jones averages 5.8 yards per attempt and Anthony Richardson an astounding 12.4. Both are dangerous running and throwing. If those QBs can pierce the Georgia defense on designed plays or scrambles, the Bulldogs stop unit will be in trouble. The Georgia D has to hit hard – cleanly of course – and take the fight to the Gators, especially the quarterbacks.
3
Minimize the Big Plays – The Gators have big play makers across the board. They can make the plays at quarterback, running back, pass catchers, and on defense and special teams. Jacob Copeland is one of the best wide receivers in the SEC. He averages 18.4 yards per catch and will be one of the fleet of wideouts that tests the Georgia secondary with the deep ball and/or catch and runs. Quick passes will likely be in play, trying to slow down the Georgia rush.
4
Win the Winds – The winds blow strong in Jacksonville. They come whisking off the Atlantic and neighboring St. John's River. Those winds come through the open end of the stadium and wisp and whip and swirl. Some of the greatest kickers in Georgia history have had tough days – and careers – at "the old Gator Bowl." Punts are affected. Returns are affected. Passes can be too. Having the wind in the fourth quarter would be huge. But it's funny. According to my radio partner, the Hall of Fame legend Kevin Butler, "Quarterbacks, kickers and returners – the key to success is wind management. Much like golf, you have to keep your swing the same. The more you try to compensate, you just can't beat Mother Nature."
5
Manage Emotions – The 50/50 split of the super-charged stadium in Jacksonville creates a raucous environment. It's always loud. At least one side is cheering, with the band playing loudly. Usually it's both. But there's never a downtime with the noise and emotion at the Cocktail Party. Those adrenaline bumps and rushes, and subsequent drains are a real thing. Controlled fury, focus. As the Bulldogs head man Kirby Smart will preach, "keep chopping wood!"