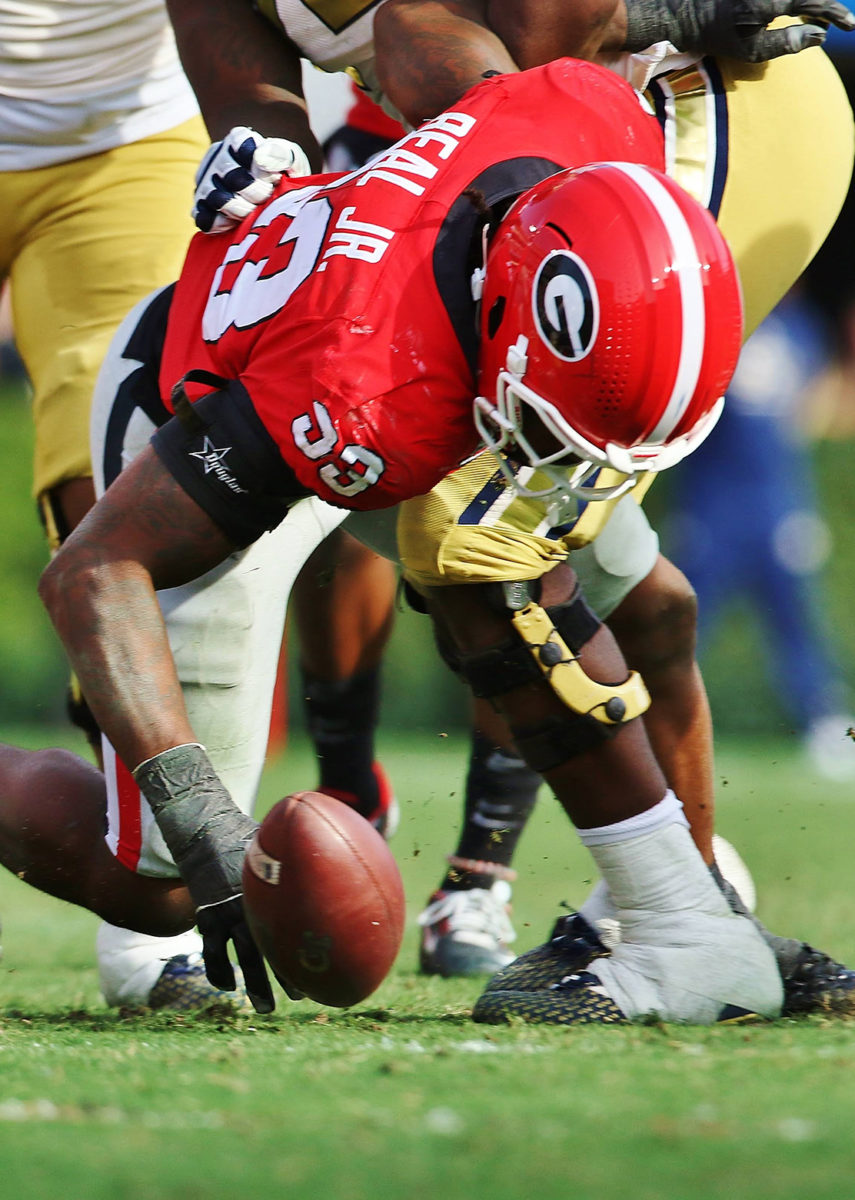 1 – Turnovers – It has been a bug-a-boo for the Bulldogs all season long. Turnovers. That's a category Georgia needs to at least get a push. Turnovers and special teams are changes of possession and momentum is up for grabs. In the Bulldogs four most recent Southeastern Conference contests, the count was minus-five in the gauntlet against Florida, Tennessee, Mississippi State and Kentucky. The energy in Mercedes-Benz Stadium will be electric … the team that gets the best of this game-changing plays has a big edge.
2 – Capitalize – Getting touchdowns in the red zone, connecting on critical passes, converting short third downs, these are musts for the Bulldogs offensively. Then defensively, the Bulldogs want to flip the script. Momentum and energy are so big in this game with a divided crowd that will have a bit more red and black. In Georgia's three SEC Championship Game losses to LSU in 2003, 2011 and 2019, there were chances that the Bulldogs had slip through their fingers in the first halves of those contests. That includes a couple of would-be touchdown passes which would have staked the Dogs to leads in what turned into lopsided Tiger wins. When Georgia beat LSU in 2005 – with Kirby Smart a young assistant on Mark Richt's staff – D.J. Shockley and Sean Bailey connected for a pair of scores, Shockley ran in a touchdown after a blocked punt and Tim Jennings had a game-sealing pick six. Players making plays.
3 – Guys Be Guys – The players mentioned above were all standouts for Georgia, and their performances against LSU in the 2005 SEC Championship Game victory will live forever in Georgia lore. College football legacies are written in games like this. It takes everyone, but so often, in games of this magnitude, it comes down to which team's best players play their best on the championship stage. There is a slew of All-American, All-SEC and future NFL draft picks suiting up Saturday afternoon. For Georgia to win, the Bulldogs dudes have to be better than LSU's.
4 – Spy Daniels – The biggest lift LSU has gotten in its impressive second half run has been superb quarterback play from Jayden Daniels. When he got settled in first year head coach Brian Kelly's system, the transfer from Arizona State took off. An excellent passer and extremely dangerous runner, Daniels is one of the country's top dual-threat quarterbacks. And speaking of big time players making the plays in legacy games, in LSU's 32-31 overtime victory against Alabama at Tiger Stadium, Daniels ran for a 25-yard touchdown and then hit Mason Taylor for the game-winning two-point conversion. Epic. Whether it's Jamon Dumas-Johnson, Smael Mondon or a secret weapon, the Bulldogs figure to have a set of eyes on Daniels at all times. He won't be stopped, but a standout "spy" could perhaps slow the Tigers standout quarterback down.
5 – Counterpunch – When the Bulldogs play in this game, and this is the fifth time in the last six years that the Bulldogs have played for the SEC title in Atlanta, it's a second game with split fan bases. Georgia-Florida is 50/50. This one figures to lean a bit towards Georgia, but the Tiger and Bulldog faithful will both make a lot of noise. Like in Jacksonville, there is always a lot of noise. Those adrenaline bumps are big. They can be draining. When LSU makes big plays and the Tiger faithful start roaring, can the Bulldogs hit right back and flip the momentum?