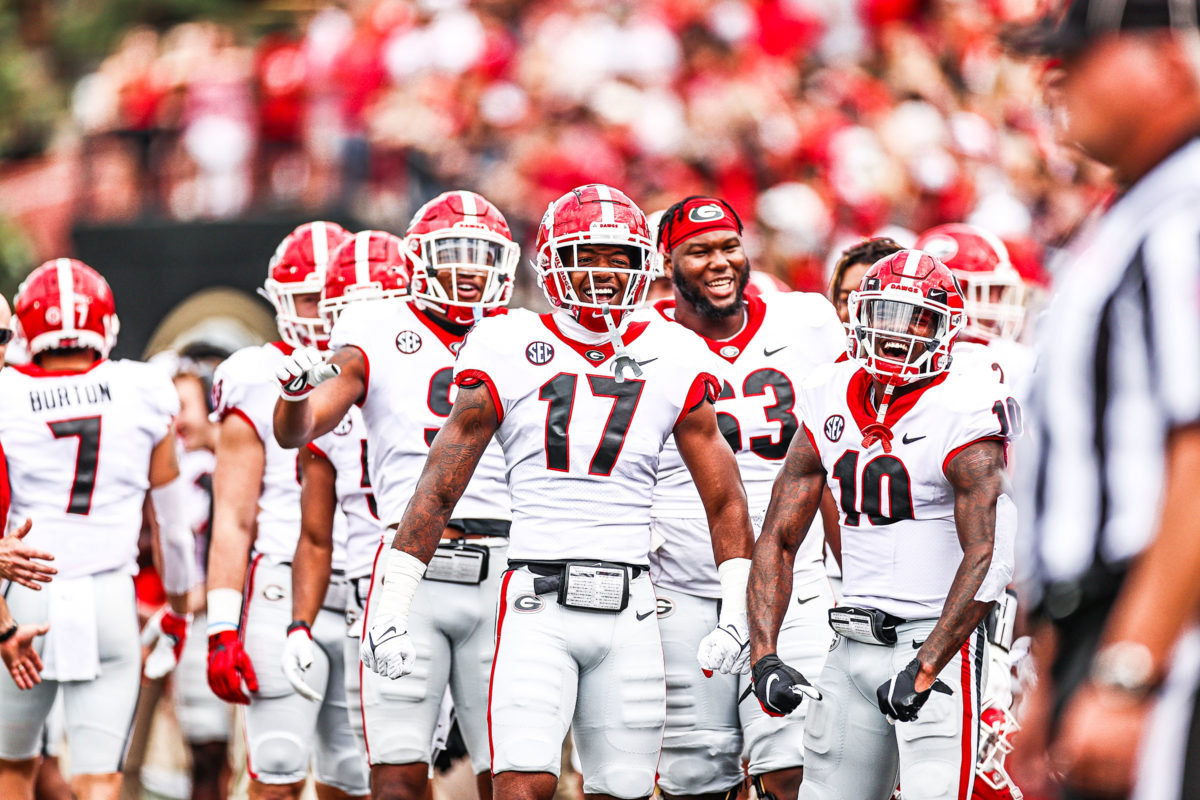 1
Run Game – Georgia's rushing attack will have to be at its best against a tough Arkansas defensive front. And this is a front that practices against that Arkansas rushing game every day. This will truly be a trenches game. It's certainly in the blood of both head coaches – Georgia's Kirby Smart and Arkansas's Sam Pittman. Can Georgia lead with the run, and do so effectively? Or will the passing game have to get going to loosen things? Either way, averaging at least around five yards per carry is essential to victory.
2
Corral KJ – Arkansas has a big, strong, talented quarterback who is a load running and an outstanding passer. He had a 73 yard rushing performance in the Razorbacks monumental 40-21 victory over Texas in Fayetteville. The following week, in a 45-10 win over Georgia Southern, he threw for 366 yards. On 13 completions! He is 6-foot-3, 245-pound, can move and he's hard to bring down. Overpursuing or overrunning the pass rush can put the back end on its heels and in big trouble against Jefferson, whether he's running or throwing.
3
Georgia Pass D – Arkansas has a bevy of talented pass catchers for Jefferson to throw to, and that is headlined by projected first round NFL Draft pick Treylon Burks. He loves to go get the deep ball. Burks draws a lot of attention, which opens up other throwing options. He had an eye-opening performance against Georgia Southern, with three catches for 127 yards and a touchdown. That's over 42 yards a pop. The Razorbacks will certainly try and hit that Georgia secondary with some deep shots. It starts with the pass rush, but Bulldog defensive backs will have to be at their best. Josh Vann had a monster game for South Carolina against Georgia in the Bulldogs win over the Gamecocks two weeks ago. Burks certainly took note during film study.
4
Kicking Game – Every week, it's the basics, the fundamentals – turnovers and the kicking game. Nothing swings a game more. Georgia has to be solid here, at least get a push on special teams. A big play in the kicking game can always make the difference. It's points, it's a change of possession, it's a massive change in field position. It's often what determines a very close game, which this certainly could be.
5
Four Quarters – This will be a physical, four quarter football game. Smart and Pittman both have physical, hard hitting teams and both are primed for what will be a signature win for whichever team comes out on top. Surviving the Razorback surges and momentum swings and then cashing in when the opportunities are there, that's essential for the Bulldogs. And 60 minutes, at least, of strong, sound, opportunistic, complimentary football against a very good team.