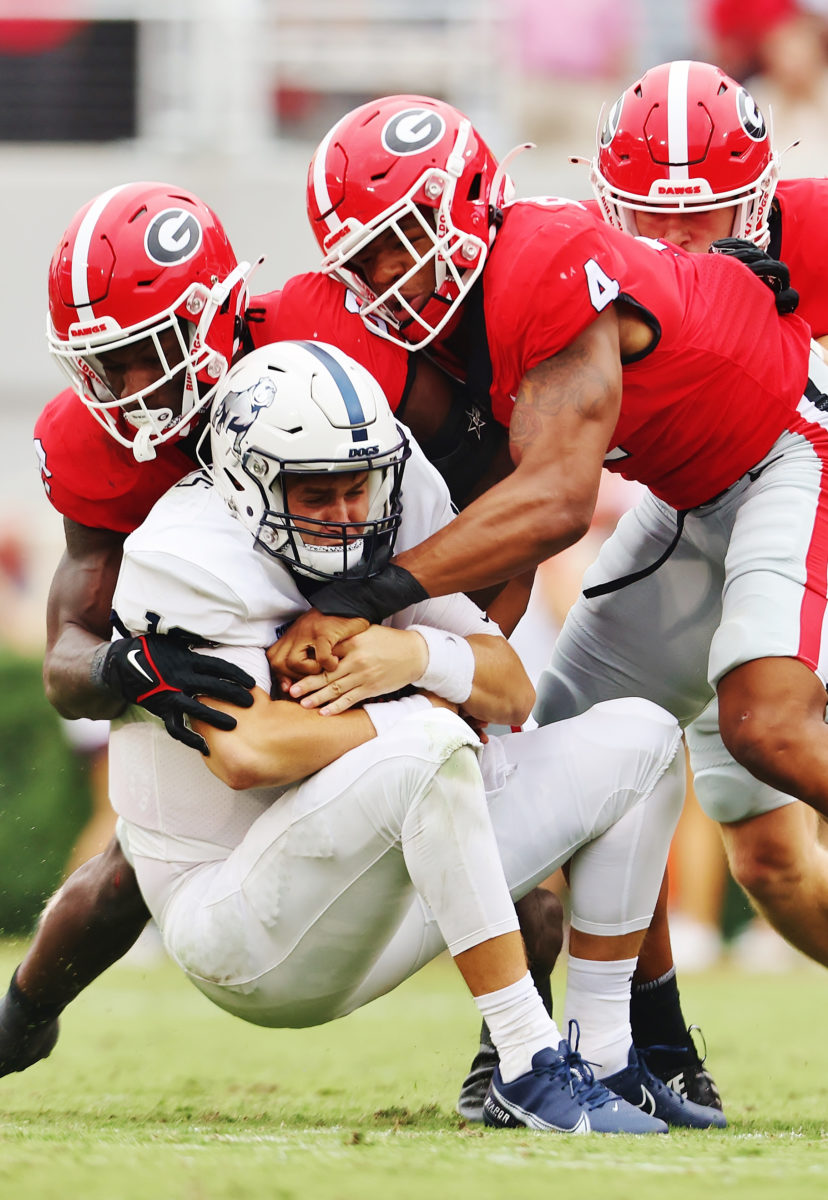 Rattle Rattler – Spencer Rattler was on the cover of numerous college football magazines in the summer of 2021, a preseason Heisman Trophy favorite at Oklahoma. He was beaten out during the season by Caleb Williams. Now, one plays at USC, the other at South Carolina. Rattler is an enormous addition for the Gamecocks, potentially South Carolina's best quarterback since Connor Shaw in the Steve Spurrier era. He is accurate with a big arm, and savvy in the pocket. If Rattler has time, he'll hurt any team. Even if Georgia can't get there for sacks, making Rattler uncomfortable and keeping him contained is essential.
Handle the Heat – Columbia, South Carolina. is one one of the hottest places in the solar system. It will be face of the sun hot for the high noon kickoff, and the Williams-Brice Stadium Gamecock fans will be on fire, rocking, hungry for the upset. Shane Beamer's team will go all in, looking for that signature win against the second-ranked reigning national champions. Kirby Smart's teams have done a tremendous job in these road noon kickoffs. It's a business trip, but things will be hostile in Columbia.
Hunt – The Georgia faithful, so joyful, grateful, fulfilled and relieved with the 2021 national championship, got an extra jolt when Smart said before this season that Georgia will not be hunted. The Bulldogs were the hunters in the 49-3 victory over then-No. 11 Oregon in the season opener. This Saturday will be a hostile environment, and the Gamecocks will give Georgia their best shot. Smart will drive his Bulldogs to come out on the attack, and take the fight to the Gamecocks. Georgia is 3-0 in Columbia under Smart's watch.
Kick It Great – Special Teams made the difference in South Carolina's season-opening 35-14 win over Georgia State in Columbia. The Gamecocks blocked two punts for touchdowns and got field goals of 53 and 51 yards from Mitch Jeter. Turnovers and special teams can be the equalizer and give the underdog the best shot at pulling off the upset. Especially on their home turf.
Creative Run Game – South Carolina has an outstanding defensive line, led by Zacch Pickens and Jordan Burch. These are big time players that Georgia, Alabama and Clemson all heavily pursued. Current Bulldogs defensive coordinator, and former South Carolina head coach Will Muschamp got them to Columbia. This defensive line will be one of the biggest challenges for Georgia's offensive front this season. The Bulldogs will very likely spread it around and find different ways to move the ball on the ground. Even with a tremendous offensive line like Georgia, these Gamecocks are hard to push around.