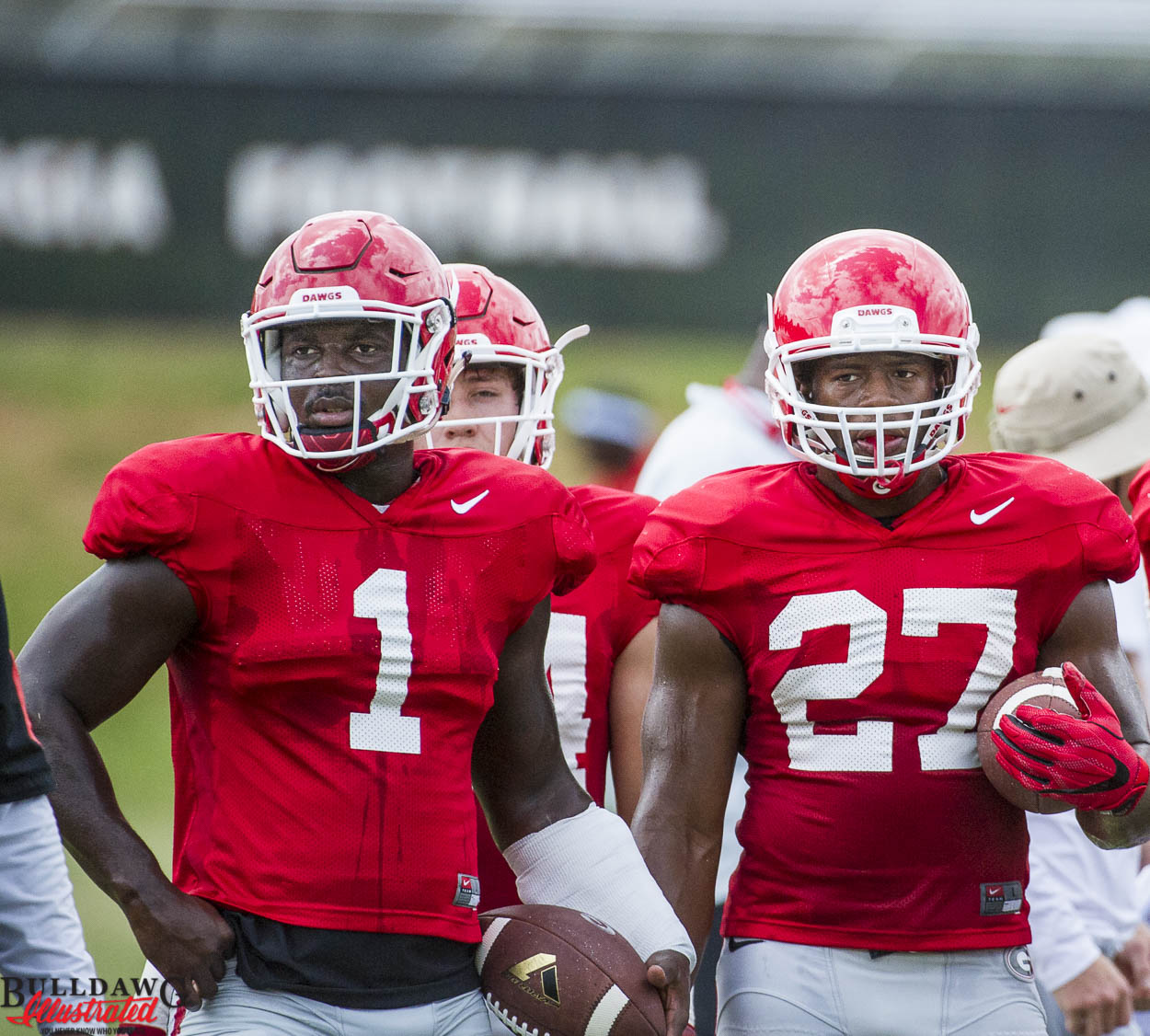 While Georgia's 2016 college football season certainly could have been better than the 7-5 record they posted, the Bulldogs do have a chance to go out on top with a bowl win against TCU on Friday, December 30th. There are five keys for gigging the Horned Frogs if the Dawgs want to do just that and get win number eight.
NOTE: Article was written a couple of weeks prior to Davin Bellamy, Lorenzo Carter, Nick Chubb and Sony Michel announcing that they would be returning for their senior season. It has been updated as of 12/18/2016.


1. DEFUSE THE DOUBLE-BARRELED THREAT
TCU's offensive duo of running back Kyle Hicks and quarterback Kenny Hill spells trouble for the Georgia defense, if the two aren't at least slowed down. Hicks is both the leading rusher (954 yards, 12 TDs) and pass receiver (42 catches, 396 yards) for the Horned Frogs while former Texas A&M quarterback Hill, like Hicks a junior, guides TCU's up-tempo attack and has thrown for 3,062 yards and 15 touchdowns and run for 537 additional yards. Most certainly, if the two "H Boys" aren't held below their usual per-game rushing and passing averages, it could be a long afternoon in Memphis for Mel Tucker's Bulldog defensive unit.


2. BIG GAME FOR NOS. 27 AND 1
The Liberty Bowl might have likely been the final game for Nick Chubb and Sony Michel in the red and black as they could have chosen to enter the NFL draft after their junior seasons in Athens, but that looks no longer to be the case as both Chubb and Michel have announced that they will return for their senior seasons. These two, without question, rank with the top running backs in UGA's glorious football history and have been true warriors for the Bulldogs, both on and off the playing field. And after announcing that they would return, Bulldog Nation would love nothing better than to see Chubb and Michel put up huge numbers and, in fact, big rushing performances from both will be needed if the Bulldogs are to outscore the Frogs.


3. MAKE SPECIAL TEAMS SPECIAL!
The Bulldogs have assuredly shown marked improvement in special teams play this season but, still, there have been major gaffes at times. Against a TCU bunch that can certainly light up the scoreboard on their good days, Georgia must do it all well come Dec. 30 in the Liberty Bowl game. The Bulldogs must cover kickoffs and punts with efficiency, Brice Ramsey must punt the football with success and Rodrigo Blankenship will need to be true on all his makeable field goal attempts. As always is the case, a great special teams showing will go a long way into Georgia winning this football game.


4. KEEP YOUR FOOT ON THE GAS!
Some thought the Bulldogs, in their disheartening 28-27 loss to state rival Georgia Tech, became conservative on offense after leading the Yellow Jackets by 27-14 midway of the final quarter, which enabled Tech to take over the game and sting the Dawgs in the end. If Georgia is able to build a lead on the Horned Frogs, the Bulldogs need to continue attacking, keep doing what enabled them to go on top of TCU in the first place. In other words, keep the "pedal to the metal" and put away the Frogs while you can.


5. SPRINGBOARD INTO 2017 WITH BIG WIN
A Liberty Bowl victory against this Big 12 opponent would certainly do a couple of things: (1) Get the bitter taste of the Tech defeat out of the Bulldawg Nation's collective mouths and, (2) Launch Kirby Smart's team into the 2017 season on a very positive note … a year in which the Bulldogs should be primed to make a bonafide run for the SEC East Division crown. And, let's face it, an 8-5 final record for these '016 Dawgs sure beats a 7-6 finish and a second consecutive defeat to end this up-and-down campaign.