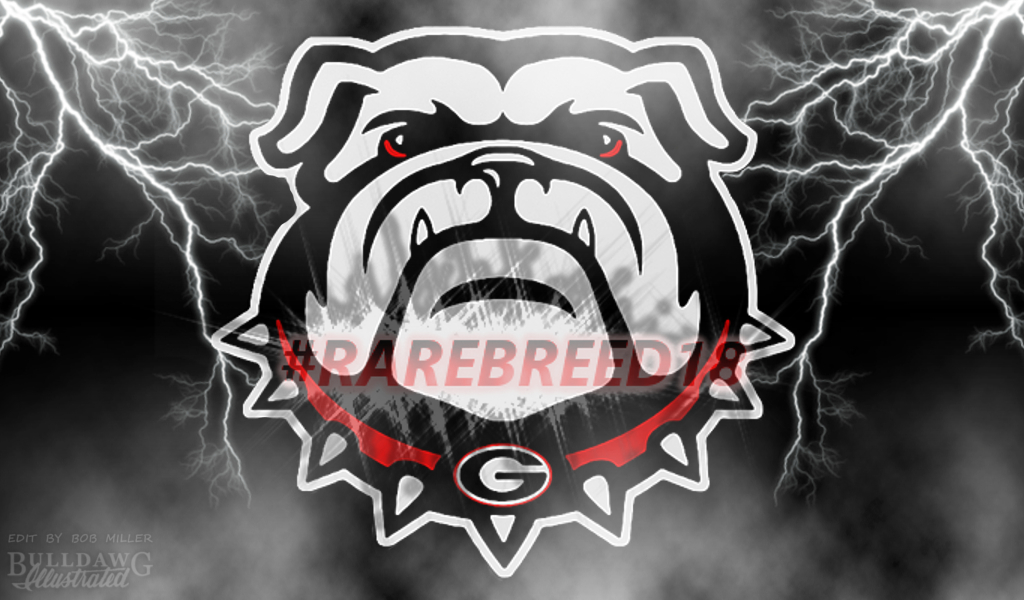 Georgia finished the first early signing period with the No. 1 recruiting class on Rivals, 247 Sports, and ESPN. However, the race isn't over yet as the final weeks leading into National Signing Day will be some of the most intense.  After signing one of the most historic classes in modern history, Georgia isn't done as the recruiting train chugs full speed ahead. The Bulldogs have around four to five spots left for the 2018 class, and these five players have Georgia in their final choices.


Tyson Campbell: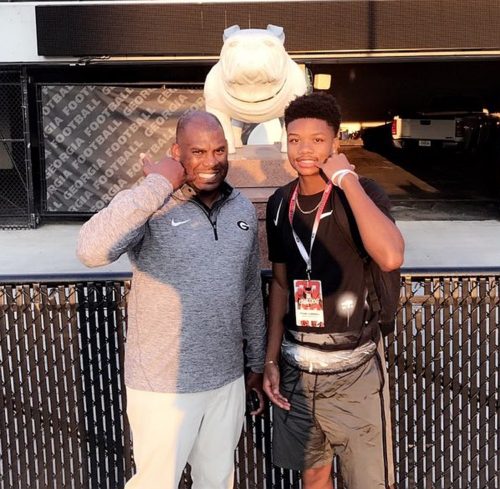 To begin, Tyson Campbell is a 5-star cornerback that Georgia has high on its list. Campbell ranks as a five star on 247Sports and a 4-star on Rivals. According to 247Sports Composite, he's the number three cornerback in the country and ranks fifth in Florida. The 6-2 180-pound corner from American Heritage High School has 22 offers and his final schools are Georgia, Miami, and Alabama. He recently played in the US Army All-American Bowl on the East team.
Campbell plans to visit Georgia this weekend for an official visit. Since January 3, various 247Sports experts predict him to come to Georgia. He picked up seven crystal balls since the third and expect him to get more the closer it gets to signing day. Despite having three teams in his final choices, it seems to be down to Miami and Georgia, with the Bulldogs holding onto a slight lead.
The corner started as a wide receiver but moved to the defensive side of the ball as his career continued. Campbell has a nice length and carries natural instincts. While watching his film, its good to note that he plays with his head up and can really close in on the ball. Campbell's known to play in the nickel package and on the outside, which Georgia needs to build depth on in the secondary. His size helps him recover well in coverage and has good vision. Campbell isn't perfect and can work on his footwork and transition in coverage. He has an opportunity to come in and make a stand early with his size but must work to get there as that area is full of competition.
Confidence level: 4/5
Check out his junior season highlight video below to see more of Campbells talents.
Tommy Bush: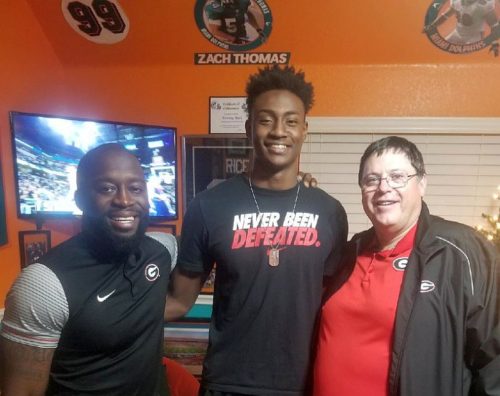 Next, Georgia looks to replace Javon Wims with a big wide receiver. Tommy Bush is a four-star wideout that seems to lean toward Georgia after taking an official visit on Dec. 15. According to 247Sports Composite and Rivals, he ranks as a four star. 247Sports ranks him as the No. 37 receiver and No. 23 in Texas. The 6-5 191 pound receiver from Samuel Clemens High School runs a 4.47 40-yard dash and has 46 offers. He participated in the Under Armour All-American game on Team Highlight, where he proved to be a big target. Bush hasn't released any final schools, but 247Sports shows Baylor and Texas are two of his high choices. However, since his visit to Georgia in December, the Bulldogs are up there for Bush too.
Bush is a big-time receiver that any school would love to have on its roster. Regardless of his 6-5 stature, he was also blessed with speed. This makes him a rare specimen and what makes him so favorable for the Bulldogs. Georgia seems to be looking for big-time receivers and Bush fits that mold. Once he gets a little more weight on him he will be a dangerous weapon in the red-zone and a vertical threat in the long ball. His route running ability is top-notch along with his ability to create space and separation. With Georgia's impressive nutrition program, Bush could make an impact as a freshman.
Confidence level: 3.5/5
Check out Bush's Senior Highlights below to see his raw ability.
Quay Walker:
Georgia flips another prospect from Alabama with four-star linebacker Quay Walker. Despite his pledge to the Tide, Walker seems to be flirting with the Bulldogs. According to 247Sports Composite and Rivals, they each rank him as a four-star. On 247Sports he ranks as the number three outside linebacker and number nine overall prospect in Georgia. The 6-4 220 pound linebacker from Crisp County High School has 18 offers and is a hard commit to Alabama. However, 247Sports has Georgia and Alabama with a 38 percent chance to sign him.
Walker plans to take an official visit to Georgia on January 19 after he visits Tennessee this weekend. He came to Athens back in November on an unofficial visit, and since then the Bulldogs have been quietly on the radar. Walker played in the Under Armour All-American game on Team Spotlight and showed the experts he was someone to watch out for.
Despite his size, Walker has some speed to him along with a natural athletic ability. With Georgia losing Lorenzo Carter and Davin Bellamy on the outside, the Bulldogs could use him there. He can be used a pass rusher out of a two-point stance or run in coverage. Walker is still quite raw with his technique, but it's a good kind of raw. His point of attack when playing the run could improve, but he has the ability to really mold into a great linebacker and will with the right development.
Confidence: 4/5
Check out Walker's Midseason senior year highlight video below!
Michael Thompson:
Another area that Georgia needs a commitment from is the defensive tackle position. With two signees and two committed, The Bulldogs look to add one more to that list. Michael Thompson ranks as a four-star on 247Sports and Rivals. On Rivals, he ranks as the No. 2 defensive tackle nationally and No. 4 in Missouri. 247Sports ranks him No. 55 nationally, No. 2 in Missouri and No. 4 in his position. The 6-3.5 291-pound tackle from Parkway North High School currently has 25 offers. 247Sports predict him to go to the Missouri Tigers, but Georgia seems to be in the mix too. He played in the U.S. Army All-American Bowl on the West team and performed well. Walker hasn't planned on taking an official visit to Georgia, but that could change in the coming weeks.
Thompson played both ways in high school but is projected as a defensive tackle for college. The more he works on his craft, the better he will get. Once he settles into one side of the ball, he will explode onto the scene. Thompson will only get quicker and more coordinated as he matures into his body. He can close in on the ball and get to the ball quickly. As soon as Thompson settles into a position he could be a future NFL star. Georgia would land a steal if it picked up this midwest monster, and with Trey Scott at the helm, it could be scary to see how much he improves. I expect Georgia to push hard for Thompson in these final weeks.
Confidence: 2/5
Check out his senior highlight video below!
Isaac Taylor-Stuart:
Finally, Isaac Taylor-Stuart is one of the highest sought out cornerback in the country. Both Rivals and 247Sports rank him as a five star. On Rivals he is a Rivals100 player and ranks No. 11 nationally, No. 2 in California, and No. 3 in his position. As for 247Sports he ranks No. 26 nationally, No. 2 in his position and No. 4 in California. Taylor-Stuart played in the U.S. Army All-American Game on Team West, the Polynesian Bowl and the Open Finals on team Mach Speed.
The 6-2 187 pound corner from Helix High School has 50 offers. 247Sports predicts him to go to USC at 62 percent, Texas A&M at 31 percent and Alabama at eight percent. However, Georgia seems to be in the mix of things as Taylor-Stuart plans to take an offical visit on January 26. Taylor-Stuart also plans on making an offical visit to Tennesse on February 2. So it seems to have come down to USC, Texas A&M, Alabama, Georgia, and Tennessee. As one of the highest ranked players left undecided, I expect Georgia to throw the kitchen sink to get this player.
Another tall corner, the Bulldogs seem to be showing a trend for the future of its secondary. Taylor-Stuart runs a 4.30 40-yard dash and is a long corner with good straight-line speed. He closes in on the ball well and with his long arms should prove to be very deadly in press coverage. If Taylor-Stuart continues to grow, he could end up being a monstrous safety that any team would hate to throw against. He's one of the most well put together corner in the 2018 class, and expect him to contribute early wherever he chooses to go to school.
Confidence: 2/5
Check out Taylor-Stuart's senior highlight video below and watch in awe at his talent!
Recent Articles by Savannah Leigh Richardson


[pt_view id="8722077nva"]