Unbelievable!  Spring has sprung and college football is already back.  The Dawgs attacked the day on Tuesday for the first of fifteen spring practices.  Five thoughts from the first day of spring are below: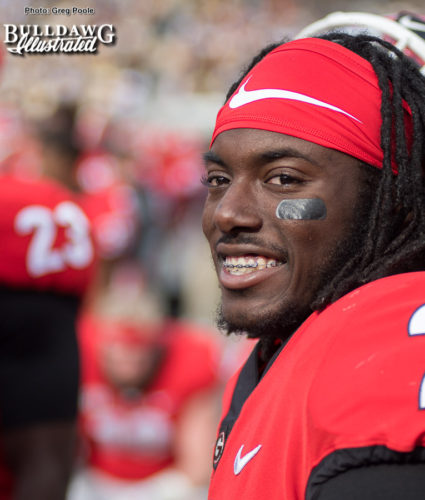 Isaiah Wilson Looking Lean
When the 5-Star tackle arrived on campus last summer he arrived carrying every bit of 365 pounds on his 6'7 frame.  Only 9 months later Wilson appears to be in the neighborhood of 330 pounds and is moving around incredibly well.  Best case scenario for the Dawgs on the right side of the offensive line is to pair Wilson with Cleveland and have the biggest, most athletic pair of road graders in the country.
Natrez Patrick Back Full Go
Very good news for the Dawgs with Natrez Patrick.  He was back at practice and running with the first team.  His ability to steer clear of trouble of the field this offseason will be crucial as the Dawgs could really use his leadership at the linebacker position where the Dawgs are very talented but very young.
Fromm and Fields
Finally, Jake Fromm and Justin Fields sharing the same practice field.  Jake Fromm was his usual self with maybe a little additional arm strength he has been able to build up over the last few months.  Fields showed his effortless athleticism and flashed an elite arm.  His head was spinning a bit with the pace of practice but on the good news front, he showed no ill effects from the broken finger.
Richie Rich
One of the most anticipated debuts on the field in a full-time role this season will be Richard LeCounte, III affectionately known by his teammates as Richie.  In his first spring practice as a projected starter his vocal leadership and energy bouncing around is contagious.  Dominick Sanders was a heck of a player, but Richie brings another level speed and more important physicality.
Energy
Only 14 weeks after a devastating loss in the national championship game the Dawgs were back on the practice field for the first time and getting after it.  The coaches were working up a lather and the players followed their lead.  There were no signs of a hangover and the coaches definitely are not going to allow anyone to rest on their laurels.