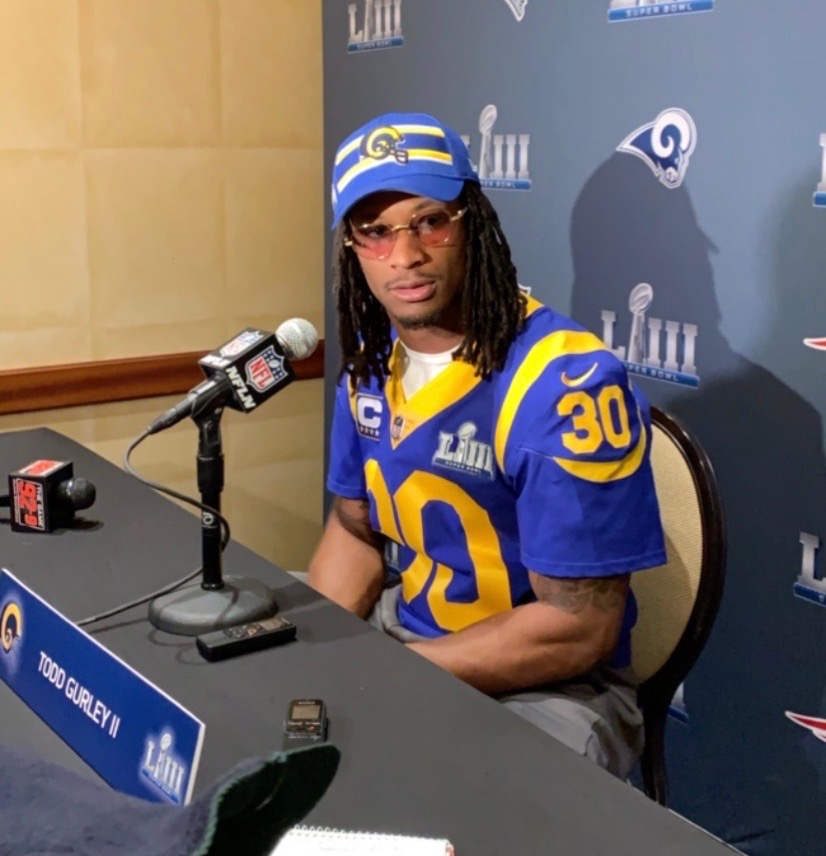 Rams running back Todd Gurley may be wearing blue and gold on Sunday, but he will always rep the red and black. For Gurley, traveling back to Georgia for the 2019 Super Bowl will serve as a homecoming.

Gurley played at the University of Georgia and will see a past teammate, Sony Michel, competing against him for the championship. "It's kind of like a bowl game," Gurley said.

Gurley's college career took off at the University of Georgia where he rushed for over 3,000 yards and earned All-SEC honors in 2012 and 2013. At the time the Bulldogs were coached by Mark Richt, and Gurley said that Georgia's program helped prepare him for the professional league.

At Georgia, Gurley emerged as a single threat. Running back Keith Marshall was a teammate of Gurley's, but due to a knee injury Marshall did not see much of the field his senior season.

Within four years as a professional player, Gurley has been named AP Offensive Rookie of the Year and has more touches, yards and touchdowns than any other player in the NFL the last two years.

However, these past few games Gurley's role as a single threat has since changed. Running back C.J. Anderson has become a prominent member of the Rams running game, especially during the postseason. Against the Saints, Gurley only rushed 10 yards in four attempts, while Anderson rushed for 44 yards.

Gurley has adapted well to this change. For Gurley, he puts the team first and does not care about his personal stats.

"It's all about wins…It doesn't matter anything about stats… Make sure everything on the team is right and everything else will take care of itself," Gurley said.

Gurley and Anderson have a good team dynamic on and off the field. Gurley likes his personality and the energy he brings to the team. There is no hostility when Anderson goes in over Gurley. Instead, Gurley praises Anderson for his hard work and his performance on the field. The two styles of the running backs differ, so they both compliment one another in the Rams offense.

Quarterback Jared Goff thinks that Gurley will not take the backseat role against the Patriots on Sunday. "I expect him to have a huge game this weekend," Goff said.

As Gurley prepares for this game on Sunday he will not forget his ties to Georgia. Even though Michel will be rushing for the other team, Gurley will still be cheering him on. "That's what life is about," Gurley said. "To have stories like this."

For Gurley, he will always be a Dawg.