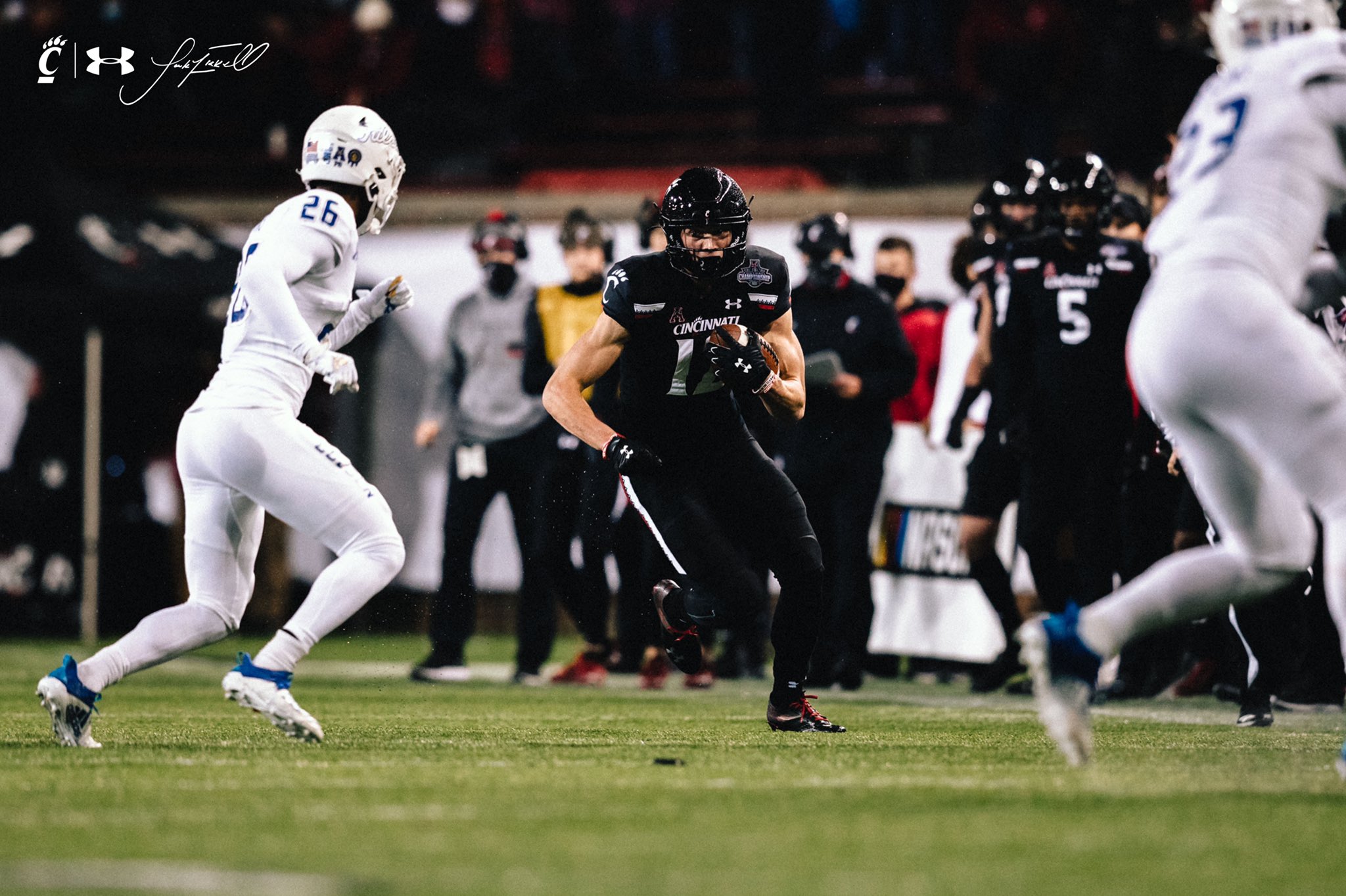 Georgia (7-2) is set to take on Cincinnati (9-0) in the Chick-fil-A Peach Bowl on Jan. 1, 2021, at noon EST.
The Bearcats recently won the American Athletic Conference for the first time, while the Bulldogs have qualified for the program's fourth-straight New Year's Six bowl appearance. This is truly a matchup of "David versus Goliath." Georgia is currently favored as a seven-point favorite over Cincinnati.
Still, this matchup is interesting in many ways.
The Bearcats finished ranked No. 8 in the final College Football Playoff rankings behind two-loss teams such as Florida and Oklahoma. They are the highest Group of 5 team ranked, although the Bearcats feel disrespected by the playoff committee because they were left out of the top-four spots. This upcoming matchup against Georgia is a chance for Cincinnati to make a statement against a top-SEC program. The Bulldogs will have their hands full as the Bearcats are a very talented football team.
Here are five things to look out for as Georgia prepares for Cincinnati:
Quarterback Play
Cincinnati quarterback Desmond Ridder is one of the most electric players to watch in the country. The 6-foot-5, 215-pound dual-threat has completed 162 of 244 pass attempts (66.39 percent) for 2,090 yards, 17 touchdowns and six interceptions. He's also the team's second-leading rusher with 609 yards and 12 scores. The Louisville, Kentucky native currently averages 4.7 yards per attempt with a long run of 91 yards.
Georgia head coach Kirby Smart knows that Georgia's defense can't overlook Ridder. According to the fifth-year head coach, Ridder displays a lot of grit on the field.
"When you see that, it gives you goosebumps because it matters so much to him and so much to his team," Smart said of the AAC Offensive Player of the Year. "To see that kind of raw emotion after a game like that, a championship game, it lets you know what he's built of and what he's made out of."
Ridder has a strong arm and it has been on display all season long. Georgia's defensive line will have to keep him contained because he's known to take off when given the chance. He's shown that his quick decision-making skills can seriously impact the game. The former three-star quarterback has developed into one of the best-kept secrets in the country. For a Bearcats' victory, Ridder will have to almost flawless against a stout Georgia defense.
The Luke Fickell Effect
Former Ohio State defensive coordinator, Luke Fickell, was named the 39th head coach of the University of Cincinnati in December of 2016. In his first year, the Bearcats finished with a 4-8 overall record in 2017. Since then, the program has a chance for three consecutive 10-win seasons if Cincinnati can route Georgia in the Chick-fil-A Peach Bowl.
Since August of 2018, Fickell has totaled a 31-3 record over the past three regular seasons. That second season was a huge turnaround for the program, as the Bearcats finished with an 11-2 record and a victory in the Military Bowl. Fickell was named AAC Coach of the Year for 2018, which was only the third 11-win season in UC history.
In 2019, the Bearcats finished 11-3 and rallied to win nine straight after an early-season loss to Ohio State. UC won the eastern division title for the first time in program history, while it added a second-straight bowl victory over Boston College in the Birmingham Bowl. Prior to the 2020 season, Fickell agreed to a contract extension that would keep him at Cincinnati through the 2026 season
Obviously, Fickell has proven that he can win at a high level with less talent. His team will be motivated after being left out of the College Football Playoff. The Bearcats will be looking to upset a perennial Power 5 juggernaut in Georgia on Jan. 1 to make a statement. The Bobby Dodd Coach of the Year preseason award nominee will also be looking for his first big-time win over a top-ten opponent.
A Stingy Cincinnati Defense
Surprisingly, Cincinnati has one of the best overall defenses in the country, which is a testament to Fickell's coaching style.
The unit ranks No. 11 in total defense, No. 27 in third-down conversion percentage defense, (tied for) No. 3 in intercepted passes, (tied for) No. 18 in red zone defense, No. 20 in rushing defense, No. 7 in scoring defense and No. 2 passing efficiency defense. The Bearcats only allow an average of 16.0 points per game while they limit opponents to 144 yards of total offense per contest.
Cincinnati's defense is led by senior linebacker Jarrell White, who has racked up 74 total stops, 7.0 tackles for loss, 2.0 sacks, two interceptions, two pass breakups and four quarterback pressures. Fellow senior linebacker Darian Beavers has accounted for 50 total tackles, 6.0 sacks, 1.5 tackles for loss, two interceptions, two pass breakups and one quarterback pressures.
The Bearcats' top-six tacklers are all seniors, which provides the defense with a ton of leadership. Cincinnati has only given up 20 or more points in three of nine games this season. The unit will be looking to slow down a Georgia offense, which has found its rhythm over the past three games since Southern Cal transfer J.T. Daniels has won the starting quarterback job.
Consistent Offensive Production
Currently, Cincinnati ranks No. 19 in total offense as they average 467 yards per game and 6.7 yards per play. The Bearcats also rank No. 15 nationally in completion percentage, No. 14 in rush offense, No. 18 in team passing efficiency and No. 15 in scoring offense. The unit has amassed 4,205 yards and 46 touchdowns this season.
As mentioned before, the Bearcats are led by Ridder at the quarterback position, although running backs Gerrid Doaks and Jerome Ford are weapons, too. The pair has totaled 1,059 rushing yards and 14 touchdowns while averaging 5.1 yards per play. The Bearcats rushed for an average of 225 yards per game this season.
Cincinnati's leading pass catcher is tight end Josh Whyle, who's racked up 318 yards and five scores. Junior wide receiver Jayshon Jackson is second and has piled up 309 yards and one score. The Bearcats have four other pass catchers that total over 200 yards.
Georgia has the No. 1 rush defense and that is the Bearcats' strong point. Look for the Bearcats to continue to mix it up on the offensive side of the ball as Ridder has plenty of weapons in his arsenal. Georgia's defensive backfield is losing a few players due to opt-outs, so Cincinnati could take advantage of that weakpoint.