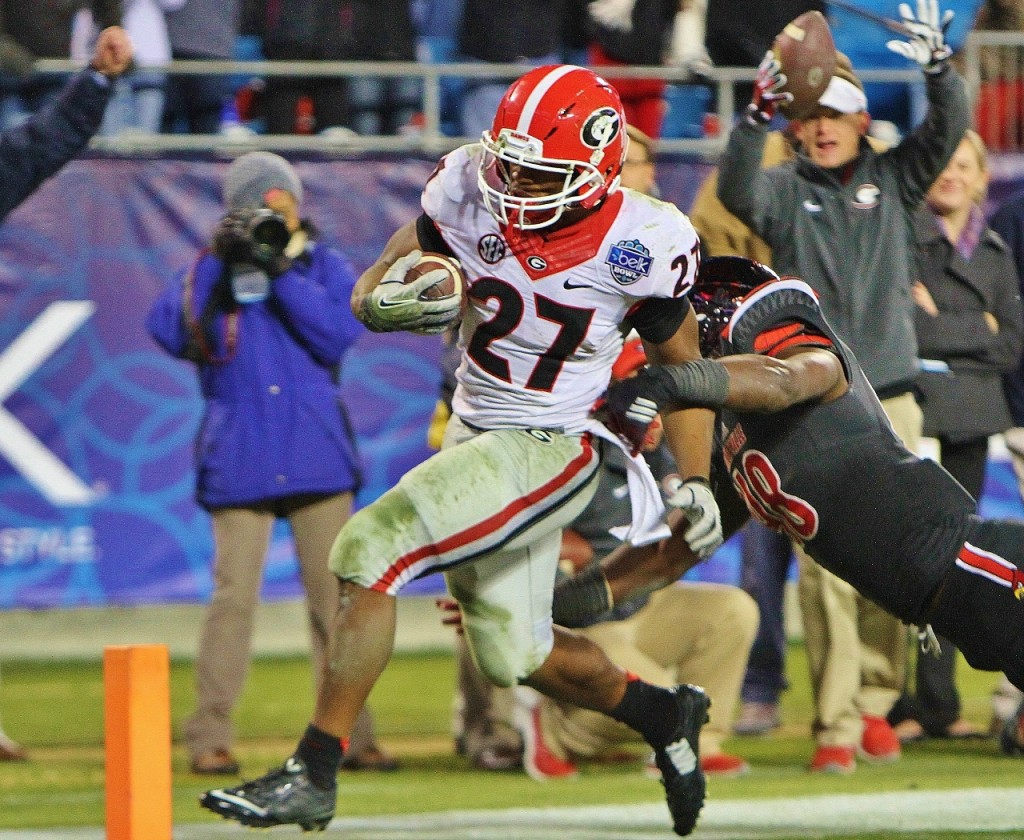 .
Generally speaking, you never know what you're going to get in a bowl game. Especially a bowl game in which there isn't a great deal on the line beyond pride and adding to your win total.

Teams can come out flat and get demolished (as Oklahoma did) or they can come out red-hot with something to prove (as TCU and Clemson did). Every coach, win or lose, always says his guys had a bunch of good practices leading up to the game, so the whole thing's a mystery.
.
Georgia took the field in Charlotte, N.C., on Tuesday ready to play. The Bulldogs got another monster game from running back Nick Chubb, a strong performance from their defense and Georgia was the superior squad in all phases of their 37-14 win over Louisville.
.
The Dogs finish an up-and-down season with a 10-3 record, the ninth double-digit win season in coach Mark Richt's 14 in Athens. It wasn't the season UGA or its fans wanted, not with losses to Florida and Georgia Tech and failing to win a semi-sorry SEC East, but 10 wins looks a lot better than nine.
.
After four final quarters of football, marking the end of an often vexing season, here are four thoughts on the bowl game:
.
1. Feel-good finale
No performance was going to fully remove the bitter taste of not winning the SEC East and losing to Tech, but the Dogs did enough well or very well to at least make things a bit better heading into the offseason. And beating up on Bobby Petrino and Todd Grantham, neither of whom will ever win a popularity contest in the state of Georgia, had to make a lot of folks smile.
.
Georgia's win was a feel-good finale, for sure. The offense put up 505 yards against a good Grantham defense, including 305 on the ground against a unit that was only allowing 2.9 yards per carry. If tight ends coach John Lilly is a legitimate candidate to replace Mike Bobo as offensive coordinator, he just had a heck of an audition.
.
Defensively, Georgia was aggressive and opportunistic, holding the Cardinals to 14 points and picking off three passes. The Dogs did get some help from Louisville's quarterbacks, who missed some open targets, but Georgia often forced the issue up front, finishing with four sacks.
.
Georgia's seniors got to walk off with their 40th win in four years, while the young pups showed that there is loads of talent returning next season.
.
2. Remarkable run (and runner)
We shouldn't be surprised by anything Nick Chubb does at this point, given the season he had, but it sure is easy to still be impressed by the freshman. Against a very good run defense, one that focused even more on him after starting QB Hutson Mason left the game in the second quarter, Chubb had his best performance of a spectacular season.
.
Chubb, the no-brainer for MVP, rushed for a career-high 266 yards on 33 carries — that's 8 yards a carry. It's one thing to do that when the passing game is also flourishing as it did at times Tuesday night, but it's something else when the backup QB is in and everyone watching knows No. 27 is going to get the ball.
.
In the end, despite having just 224 yards on 24 carries through the Dogs' first five games, Chubb finished with 1,547 yards rushing, tying him with Garrison Hearst for fourth on Georgia's single-season rushing list. In his final eight games, after taking over for Todd Gurley, Chubb ran for 1,323 yards and 12 touchdowns.
.
I think we're all eager to see what he does next.
.
3. Defensive improvement
Georgia's defense was solid or better for much of Tuesday's win. Louisville gained 376 yards, throwing for 314, but eight of the Cardinals' drives gained 28 yards or less. Add in four sacks and three interceptions and you have a defense ending its first season under Jeremy Pruitt on a pretty high note.
.
While the list of opponents wasn't the same, it's worth noting that Georgia allowed 269 points in 2014, which is 108 less than it did last season. Georgia finished with 16 interceptions, much improved from last season's anemic total of seven. And the Dogs' 13 fumble recoveries improved on eight in 2013.
All of that points to a defense that's heading in the right direction, which nobody could say a year ago.
.
4. Valuable experience
Being knocked out of his final game wasn't the way Hutson Mason wanted to end his Georgia career (the same goes for wideout Michael Bennett), but he has to empty out his locker feeling good about what he did this season. In his only run as the full-time starter, Mason finished the season 188-for-277 passing (67.9 completion percentage) for 2,168 yards, with 21 touchdowns and only four interceptions.
While seldom dazzling, Mason was solid and smart with the football. When you have a run game like Georgia's, that's what you want out of your QB.
.
Freshman Brice Ramsey surely hoped to play Tuesday, but he sure didn't anticipate taking all the snaps after the midway point of the second quarter. His first throw was intercepted, but after that he was solid enough, finishing 4-for-9 for 51 yards.
.
Those numbers aren't spectacular in any way, but Ramsey did make one play that should stay with him and Georgia's coaches for a while. Late in the third quarter, with the Dogs up 27-14 and facing a third-and-11 on their 26-yard line, Ramsey hit Chris Conley across the middle for a 14-yard gain.
.
It wasn't a scoring play, but when the game was still in doubt and Louisville likely to get good field position if Georgia had to punt, Ramsey dropped back and threw a strike when he needed to do so. It's the kind of play that builds confidence and can carry over to spring practice and next season.