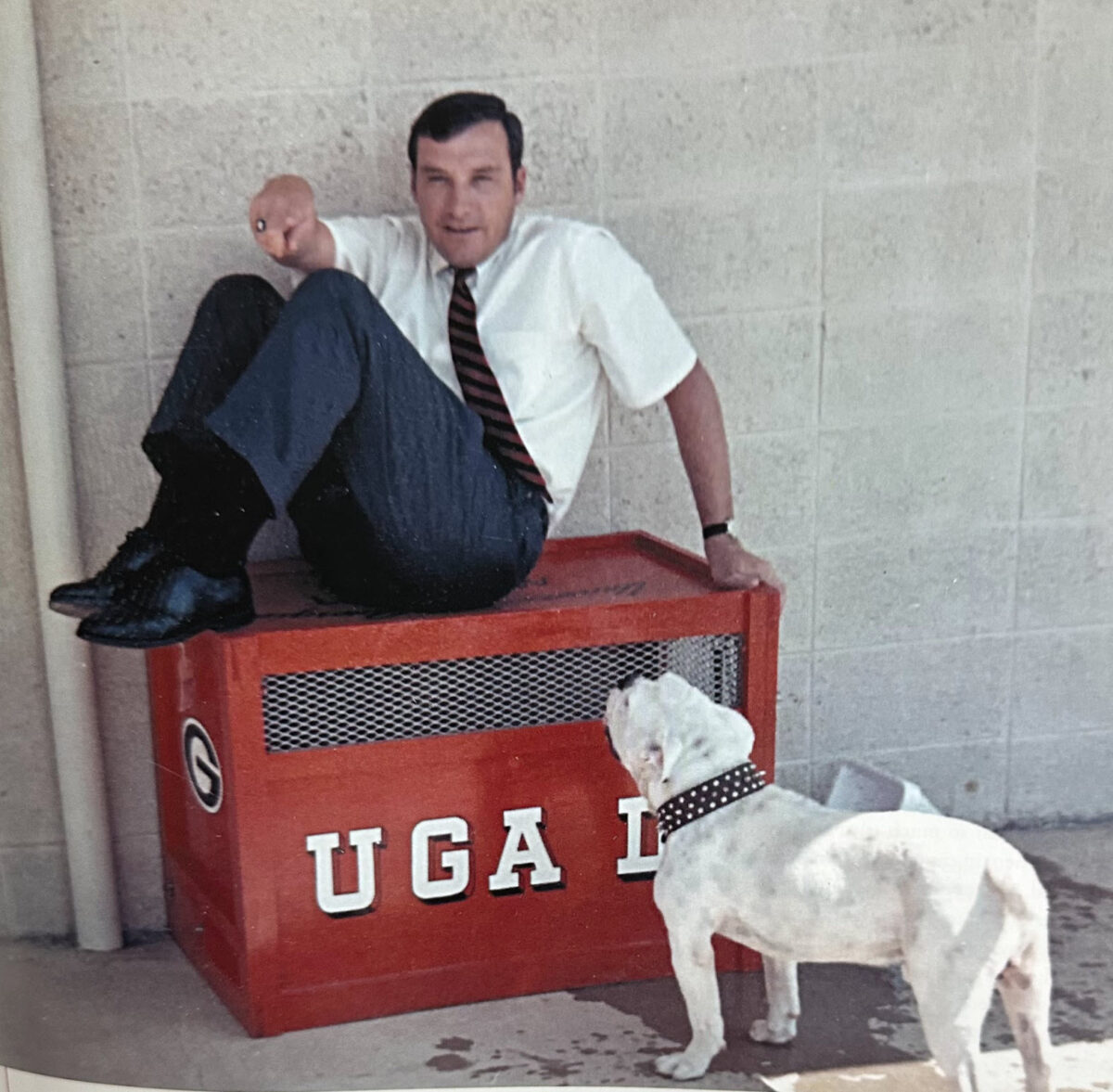 Ahhh, the memories from my friend and legendary Bulldog, Sonny Seiler
If I was blindfolded and you paraded a thousand people by me to speak, I could have picked Sonny Seiler out of the masses.
My friend was Savannah-proud, and his distinctive voice could not be mistaken.
Neither could his or his family's allegiance to the University of Georgia.
The Seilers will be forever famous and beloved for sharing 67 years—so far—of their English bulldogs as UGA's mascot. What started as a happenstance—when Sonny was in UGA's law school—became a tradition that launched their line of pets to nationwide stardom. How Sonny's wife, Cecelia handcrafted their first bulldog's sweater—sporting a "G"—is a legend. In 1997, Uga V graced the cover of Sports Illustrated as America's best college mascot. Sonny gave me a paw-print-autographed edition.
And when the call came Aug. 28 that Sonny, 90, had died, time stood still. Footage of a "highlights film" began to roll through our 40-plus years of friendship.
If you rallied for the Red and Black, you "knew"—from a distance—Sonny Seiler and his bulldog(s). In the early 1980s, I sat next to him as a member of UGA's athletic board of directors. Our friendship was instant. We swapped Jesup and Savannah stories. Sonny was a natural-born raconteur. One of his favorite stories was about the time he was sent to Long County to investigate alleged voting irregularities. He always added, "And I still drive very slowly through Ludowici."
One of the perks of serving on the athletic board was traveling to bowl games. That's when I really got to know Sonny, Cecelia and their family. Sonny; his daughter, Swann; and I served as presidents of the University of Georgia Alumni Association. I will miss our annual past-president dinner reunions. Sonny was always the most dapper in attendance.
One day, Sonny called. He said, "Tell me about a young man from Jesup." My advice was simple: "Hire Michael Conner." For years, Sonny thanked me profusely. When the senior partner went to trial, he wanted Michael sitting with him at the courtroom table.
Once, I got tangled in a civil lawsuit, a business-deal disagreement. I retained Sonny for his legal savvy, but I got a bonus. The courtroom got caught up in Sonny's celebrity. Everybody wanted to shake his hand and get a picture taken with the owner of Uga. A footnote to the commotion: We won.
My friend was a fisherman, and Sonny wanted to "catch some of those ol' big bream in the Altamaha Swamp." I arranged the adventure. And every time since than—when I saw him—Sonny asked, "When are we going again?" When Swann saw the photos, she shrieked, "You let Daddy ride a 4-wheeler?" I can still hear Sonny laughing.
When Alvin Leaphart was alive, the attorney was always writing his next novel. Alvin wanted to meet Dr. William Harris, author of Delirium of the Brave. I spun my Rolodex to Sonny's number. Shortly thereafter, Alvin and his wife, Beverly, and I were tucked into a booth at Johnny Harris' Restaurant with Sonny and Dr. Harris, who had written the Savannah-based page-turner. That was a classic Sonny Seiler evening. Why didn't I record it?
English bulldogs made the Seilers famous. John Berendt's Midnight in the Garden of Good and Evil made Sonny a star on the big screen. When director Clint Eastwood was scheduled to film a segment in Sonny's law office, I got a call. Sonny invited us to come watch. We were in Sugar Creek, Ohio, at an Amish team-driving school. Pam caught the first plane out, and I stayed with the mammoth Belgian draft horses. Pam; our son, Eric; and his sister, Emily, sat a few feet away from the action.
Sonny hosted us at the red-carpet premiere. Our seats were three rows from the front, directly behind Lady Chablis Deveau, the cast's most colorful character. I wish that I had recorded that conversation, too.
Ahhhh, the memories.
So many more.
Sonny, my friend, your spirit will be alive in my heart and soul for as long as I live.