Another one is in the books Bulldog fans and yet again our men in Red and Black were the victors. Next up is a roadie to the Plains, which certainly won't be easy as Auburn had last week off, while our Dawgs played a very physical game against Mizzou here in Athens.
So what will it take to notch another win in the Deep South's Oldest Rivalry?
As our cover says … another Cager Rager in Jordon-Hare Stadium.
When Georgia receiver Lawrence Cager lit up the Gators in Jacksonville two weeks ago, it was very hard not to put him on the cover for our Missouri issue. However, I made the decision to hold him for this issue because in my opinion his dominant style of play most certainly was the perfect fit for the annual battle with Auburn.
Of course, when Cager went down with an injury against Missouri Saturday night, our planned cover was in jeopardy. However, Coach Smart's post-game press conference provided me with enough belief that #15 will play at Auburn to move forward with the cover.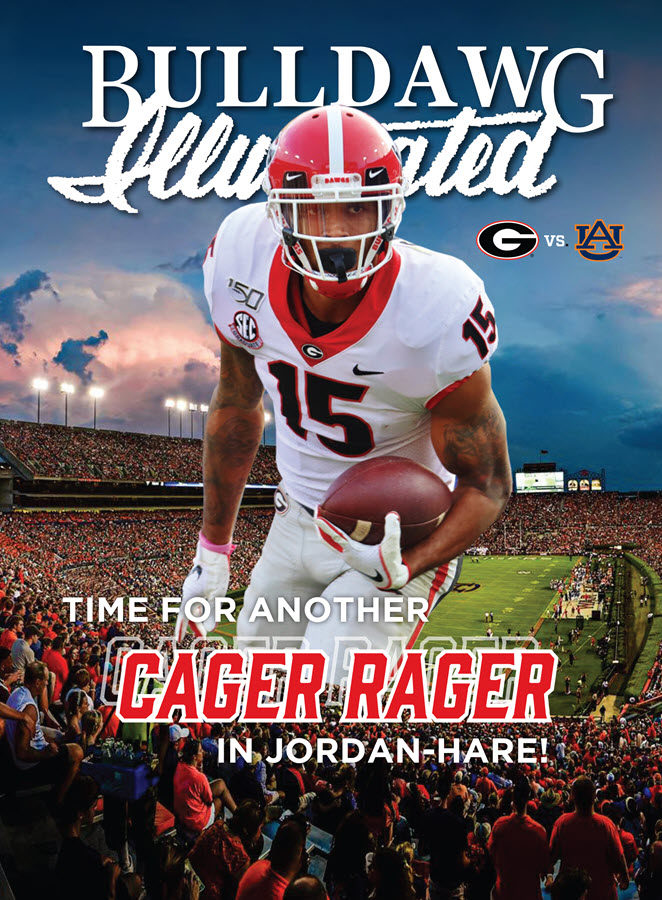 While Cager playing 100% healthy is probably not a reality, his Georgia teammates must strive to reach his level of intensity in Jordan-Hare Stadium, whether Cager is on the field or not. The Bulldogs certainly played with the focus I speak of in Jacksonville from the very beginning. And while the score ended up close, there wasn't any question which team dictated the entire game.
So yet again, I'm imploring our team and its fan base to dig deep for another Saturday.
I've mentioned Auburn's stadium a couple of times already, but it truly is hard to give Jordan-Hare its due respect in print. When the Tigers are having their way, I'll put their stadium up against LSU's Death Valley for its' loudness and intensity. Not surprisingly, the Auburn team feeds off their fans' energy and has the innate ability to finish off a team that shows signs of buckling to the bedlam. Need some proof? Think back to 2017 when our No. 1 ranked Georgia team got off to a clunky start. The handwriting was on the wall that day as the Tigers cruised to a 40-17 rout.
This time on the Plains, I have a better feeling about our team's chances because of the spectacular play of the Georgia defense. Yes throughout the 2017 season, Roquan Smith was an absolute beast making show-stopping tackles all over the field. However, the 2019 Georgia defense is a much deeper and all-around unit. The stats back me up as Georgia is No. 2 in the country in points allowed giving up a mere 91 points on the season so far. And nine games in, the Georgia D has yet to give up a rushing touchdown. They are also No. 5 in the country in total rushing yards allowed. The backend of the defense is pesky and tough, led by Richard LeCounte, whose play of late has to be garnering extra attention by NFL scouts.
Without a doubt, our defense is a force to be reckoned with, but can they play with a controlled rage to shut down the always, formidable Auburn offense?
Man, I can't wait for Saturday to get here. It's going to be a battle.
The game also has a little extra spice with the fact that Georgia receiver George Pickens (an Alabama native) was committed to Auburn for a very long time before choosing the Bulldogs on signing day back in February. Of course, Auburn fans cried foul and even a couple of Tiger players sent some tweets that had to be deleted. You can bet the Auburn defense will do their best to provoke Pickens into doing something that exposes his youth. That's why Pickens having his best game this past week against Missouri was so important.
Focus Mr. Pickens … the Bulldog Nation needs you to concentrate on your job, not the other team.
Finally, while it's easy to build up the hype and animosity between Georgia and Auburn, sometimes the pain that everyday life brings put things into perspective. I encourage you not to miss Jeff Dantzler's A View From on page 16. JD has for many years reached out to his friend and colleague Andy Burcham, a longtime Auburn announcer, to give our readers an insider's perspective on the Auburn football team. This May, Andy and everyone in Auburn Nation lost the Tiger play-by-play announcer Rod Bramblett (and Rod's wife Paula) as they were tragically killed in an automobile accident. With a heavy heart, Burcham has taken over the play-by-play duties for Auburn. And he and his wife, Jan, now have the Bramblett's son Joshua living with them.
Everyone at Bulldawg Illustrated certainly sends nothing but the best to the Bramblett and Burcham families and Auburn University. While the Bulldogs and Tigers will always be fierce competitors, I think I speak for Georgia in saying that we are there for our SEC neighbors when needed.
I hope you enjoy this issue of BI. It's hard to believe that we are in the last fourth of the season. Let's dig deep Bulldog Nation in Jordan-Hare Stadium with another Cager Rager that keeps our post-season aspirations alive. Go Dawgs!!