[su_spacer size="20″]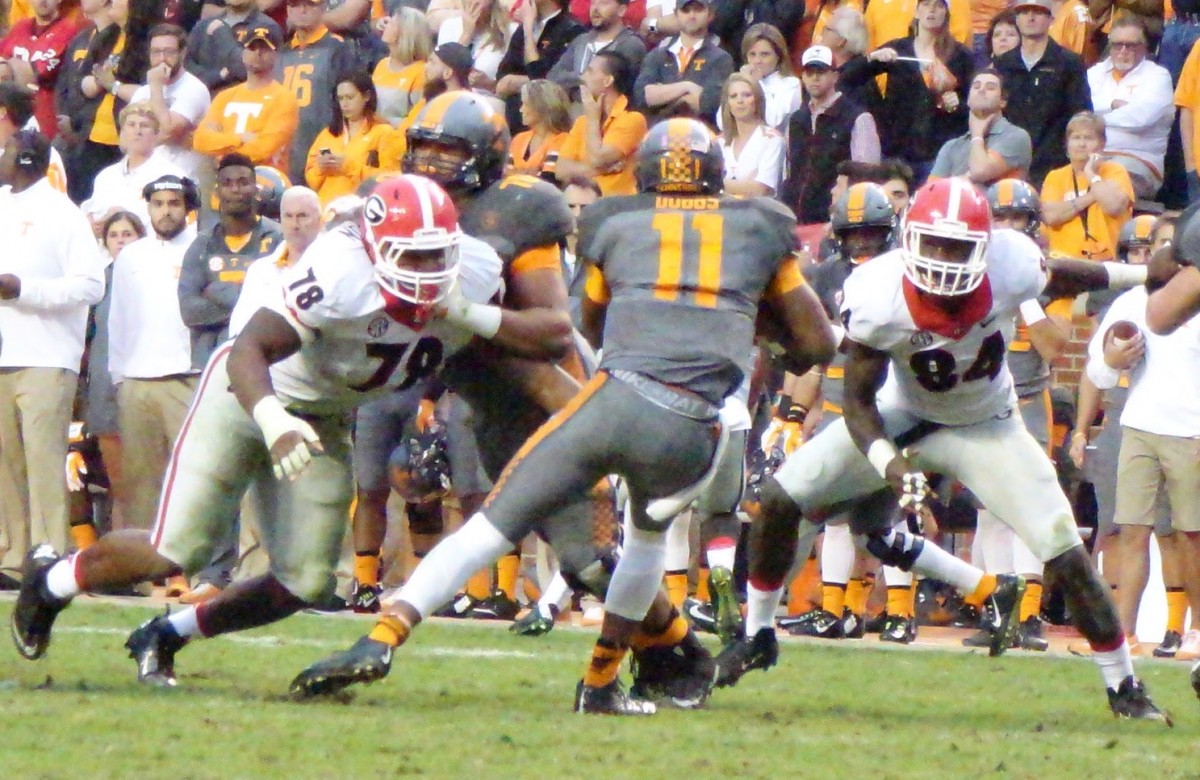 [su_spacer size="40″]
It was a day when VolNation was fragile. The orange-clad fans would not have been shocked if the team had fallen apart. They expected calamity, but Georgia was the team that erred its way to a loss this time.
[su_spacer size="40″]
Poor tackling, dropped passes, inconsistent quarterback play, etc., etc. At times, the passing game is puzzling. Lambert must be expecting receivers to run routes that the young guys just don't grasp, at times. Some passes appear to have been thrown to phantom receivers and other times he throws mighty arcs that float into the hands of a receiver streaking to the end zone.
[su_spacer size="20″]
The first play of the game probably doomed the Dawgs. Pounding the Vols with Nick Chubb was an important component of the game plan. I happened to be shooting from the UGA sideline as the fateful play took place. Chubb went out-of-bounds about 5 feet from me. I was shooting at 14 frames per second throughout the run and watched it through my lens. His knee did not appear to twist upon impact, and as I watch trainer Ron Courson examine him, The knee did not seem to have lateral movement when tested.
Nick was in a great deal of distress after the injury. I though much of it was a result of the unknown. Yes, he was in pain but he was very upset also.
Without Chubb, the Bulldogs were missing a vital component of the running game and that vacuum also affected the passing game
Sony Michel ran hard and ended the game with 145 yards on 22 carries. However, UGA did not score a rushing TD. Chubb's production was missed.
Georgia continues to have problems stopping mobile quarterbacks. Tennessee QB Josh Dobbs was the Vols leading rusher with 125 yards on 18 carries. Georgia gave up over 200n yards to Dobbs and tailback Jalen Hurd, and Dobbs scored twice. The ability to use one's QB as a viable running threat adds another player to the offense compared to a team without this menace.
Special Teams? Georgia has a serious problem with its special teams play. Inconsistent kicking has plagued the team, and the Tennessee game was no exception. The Dawgs get big plays from talented players (like Reggie Davis' 70-yard return Saturday night) but inconsistency is the word that come to my mind.  Georgia's special teams coaching duties are divided between several assistants. I realize that the NCAA limits on field coaches and hiring a special teams coach would take away a position coach. All I can say is the current arrangement seems to be an example of "when everyone is in charge, no one is in charge.
Georgia fans turned out for the game in impressive numbers. They found the obscure location of the Dawg Walk and made themselves heard amongst the orange horde during the contest.
Defensive coordinator Jeremy Pruitt meet with the UGA media for the second week in a row after the game. As Pruitt said, his unit is playing a lot of young guys, and they are making the kinds of mistakes that young players make. What is Pruitt's goal for his group? "To Get Better." I agree coach. Let's play the young ones and get them ready to be a force next year.
There are several rivalry games ahead. Hang with this team. They are going to take more lumps, but they will deliver some also. Help is on the way in the next recruiting class, but this team will not roll over. They are fighters.
[su_spacer size="40″]
---
[su_spacer size="40″] Make sure to check out
Bulldawg Illustrated's
latest print edition:
Don't Jump Ship
, digital issue available for free online click
HERE
.
[su_spacer size="80″]