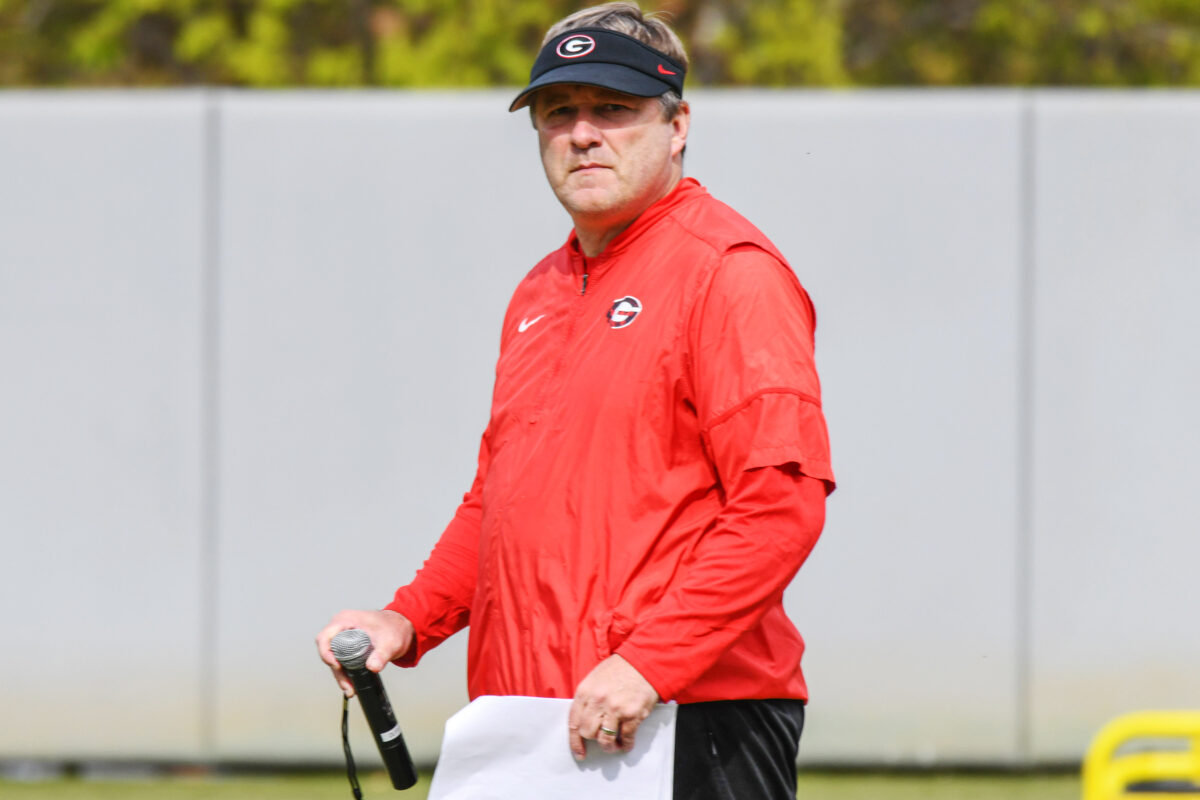 Coaches and sales managers love slogans. They print them on t-shirts and pepper motivational talks with them. Such phrases provide a quick reference point for the current goals of an organization, a rallying point.
Georgia's head coach is no exception. The Bulldogs have employed sloganeering as a rallying point since he took over at his alma mater. However, the latest catchphrase takes a different tack than many previous campaigns. Throughout Kirby Smart's tenure as Georgia's head coach, his program has employed several motivational sayings. "Keep On Chopping," "Attack The Day," and "Finish The Drill" come to mind, but none of them have attracted the attention of the country like the current phrase, "Eating Off The Floor."
Motivational programs must make an impression on players to be effective. Evidence that Smart's catchphrase efforts are thriving can be seen in every press conference. The head coach and his players display their buy-in and quickly invoke the latest slogans. In fact, "Attack The Day" became such a part of UGA lore and practice that former UGA kicker and budding rap artist Rodrigo Blankenship released a song called "ATD."
Former defensive back J.R. Reed's response to a question about "chopping wood" from 2018 illustrates the message:
"We believe that if we keep going and chopping wood and keep our heads down and keep working, then we can be the team that we want to be. We don't pay attention to the rankings. We keep working like we're ranked whatever we were ranked at the beginning of the year. And we keep going. It starts in practice, keep our heads down, and like we said, our motto is just to keep chopping wood."
Previous phrases were straightforward and required little thought to interpret, "Eating Off The Floor" is different.
What does it mean? An exact definition may be elusive, but it would conform in practice to the "us against the world" mindset that Coach Smart instills in his charges, but it is more than that. It is also a reminder that championship performances result from doing the work starting at the most basic level, the floor. No shortcut exists for the daily effort to learn and improve to championship-level play, so "Eating Off The Floor" comes into focus during those July stadium runs and steamy August practices when the day's juice is gone. Coaches are yelling, muscles ache, sweat rolls down, and all that's left is team. At that point, there is no roaring crowd or championship glory; this is the floor. Championships get nourished here – being fed and inspired by the shared pain and common goals sustained by eating off the floor.
Why have a catchphrase? Coaching championship teams is about giving talented athletes the scheme and preparation necessary to win against the best competition. However, Coach Smart understands that a contagion exists that is ready to take down teams who put together a great season and then fade, "…the disease that creeps into your program is called entitlement," he said.
The Georgia Bulldogs have won back-to-back national championships. Now what? That is the question the staff asks itself.