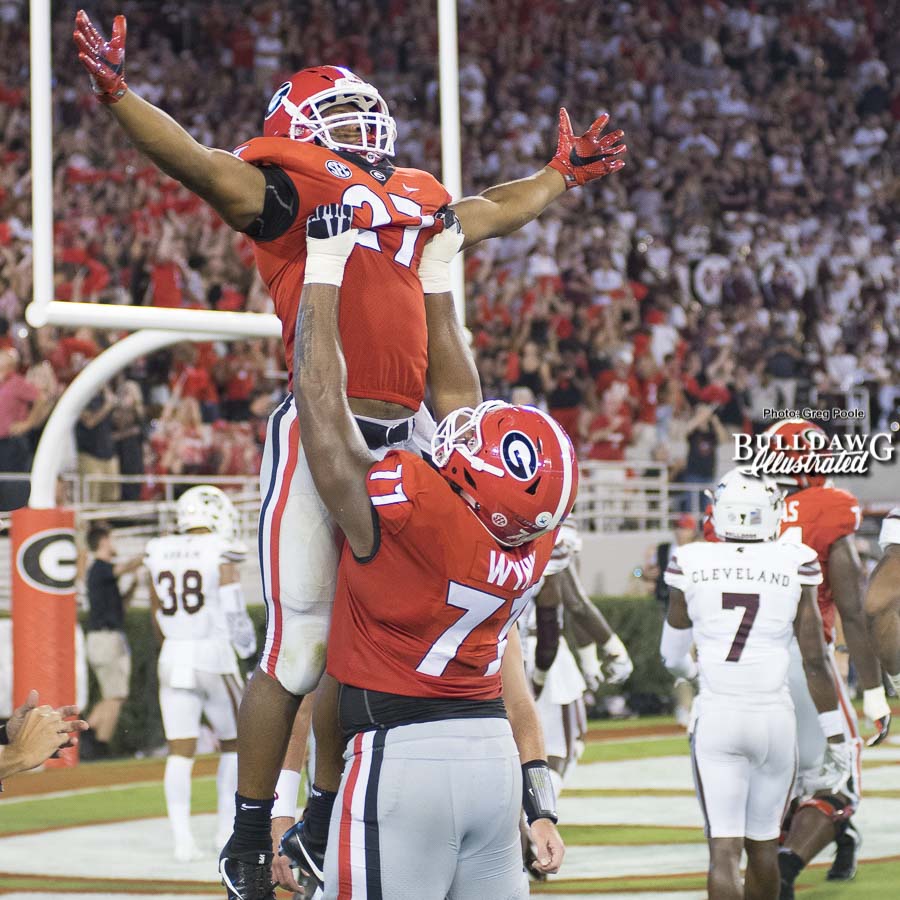 This game became a referendum on the progress of the Kirby Smart regime when Mississippi State stomped LSU one week ago. It was the type of game that Georgia is widely perceived to have muffed in the recent past – a statement game – and opinions seemed evenly split on the type of statement that would result from the contest. Notre Dame fits the 'statement game' bill for many, but the Irish were coming off of a miserable 2016 season, adding no impressive wins before taking on Georgia. Mississippi State throttled LSU and immediately became a national story, a Cinderella even, the national hope to challenge the "invincible" Tide from inside the SEC West. Saturday night in Athens the Dawgs took Cindy's slipper, chewed it up and sent her scurrying for safety.


Kirby Smart was careful in his postgame presser to point out the flaws that his team must fix to become what he considers a good team. But no matter how much Kirby (correctly) wants to minimize the win, a corner was turned in Sanford Stadium Saturday night. Georgia is again a football team that is going to make teams pay for yards, first downs, and touchdowns. Is it too early to talk about reviving the "Junkyard Dawg" tag for Smart and Tucker's defense? Maybe, but I'm sure Erk Russell lit a cigar and smiled broadly at the team's effort against the bizarro dogs.


They say football is a collision sport, and the Georgia defense is giving opposing ball carriers a taste of massive impacts. All year the defenders have made teams pay for the privilege of gaining yards – and pay dearly. The hits have been teeth-rattling, spirit crushers. From close range, the impacts often making me wince empathetically. Opposing players are not going to want to take on the Dawgs again anytime soon after getting beat up on a Saturday night in Athens.


My feeling about the offense (without having watched the replay) is a unit beginning to gel. The offensive line is making progress, and the passing game is finding its rhythm. Be honest – you did not see UGA going 4-0 to begin the season, did you? When Eason was injured, everyone had high hopes for Fromm, but with a rebuilt offensive line most of us didn't consider rolling into Knoxville undefeated, right?


Fans love to hate offensive coordinators, and Jim Chaney has had his fair share of abuse. Someone prepared the Dawgs masterfully for Mississippi State and executed the gameplan deftly. Believe it or not, that someone was, the oft-maligned, Jim Chaney. Chaney's ace assistant, Sam Pittman has put together and trained an offensive line that has shown it can play with (and beat) quality opponents (check Notre Dame's weekend result). The whole team believes they will win if they execute the plan – they trust the process – and now the fan's are climbing on board. It is going to be an exciting ride.



Recent Articles by Greg Poole


[pt_view id="cfef513t3d"]