This Georgia vs. Samford game was boring and that is a good thing. When a Power 5 team like Georgia plays an FCS school like Samford the outcome should be predictable – no surprises, please.


Morale was high the Georgia sideline. When the team gets a lead on a less powerful opponent and a lot of people get to play, there are smiles all around. For the guys who will not see the field very often during SEC play, Saturday night was a big deal. Those guys grind just like the first and second units at practice, but if the front line units do not jump out to a lead the guys further down the depth chart remain on the bench. Last year is an excellent example. Depth building occurred Saturday night and the process put smiles on faces.


This Georgia team has excellent leadership. It starts with the seniors, of course, but there are visible leaders in every class. Last year, I often saw players on the bench who appeared to be disengaged – they were not into the game. This year leaders are taking the initiative and getting the bench pumped up. When the lights come on, this team is all business.


One thing that helps keep this team engaged during games is the extent of interaction between players and the coaching staff during the game. The staff is constantly coaching. Here's one example. During the 2nd half, I saw Kirby Smart gesturing to a player as the offense came off the field. When Riley Ridley got close to Coach Smart, the head coach stopped him, put his arm around the shoulder, and directed him toward the replay on the scoreboard to show him a mistake on the previous play. Why wait to watch the film tomorrow when you can correct it tonight, and reinforce the lesson later.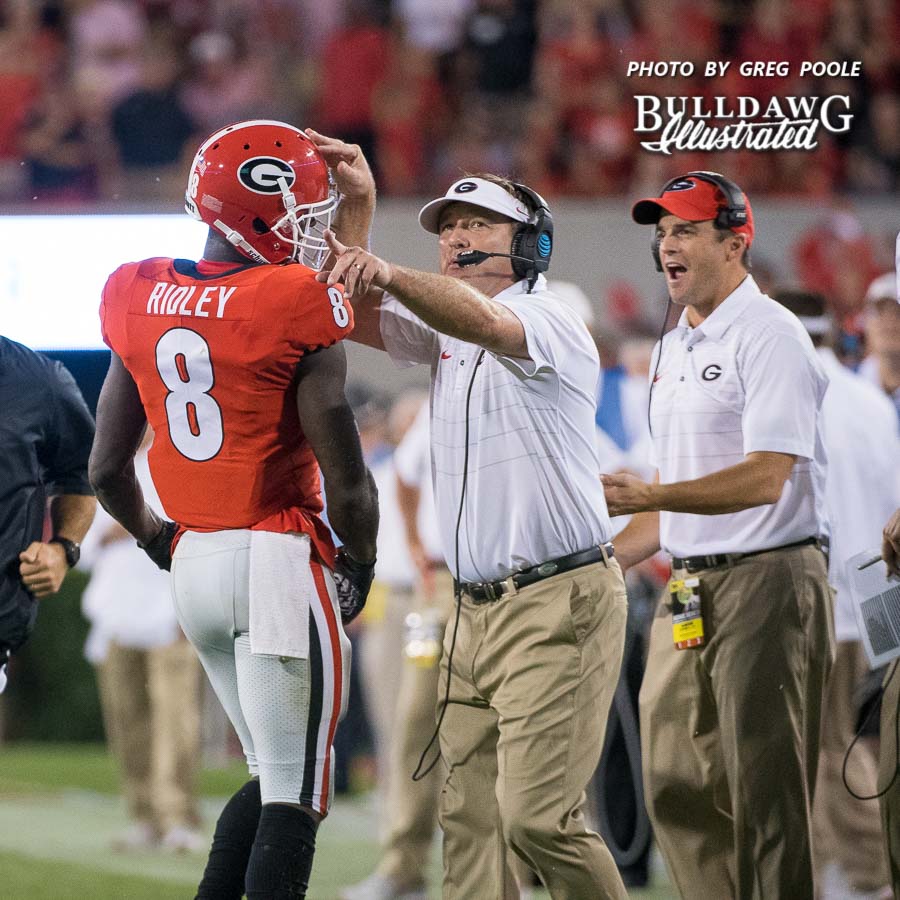 Another example of the seriousness shown by players on the sideline is the actions of the kickers. I have seen punters and placekickers laugh and joke around as they practice their kicking motions on the sideline in previous years, but those days are gone. The specialists appear to me to be as serious about their work as the offensive lineman or linebackers. I am tempted to use the word "professionalism" to describe the team's approach, but I'm sure the NCAA would not approve that description.


With the scary, bizarro Dogs from Mississippi arriving in Athens next week, Georgia begins its quest to return to Atlanta for the SEC championship game. Hopefully, the lessons learned and leadership experience gained in the first 3 weeks of the season will serve the team well. It is going be a dogfight.



---
Recent Articles by Greg Poole


[pt_view id="cfef513t3d"]