[su_spacer size="20″]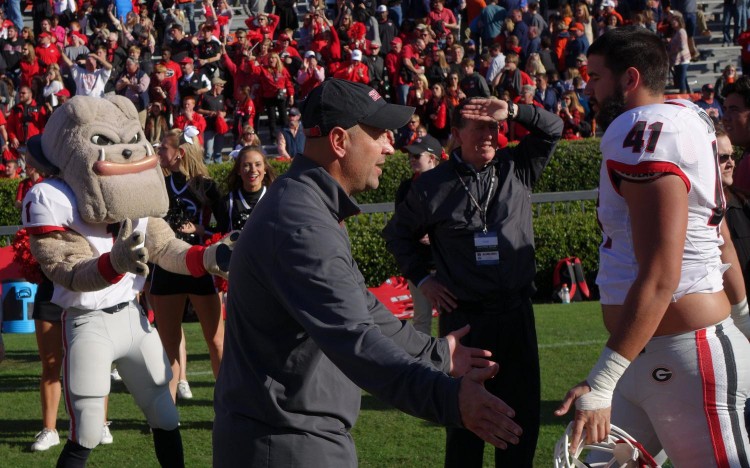 [su_spacer size="40″] Georgia awakened from its first-half doldrums and took the lead in the South's oldest rivalry with strong play by coach Jeremy Pruitt's defense and special teams play(of all things).
[su_spacer size="40″] Special teams have been a thorn in the side of the Bulldogs' season but on Saturday in Auburn that seemingly forgotten facet of the game came through with flying colors. The punters, Brice Ramsey and Colin Barber, performed well. Marshall Morgan slammed two field goals through the uprights and Isaiah Mckenzie sealed the victory with a spectacular 53-yard punt return. The Tigers were held to a total of 94 combined return yards by Georgia's coverage teams, capping an outstanding day for the much-maligned special teamers.
[su_spacer size="40″] Coach Richt praised his special teams during his post-game press conference:
[su_spacer size="40″]
"I know we covered kicks well. Obviously, punt return for a touchdown. Punting the ball out of the end zone was huge. Making sure we caught it and got it out of there. Onside kick with the hands team doing it just the way we coached it."
[su_spacer size="40″] Malcolm Mitchell, playing on the kickoff return 'hands team', did his job perfectly after Auburn made a field goal late in the game. He caught The Tigers on-side kick attempt. Richt Commented:
[su_spacer size="40″]
"The players were saying if Malcolm wanted to, he probably could have scooped it and scored. That's not his job to do that. His job is to get on it, secure it and let us take a knee."
[su_spacer size="40″] Coach Pruitt's defense came out of the half determined to stop Auburn and they did. However, that was not the case in the first half. During the opening drive, Auburn marched down the field after receiving the opening kickoff. From the sideline, it looked like the beginning of a long day, but the defense from its bearings and that would be Auburn's last visit to Georgia's endzone.
[su_spacer size="40″] Coaches Pruitt, Rocker and, Red Bull aficionado, Mike Ekeler were in rare form along the sideline Saturday afternoon. In fact, strength and conditioning coordinator Mark Hocke spend a good portion of his day grabbing Coach Pruitt by his belt and pulling him back to the sideline to avoid a penalty. Ekeler actually injured Rico McGraw by slapping his helmet during a celebration after the defense held Auburn to a three-and-out.
[su_spacer size="40″] [su_spacer size="40″] Jeremy Pruitt knows how to stop Gus Malzahn's offense. In the two tries against Pruitt's Georgia defenses, Malzahn has managed to score 20 total points.
[su_spacer size="40″] I walked onto the field after the final whistle with Keith Marshall. Marshall was limping slightly but he told me that the ankle was improving and he hoped to be back for the Southern game next Saturday.
[su_spacer size="40″] Never disparage a win over Auburn, Dawg fans. After 119 renewals of the rivalry, Georgia has a one-game lead in the series. An ugly win is still a win.
[su_spacer size="60″]