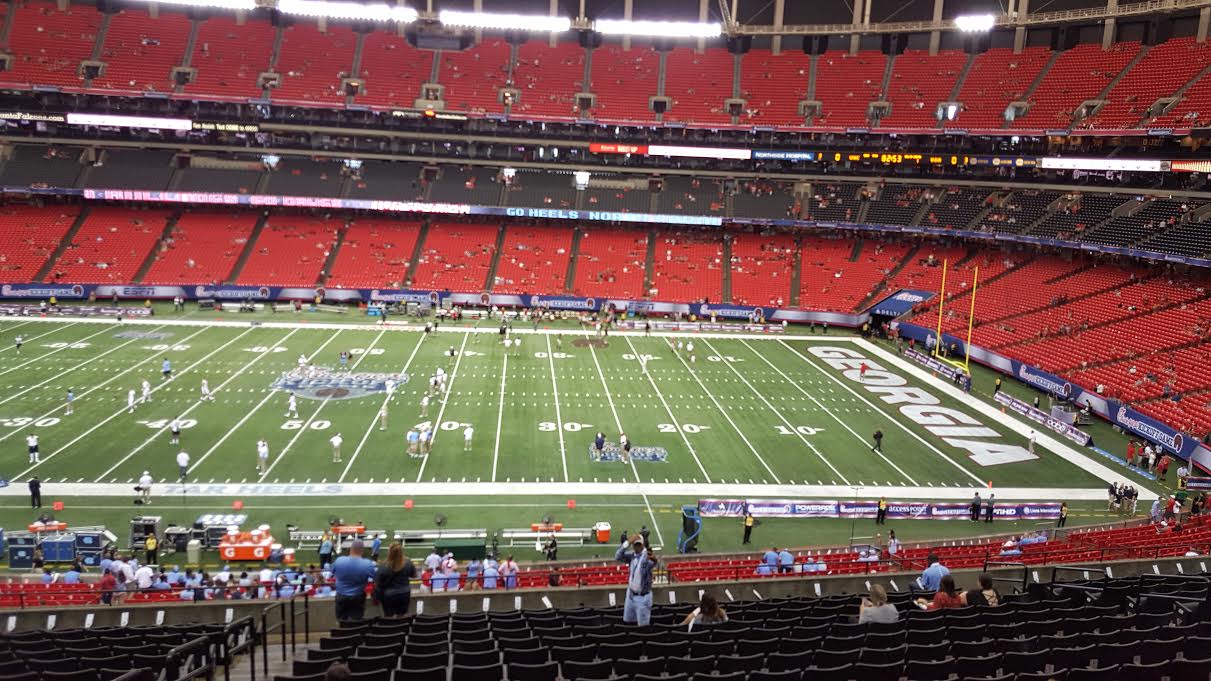 Well, here we are. Sept. 3rd has finally arrived and that means college football is back.
And for most collegiate fans in this state, that means Georgia football, 2016 style.
As I look down from the press box at the green artificial turf in the spacious Georgia Dome – and pray tell, why in the world are they tearing this place down next year? – it will be just more than an hour before the Bulldogs under new head man Kirby Smart see how good they are, what they're not good at and what areas they must improve before embarking on their SEC slate in two weeks at Missouri.
As everyone in Bulldawg Nation is well aware, Georgia has taken on a formidable opponent to kick off the Smart regime in Athens. Larry Fedora's North Carolina Tar Heels enter this Chick-fil-A Kickoff Game coming off an 11-2 season in 2015 and armed with a No. 22 national ranking heading into this season.
For Bulldog fans, there are two positions they will be heavily focused on this afternoon. That's at tailback where All-America candidate Nick Chubb will be making his first appearance since his horrific knee injury in October of last year in Knoxville, Tenn. And that's also at quarterback where senior Greyson Lambert has held off the starting challenge from freshman phenom Jacob Eason. Certainly, Lambert will have to get the Bulldogs in the end zone more frequently than he did last season in order to maintain that starting slot. And indeed, it would be most surprising if Eason doesn't trot onto the field at some point during today's contest.
But it's not the Georgia offense I'm most concerned about in this season lidlifter. I've got ample faith in the Bulldogs' offensive front and no matter who's at tailback and quarterback, I've got to think Georgia will move the football on a consistent basis and find the end zones in the dome.
Rather, it's the Bulldogs' defensive unit that I think will hold the key to this football game. I believe in time Kirby Smart and Mel Tucker will field the kind of defense that will closely resemble the one they coached over in Tuscaloosa, Ala. But how good will the Georgia defense be fresh out of the gate against a Tar Heel offense that averaged 40 points a game last year and has most of that unit back ready to keep defenses on their heels with Carolina's fast-break attack? How will the Bulldogs, with new faces on the defensive front and at linebacker, fare in slowing down powerful tailback Elijah Hood and the Heels' new outstanding passer at quarterback, Mitch Trubisky?
Step up big on "D" today and I've got no doubts about the Dawgs getting Kirby off to a 1-0 start. I originally called this game 24-17, Georgia, but I don't know what I was thinking when I picked that low a score. I'm now seeing both the Bulldogs and Tar Heels scoring a bunch of points.
But with Nick Chubb back on the field, I'm thinking Georgia will score the most today. Make it Bulldogs 35, North Carolina 28.
And, as always, GO DAWGS!!