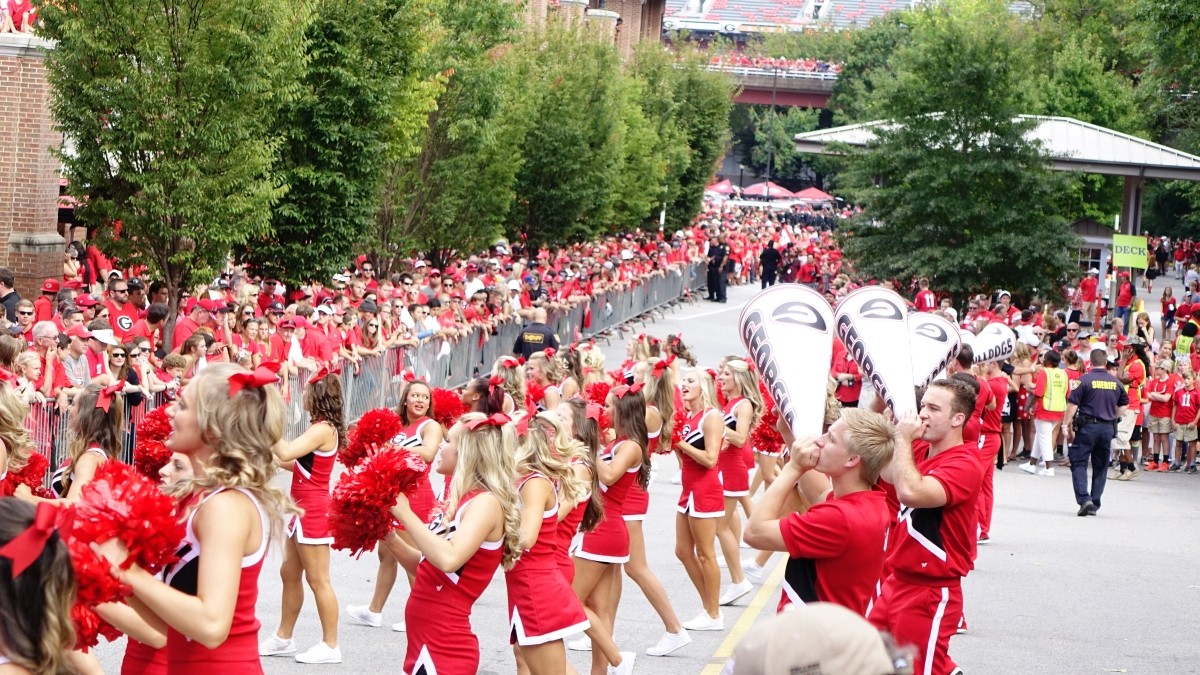 [su_spacer size="20″] I was there 49 years ago, in November of 1966 in the old Gator Bowl when Florida quarterback Steve Spurrier and his Gator teammates' SEC championship hopes were wrecked by the Georgia Bulldogs.
[su_spacer size="20″]
Spurrier would go on to win the coveted Heisman Trophy that season but when he was repeatedly sacked by Bill Stanfill and George Patton – and when he threw a costly interception into the hands of Lynn Hughes – in a 27-10 loss to eventual SEC champion Georgia, Steve Spurrier never forgave the Bulldogs.
And of course when he became coach of the Florida Gators in 1990, he paid Georgia back royally, steering the Gators to 11 wins in 12 years over the Bulldogs … many of those Georgia defeats being one-sided.
Now, with a not-as-fertile recruiting base at the University of South Carolina, Spurrier still has  held his own against the Bulldogs, going 5-5 against Mark Richt, including four wins over Georgia in the past five seasons.
Now, as one of college football's truly legendary head coaches takes his Gamecocks against the Bulldogs in today's 6 p.m. kickoff in Sanford Stadium, some collegiate observers are thinking this will be the 70-year-old Spurrier's final coaching appearance between the hedges. Or, who knows, if Carolina were to knock off Georgia here tonight, the ol' ball coach might get rejuvenated and coach four or five more years, like he hinted recently in one of his post-practice raves in Columbia.
The Bulldogs enter this contest a whopping 16-17 point favorite over the 'Cocks, which I find slightly difficult to believe. Except for an 18-0 whipping of Spurrier's team once in Columbia, I can't remember Georgia ever blowing one of his South Carolina teams out. And that, a three-possession game, wasn't really in the blowout category.
To me, this one comes down to a couple of key factors, to wit: (1) Can Nick Chubb and the Georgia rushing attack run it down the South Carolina defense's throat tonight and likewise, pass the ball effectively – whether it be Greyson Lambert or Brice Ramsey – to back some of those Gamecock defenders out of the box, a happening that would make life a whole lot easier for the Bulldogs' O-line, Chubb, Michel, Marshall, Douglas and the Georgia offense in general; and (2) Will Georgia's secondary be able to prevent the South Carolina receiving corps from finding the open seams, like they have repeatedly in recent years. Of course, the best defense for the Bulldogs will be Leonard Floyd, Jordan Jenkins, Lorenzo Carter and company being in Gamecock quarterbacks Perry Orth and Lorenzo Nunez's faces each and every time they drop back to pass.
Whatever, with Spurrier in town, I'm expecting a typical Georgia-South Carolina barnburner. On the Bulldawg Illustrated podcast this week I went conservative and said Bulldogs 31, Gamecocks 24 – a one TD decision for the Red and Black.
I'll stay with that prediction and be happy if Georgia beats Steve Spurrier by any sort of margin. That would have the Dawgs 4-0 going into the 'Bama game in two weeks.
[su_spacer size="80″]