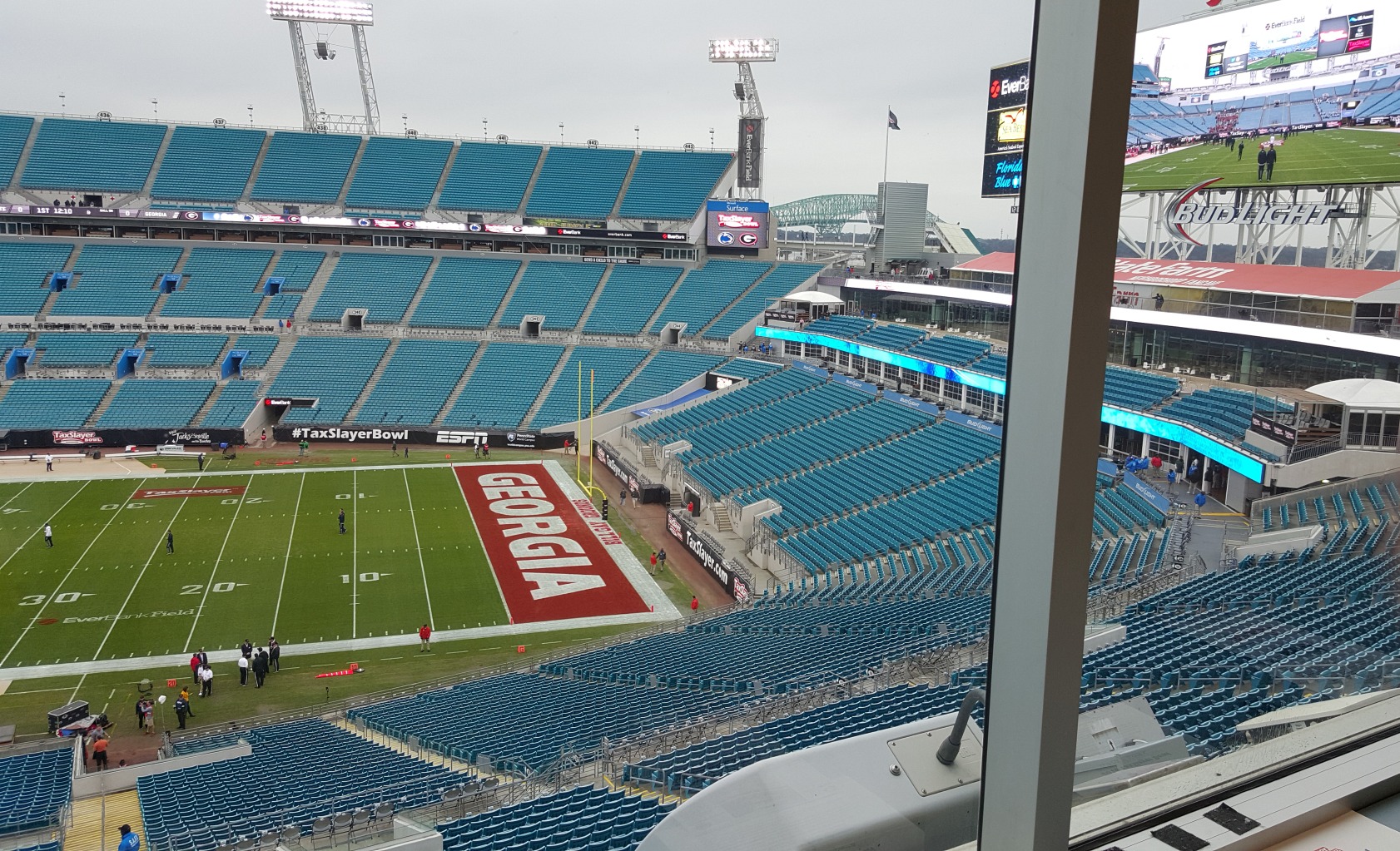 JACKSONVILLE − The New Year of 2016 has indeed arrived and you talk about change, it's doubtful if any college football team in America has undergone as many changes as have the Georgia Bulldogs over this past month.
Since we last watched the Bulldogs play, on Nov. 28 when Georgia held off Georgia Tech 13-7 at Bobby Dodd Stadium, the Bulldogs have lost their head coach, named a new head coach and lost both their offensive and defensive coordinators as well as several other key assistant coaches.
Mark Richt is now at the University of Miami, defensive coordinator Jeremy Pruitt is back with his old school Alabama, offensive coordinator Brian Schottenheimer is headed for parts unknown, running backs coach Thomas Brown is joining Richt on the Hurricane staff, and offensive line coach Rob Sale (Louisiana-Monroe) and tight ends coach John Lilly (destination not announced) are also leaving the staff after today's TaxSlayer Bowl game against Penn State here at EverBank Field.
And adding to Georgia's coaching carousel since the end of the regular season, Georgia's only interim head coach for a bowl game in school history, Bryan McClendon, will be joining Will Muschamp's new South Carolina coaching staff after guiding the Bulldogs today against the Nittany Lions.
Whew!
Of course, as all in Bulldawg Nation are aware, former Bulldog defensive back Kirby Smart is coming home to succeed Richt at the Georgia helm after serving as the ace defensive coordinator of Nick Saban's Alabama Crimson Tide for the past eight years. Smart, however, in another ironic twist, will spend another nine days tutoring the Tide defense after Alabama routed Michigan State New Year's Eve to earn a spot against Clemson on Jan. 11 in the CFP national championship game.
But Smart is in Jacksonville today to get a gauge on his future team and I'm sure two of Smart's recent offensive hires, new coordinator Jim Chaney and O-line coach Sam Pittman, will also be observing this game with much interest.
In the bowl practices conducted in Athens before Christmas and then here in Jacksonville all this week, McClendon − who also becomes the first African-American head football coach of Georgia, albeit for just these three and a half hours or so this afternoon − has said repeatedly that the team's focus is strictly on beating Penn State and ending the season with 10 wins while also sending the Bulldogs' stellar senior class out with 40 career victories.
Let's hope so. In just over an hour from now, we're about to find out if Georgia is indeed a focused football team or, conversely, if the coaching merry-go-round has put a severe jolt into the Bulldogs' preparation for James Franklin's Nittany Lions. It's going to be interesting to say the least, what with Georgia's makeshift coaching staff − with outgoing John Lilly running the offense in Schotty's absence and retained linebackers coach Kevin Sherrer serving as interim defensive coordinator − putting their minds together to try and get this team to victory and a subsequent end to Georgia's three-game losing string in a stadium where there's been more heartache than jubilation in recent years.
Despite all the winds of change that continue to sweep through the Georgia program, I'm staying with the Bulldogs to bite the Nittany Lions here today. Earlier, I threw out a low-scoring, 17-14 win for Georgia. Now for some reason, despite both teams' good defensive showings and paltry offensive performances this season, I'm looking for a few more points than that prediction. Make it Bulldogs 24, Penn State 17 in a good one.

---
---