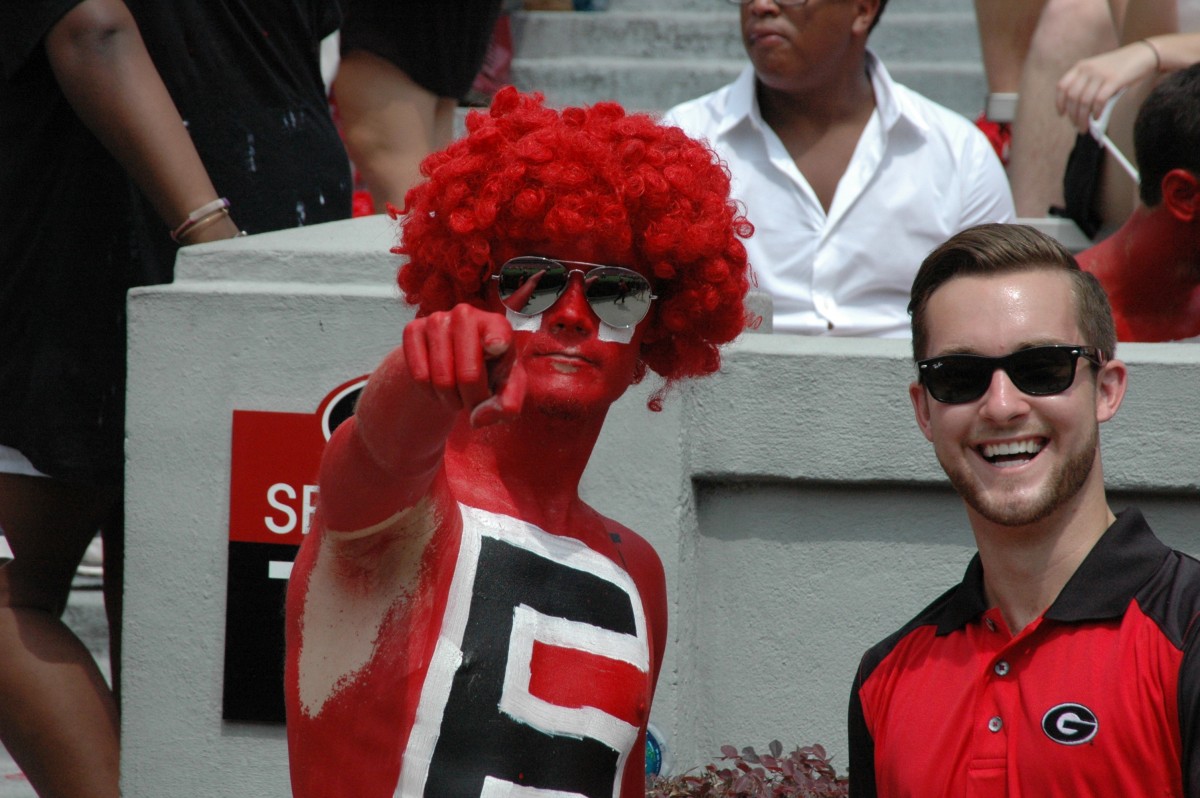 [su_spacer size="20″] The day started pleasantly. A cool breeze blew during the Dawg Walk. Cool breezes in early September should have been adequate warning that mother nature had prepared some tricks for the day.
[su_spacer size="40″] On the sideline, those cool breezes could not be felt. With the assembled 92,000 surrounding the hedges, it felt like mid-August and the humidity, of course, was onerous. Conditioning would play a part in this game, and the Dawgs were ready.
[su_spacer size="40″] – From the beginning, Georgia was in command. ULM brought a talented defense to Athens, but they were no match for the talent and superior depth of the Bulldogs.
– Newly named quarterback starter, Greyson Lambert, completed 75% of his passes and appeared to be in control of the offense.
– True freshman appeared early. Notable in this group was wide receiver Terry Godwin, who caught three passes and blocked effectively.
-The efforts of new strength and conditioning guru Mark Hocke were evident before the end of the first quarter. It was hot. It was humid. But the Dawgs had necessary conditioning to play through the weather challenges and eventually wear down ULM.
– Hocke has to be one of the most animated individuals I've ever seen. His enthusiasm is off the chart. During warm-ups after the first weather delay, he was actually bouncing as he exhorted his troops to get back into the flow of the game.
– The fans were into it. Even though most fans probably did not consider ULM a serious threat to beat the Bulldogs, the stadium was rocking when Georgia executed efficiently on offense or made key stops on defense. Players noticed the fan support.
– Weather delays were a downer. Many fans never returned after leaving the stadium for the first weather delay, but those who did come back in high spirits. Weather delays are a particular problem for players and coaches. It is a challenge to keep the team in a lather and ready to play in spite of the downtime. UGA seem to have a loss of concentration just for halftime and, as Coach Richt noted, were flat to open the 2nd half. However, the staff did an excellent job during the delays in the team responded immediately when the game restarted.
– Based on interviews with players after the contest, this team has a quiet confidence that will serve it well as the season progresses. An old saw states that teams make their biggest improvement of the season between the first and 2nd games. If that is true, Vanderbilt is in trouble.
[su_spacer size="40″] For more articles like this, including player and fan photos as well as videos, check out Bulldawg Illustrated's latest issue online:
[su_spacer size="40″] Bulldawg Illustrated
[su_spacer size="80″]