[su_spacer size="20″]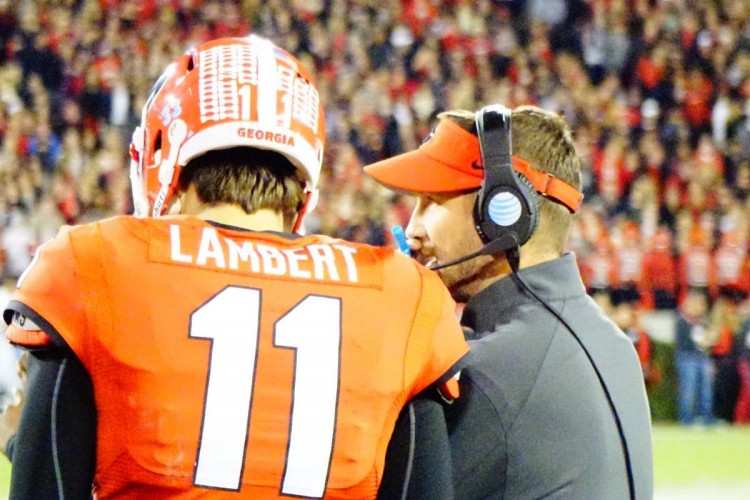 [su_spacer size="40″]
Georgia Southern is the second best team in the state and Saturday night they were very close to winning the state title.
[su_spacer size="40″]
Thank goodness for the Bulldog defense. Coach Pruitt's crew kept a solid GSU offense in check and were the heroes of the game.  The Eagles managed 233 yards rushing on 53 carries, but they had averaged 378.9 yards per game until arriving in Sanford Stadium. Southern's 277 yards of total offense represented another good performance by the defense. Pruitt is bringing back the Junkyard Dawgs.
[su_spacer size="40″]
While Southern's defense played an excellent game, Georgia is far from a good offensive team. Of course, the team misses Nick Chubb but his absence does not explain the torturous inability of Brian Schottenheimer's charges to generate an SEC quality offense. Certainly there are personnel issues (young wide receivers, lack of depth along the offensive line), but no one can doubt that the most important position, quarterback, is desperately weak.
[su_spacer size="40″]
The offense has not jelled. It does not feel like a cohesive unit. Synergy is not a word that I would not associate with Georgia's offense – the whole seems less than the sum of its parts. Even with the injuries and youth, the unit is more a collection of position group than an organic whole. Occasionally, things come together, and it functions smoothly. But those occasions are scattered amidst puzzling play calls, bizarre passes to phantom receivers and miscues that give away points.
[su_spacer size="40″]
Recruiting failures and bad players evaluations from the past are plaguing Georgia now. Specifically, the previous offensive line coach did not redshirt incoming recruits, and he was not given enough scholarship slots during his tenure. How much better would Georgia's offensive line be this year if David Andrews has redshirted his freshman year? I can not answer that question quantitatively, but to answer "better" would not be a stretch.
[su_spacer size="40″]
Changes made last year by the administration have enabled UGA to become a recruiting force nationally but it is going to take a few cycles to replenish the roster. If Georgia continues to move forward with its investments in staff and facilities, players will come to Athens. All that will be left to do is create a team.
[su_spacer size="40″]
Perhaps it is too early to think about next season but having spent this year on the sideline, 2016 cannot come soon enough. A new, highly touted, quarterback will arrive in January along with what is sure to shake out as one of the best recruiting classes in school history. This spring, Coach Richt, and his offensive staff will begin the process of creating a smoothly functioning unit from what is now a collection of parts.
[su_spacer size="40″]
For now, Georgia Tech awaits. They have been terrible this year but can salvage their season by beating Georgia. The Junkyard Dawgs will be ready. Let's hope something clicks with the offense.
[su_spacer size="40″]
---
[su_spacer size="40″] Make sure to check out
Bulldawg Illustrated's
latest print edition:
Get the Cup Back
, digital issue available for free online. CLICK
HERE
.
[su_spacer size="120″]