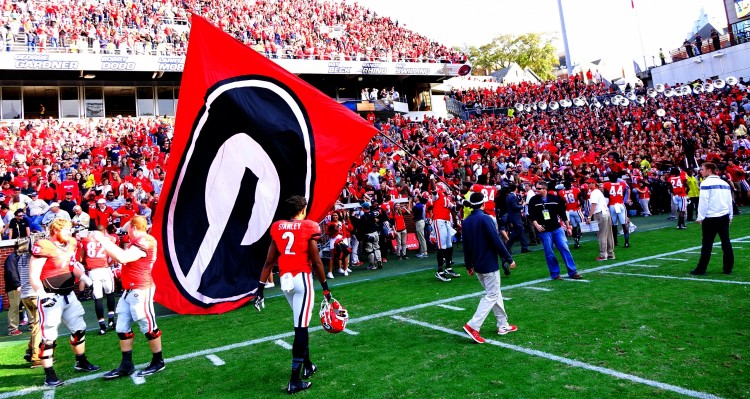 [su_spacer size="20″] Never underestimate the value of beating Tech. The Baby Boomers among us vividly remember when beating Tech was a rare feat – for a long period of my childhood it did not happen. Georgia vs. Tech was not a happy day for most of the 50's and early 60's. Take the 'W', there will be other chances to humiliate them.
[su_spacer size="40″] There is one single theme for UGA since Nick Chubb was injured on his first carry against Tennessee – offensive ineptitude. That begs the question, why? It may be easier to determine what is NOT the cause of Georgia's anemic offense that to pinpoint a single cause.
[su_spacer size="40″] Richt's offenses have never been predicated on having a Heisman contender running back. There is no doubt that a strong running game is a huge part of each gameplan, but Richt has produced excellent teams with solid SEC caliber running backs. In fact, current running backs coach Thomas Brown was one of those solid, rather than All-American, performers.
[su_spacer size="40″] Mark Richt has said on several occasions that an offensive line need not be dominant to produce a winning football team. The following quote is from 2013:
[su_spacer size="40″] [su_quote style="modern-light" cite="Macon Telegraph" url="http://www.macon.com/sports/college/sec/university-of-georgia/bulldogs-beat/article30119298.html"] "I've coached offensive football a long time," Richt said last week. "I don't want to make anybody mad at Florida State, but we didn't have dominating offensive lines, but we had some great skill people that were able to make some great plays. If you have a bunch of linemen that know what to do, and can stay coordinated and get their hat on the right guy, and fight like mad, you can neutralize a defender for long enough for a great skill guy to get on by, or get the ball off, whatever it might be.
"I mean I'd rather have five guys that are in sync, that are a little above average, than three of them that are superstars and two guys that can't play the. You're not gonna get it done. Because all it takes is one guy to blow it, and you've got a negative-yardage play. It can be very frustrating."
[/su_quote] [su_spacer size="40″] Given that Georgia has the same offensive line essentially as last year, even if the center position has taken a hit, what explain the team's moribund offensive performance against Tech and the rest of the 2015 schedule?
[su_spacer size="40"]
"we had some great skill people that were able to make some great plays"
[su_spacer size="40″] If, as we have already said, Sony Michel is an adequate replacement for Nich Chubb (although Michel is better suited to perform in space than between the tackles) and we can agree that Georgia's tight ends are very good, which skill positions do not come to Coach Richt's previously stated "great" standard?
[su_spacer size="40″] It is simple. Georgia's wide receivers and quarterback are not great.
[su_spacer size="40″] At wide receiver, UGA has Malcolm Mitchell and a bunch of young guys. Terry Godwin is a superb athlete and will be the next great wide receiver for the Dawgs, but he was a true freshman and did not enroll early. It took time to get him up to speed. The rest of the young wide receiver corps are talented and will be valued contributors next year. We saw signs of their improvement late this season with Michael Chigbu and others beginning to step forward. Help is on the way at receiver.
[su_spacer size="40″] The cupboard was bare at quarterback in 2015. We can second-guess Schottenheimer (and by extension, Richt) on the handling of Bauta and Ramsey all day, but the simple fact is that Richt agreed with Schotty that they would have to bring in a graduate transfer to avoid disaster in 2015. Mark Richt's pro-style offense requires an excellent quarterback. Of all the skill positions that Richt was referring to in the quote above, quarterback is the most important. Georgia's offense calls for an outstanding quarterback to contend for championships.
[su_spacer size="40″] Another aspect of the program bears some scrutiny when talking about Georgia's quarterback play this season, quarterback evaluation. Christian LeMay, Jacob Park, Brice Ramsey and Faton Bauta were all unable to beat out Hudson Mason or replace him after his senior campaign. Aaron Murray was recruited in 2009, Hutson Mason in 2010. The previous offensive coordinator whiffed in 2011, 2012, 2013 and 2014 based on 2015 results.
[su_spacer size="40″] When puzzling out Georgia's 2015 record, one question may shed some light. Ask yourself what Georgia's record would be if nothing changed other than having an Aaron Murray at quarterback. My guess is people would still be bummed about losing to Alabama, but there would be a very good chance of meeting them next Saturday in Atlanta. Quarterback is that important to Richt's offense.
[su_spacer size="120″]