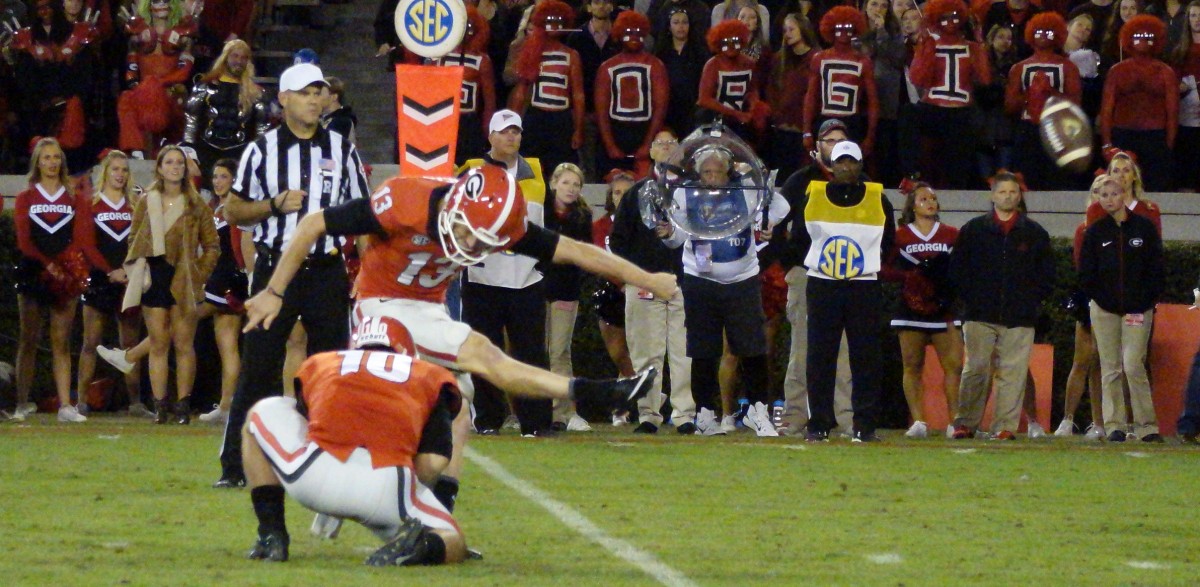 [su_spacer size="20″]
Talk about a tough game to photograph, field goals do not make spectacular subject matter. However, Missouri will forever have an "L" posted next to that trip to Athens, and that is a good thing.
[su_spacer size="40″]
I do not have much to say about Georgia's offense other than to reiterate that the offensive line is getting a bad rap. Opposing defensive coordinators have correctly determined that the way to stop the Dawgs is to sell-out to stop the run (called 'loading or stacking the box') and force Georgia to try to win by throwing the ball. Alabama, Tennessee, and Missouri continually moved 8 or 9 men into the box (close to the line of scrimmage) to limit Georgia's ability to run the football. To counter a stacked box, the coaching staff has had to use its tight ends as blockers, further limiting passing options. The photo below is a prime example.

When Lambert and Company can make teams pay for concentrating on the run game by completing passes and making opponents back out and into coverage point production will increase. Now would be a good time to get started on that ##. (## is the universal indicator for sarcasm font)
[su_spacer size="40″]
From The Sidelines
[su_spacer size="40″]
Let's not forget that Georgia won the game. I repeat, Georgia won the game. Many fans seem to have missed that point based on their comments.
The defense held Missouri to six points on a pair of field goals. Admittedly, the Tigers are not an offensive juggernaut but Pruitt started three freshmen and one sophomore in the secondary and started a true freshman on the defensive line. Take a look at the composition of Pruitt's defense and reflect on the absence of upperclassmen. In fact, other than the offensive line, the Bulldogs are an extremely young team. Ya think there have been some recruiting misses in the recent past ## – especially on defense.
Jeremy Pruitt is a fiery guy. At one point in the second half against Mizzou, Quincy Mauger blew and assignment on third down. Pruitt went nuts as the team came to the sideline, got right in Mauger's face and explained his deficit in no uncertain terms.
[su_spacer size="40″]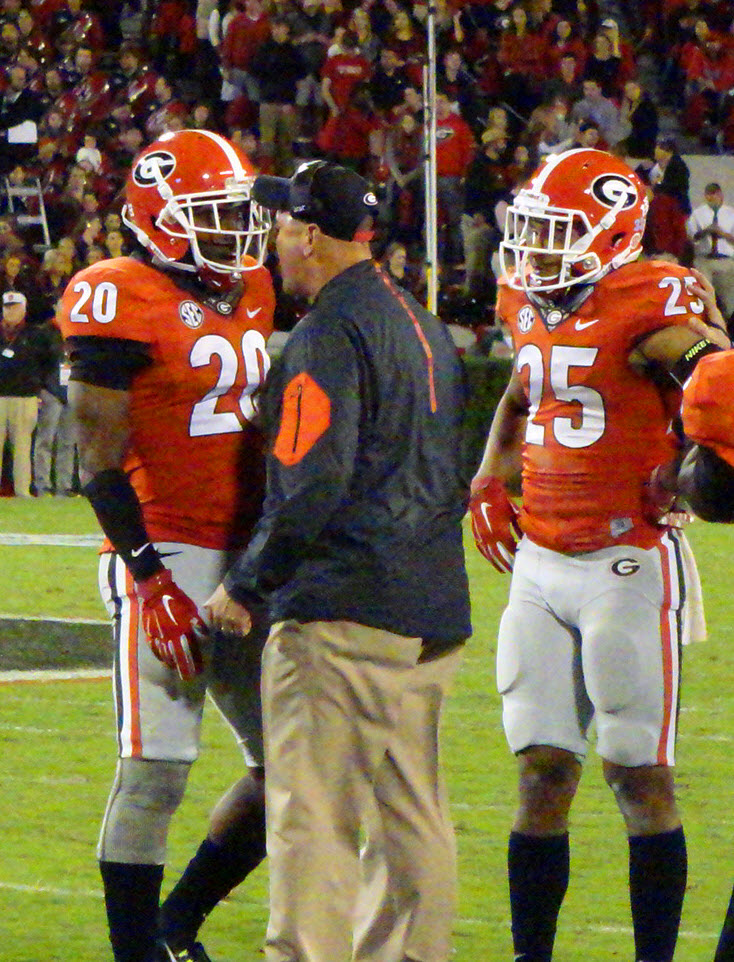 [su_spacer size="40″]
Did you notice the difference in tackling after the collapse at Tennessee? There may have been a bit of emphasis on the art of tackling during the week prior to Missouri, and I guess that might continue as they prepare for the trip to Jacksonville (##). Seriously, Jake Ganus, who appeared to have forgotten how to tackle in Knoxville, came back strong against Missouri
Trent Thompson is going to be a consensus All-American. Not only does he go toe-to-toe with experienced SEC offensive linemen as a freshman but he hits like a linebacker when he gets to a quarterback. He is already fun to watch, just wait for him to mature and gain some experience.
Special teams play was better last Saturday, but there was plenty of room for improvement. Maybe by the time they get to the WLOCP special teams can be a weapon.
[su_spacer size="60″]