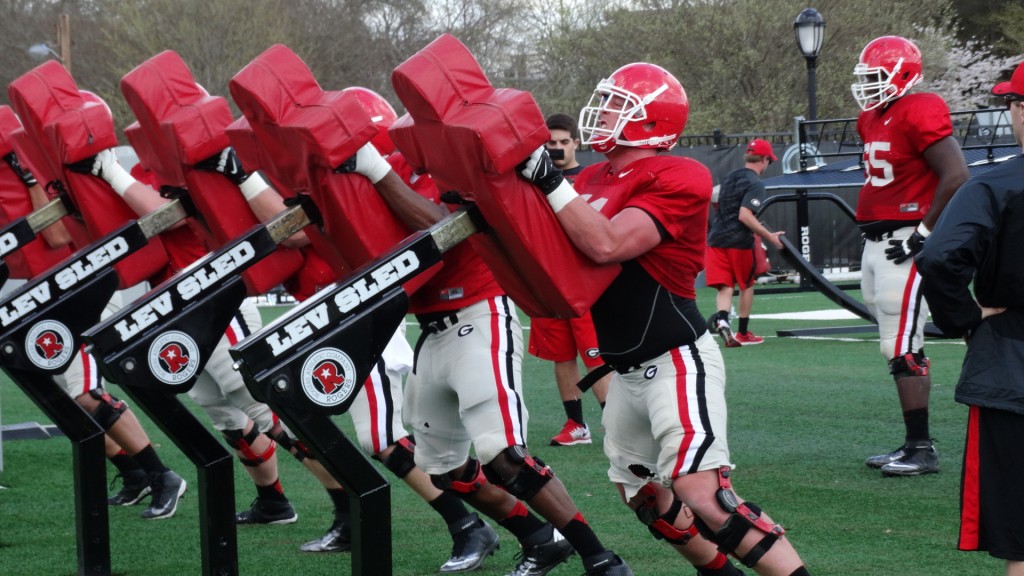 [su_spacer size="20″]
The Georgia football team held its first full pads practice of the spring Tuesday afternoon at the Woodruff Practice Fields. The Bulldogs worked out for two and a half hours in what was their fourth practice this spring.

[su_spacer size="40″]
A large contingent of faculty members and their families attended Tuesday's practice as part of the Bulldogs' annual faculty appreciation.
[su_spacer size="20″] [foogallery id="53828″] [su_spacer size="20″]
"It was a long, hard physical day," said head coach Mark Richt. "I thought the guys fought hard, but we have to learn to fight even more. Little by little we are getting there."
[su_spacer size="40″]
The Bulldogs have had a handful of practices under several new offensive assistant coaches. Said Greg Pyke on new offensive line coach Rob Sale: "Coach Sale is a really good guy. He is big on fundamentals, and he has put in some new things. We are doing a good job with that, and we had a good practice today."
[su_spacer size="40″]
Georgia will practice again Thursday and Friday before the first scrimmage of the spring on Saturday.
[su_spacer size="40″]
The annual G-Day Game is slated for Saturday, April 11 at 2 p.m. Gates at Sanford Stadium will open at noon, and admission is free. The Bulldogs open their 2015 season against Louisians-Monroe in Athens on Sept. 5.