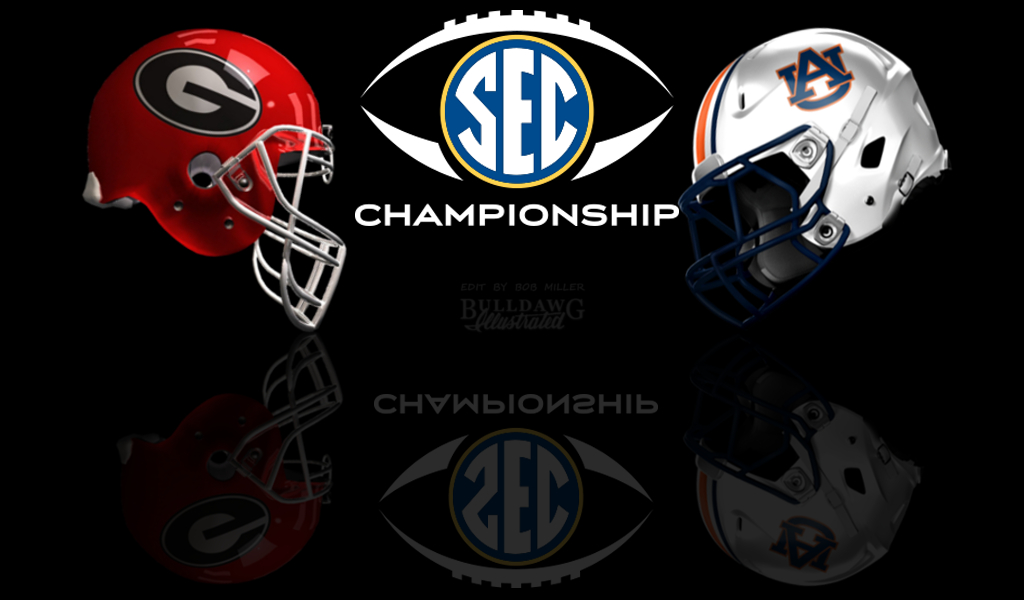 Welcome to Bulldawg Illustrated's Game Day Live Thread for the 2017 SEC Championship game, where the No. 6 Bulldogs take on the No. 2 Auburn Tigers to see who will be crowned conference champion. We have your game day info, college football scores, live chat, and more. Go Dawgs! Kick those Tigers in the Tail!.


---
GAME DAY INFO & TIMELINE

Match-up: (11-1) #6 Georgia vs. (9-2) #2 Auburn
Date: Saturday, December 2, 2017
Location: Mercedes-Benz Stadium (73,000) – Atlanta, GA

9:00 AM – Dr Pepper SEC FanFare at the Georgia World Congress Center
12:00 PM – Pregame Broadcast Begins
1:30 PM – Georgia Pep Rally at the Georgia World Congress Center
2:00 PM – Gates Open at Mercedes-Benz Stadium
4:00 PM – Game start time
4:10 PM – Kickoff

---
T.V BROADCAST INFO

CHANNEL: CBS
LIVE VIDEO STREAMING: CLICK HERE

TV ANNOUNCERS:
Play-by-play: Brad Nessler
Game Analyst: Gary Danielson
Sideline reporter: Allie LaForce

---
RADIO BROADCAST INFO

STATIONS:
WSB AM 750 & WSB-FM 95.5 (Atlanta)
WRFC-AM 960 & WNGC-FM 106.1 (Athens)
For additional affiliates, CLICK HERE.
LIVE FREE AUDIO STREAMS:
GEORGIADOGS.COM: CLICK HERE
BULLDOG NETWORK ON IMG: CLICK HERE
106.1 WNGC-FM ATHENS: CLICK HERE

RADIO ANNOUNCERS
Play-by-play: Scott Howard
Color commentator: Eric Zeier
Sideline reporter: Chuck Dowdle

---
LIVE STATS & SOCIAL MEDIA

LIVE STATS: CLICK HERE
SOCIAL MEDIA:

TWITTER #SECChampionship: CLICK HERE
TWITTER #UGAvsAUB: CLICK HERE
TWITTER GEORGIA-FOOTBALL: CLICK HERE

---
DID YOU KNOW?

Since the Southeastern Conference was split into East and West Divisions and a game was played between division winners to determine the SEC Champion in 1992, this will be the first time that Georgia and Auburn have faced each other to vie for the crown. The Tigers are designated as the home team and the Bulldogs as the visiting team. Western Division teams are designated the home team in odd-numbered years whereas Eastern Division teams are in even-numbered years.
This makes Georgia's sixth appearance in the SEC Championship Game since the conference started having a game to crown a champion in 1992. The Bulldogs have won two SEC Championship games and a total of 12 SEC Championships in school history.
Georgia's SEC Championship Game History

2002 #4 Georgia 30 – #22 Arkansas 3
2003 #5 Georgia 13 – #4 LSU 34
2005 #13 Georgia 34 – #4 LSU 14
2011 #12 Georgia 10 – #1 LSU 42
2012 #3 Georgia 28 – #2 Alabama 32
The winner of the SEC Championship Game automatically qualifies for a spot in the Peach, Cotton or Fiesta Bowls if that team is not selected to participate in the four-team College Football Playoff. This year, the CFP has semifinal games at the Sugar and Rose Bowls and the national championship will be played in Atlanta on Monday, January 8.

MORE INFO

2017 SEC Championship game notes: CLICK HERE
2017 SEC Championship Game Day: CLICK HERE
---
SCORES & PICK'EM
ESPN College Football Scoreboard: CLICK HERE
College Pick'em: CLICK HERE

---