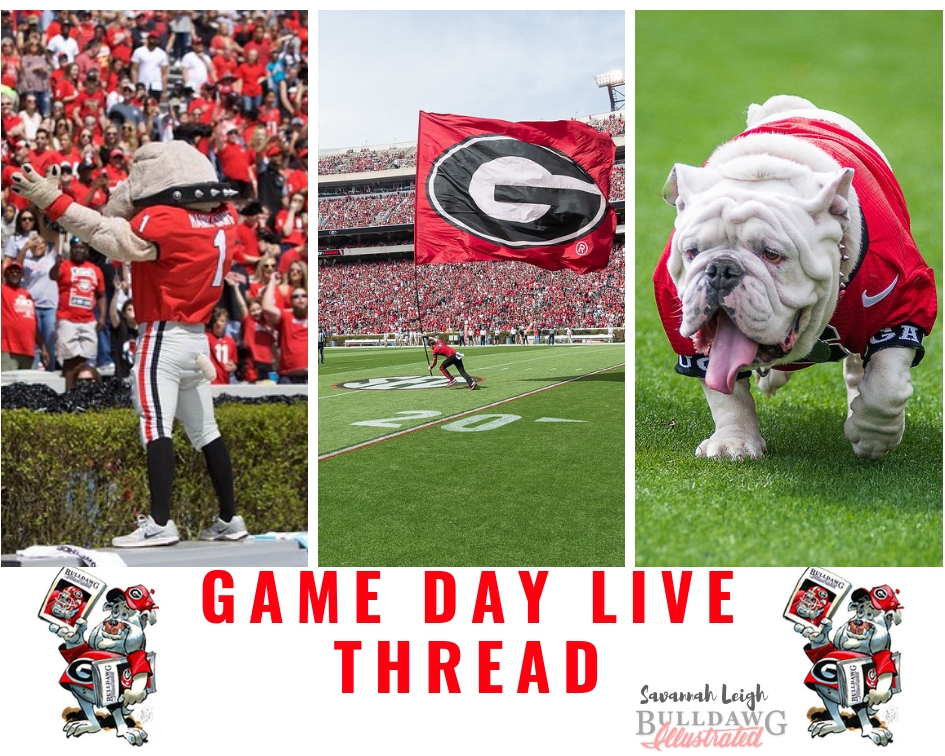 Welcome to Bulldawg Illustrated's Game Day Thread for the matchup between No. 5 Georgia and No. 24 Auburn. This is week 11 for the 2018 football season as the Bulldogs take on the Tigers. We have your game day info, where to watch or listen to the game, college football scores, and a live chat! Tune in here for great insight into the 122nd's Deep South's Oldest Rivalry between Georgia and Auburn.
Game Day Information & Timeline
Match-up: #6 Georgia (8-1)(6-1) vs. #24 Auburn (6-3)(3-3)
Date: Saturday, November 10, 2018
Location: Sanford Stadium
Roster:
Schedule:
Season Stats: 
GAMEDAY ACTIVITIES:
Pregame Broadcast Begins: 3:00 PM
Dawg Walk: 4:45 PM
Gates Open: 5:00 PM
Kickoff: 7:00 PM
---
T.V./ Radio Info
TV:
CHANNEL:  ESPN @7:00 p.m. ET
TV ANNOUNCERS:
Play-by-Play: Sean McDonough
Color Analyst: Todd Blackledge
Sideline: Holly Rowe
RADIO:
BULLDOG NETWORK STATIONS:
Radio: 630 AM
Audio Stream: GEORGIA DOGS| TuneIn
Satellite: Sirius 98/191
BULLDOG NETWORK RADIO ANNOUNCERS:
Play-by-play: Scott Howard
Color Analyst: Eric Zeier
Sideline: Chuck Dowdle
---
GEORGIA vs. AUBURN MATCHUP
No. 5 Georgia takes on its fourth ranked opponent in a row this season as the Bulldogs take on the No. 24 Auburn Tigers. The Bulldogs look to finish its regular SEC play with only one blemish.  Georgia already punched its ticket to Atlanta for the SEC Championship, so this week is for bragging rights and staying alive in the college football playoff race.  This season, Auburn 2-1 against ranked opponents this season after defeating Washington in week one, 21-16. The loss, like Georgia, came to LSU where the Tigers loss 22-21. Auburn's final win over a ranked opponent came last week against Texas A&M where the Tigers rallied in the fourth quarter to win 28-24. Georgia is 3-1 in ranked games this season.
After the two teams split wins last season, Georgia improved the overall record to 58-56-8. The road team is better against the Plainsmen as the Bulldogs are 16-12-2  while Auburn is 18-14 in Athens. Today marks the 122nd Deep South's Oldest Rivalry meeting between Georgia and Auburn, making it the fourth most active series in the NCAA FBS. This series is also tied with Oregon vs. Oregon State.  The Bulldogs and the Tigers first faced off in 1892 in Atlanta's Piedmont Park.
Interesting Tidbits about the 2018 Georgia team
— Georgia is 9-1 in night games under Kirby Smart.
— Georgia's on pace to set a record for scoring average in a season. The Bulldogs have scored 40+ points in five of their nine games. The average took a hit when the Bulldogs managed to only score 16 points in the loss to LSU. Georgia is averaging 38.1 points per game which is third in the SEC. The 2012 team owns the school record at 37.6 points a game.
–Jake Fromm is hovering around the school record for Completion Percentage. Georgia's school record is 67.9 completion rate by Hutson Mason in 2014. The SEC record is 72. 3 percent held by Tim Couch from Kentucky. Fromm ranks No. 2 in the SEC at 67.7 percent. He is 20-3 as the starter, including 7-3 versus top-25 schools. Fromm is ranked No.5  in the nation in Passing Efficiency at 164.0.
— Georgia has a two-headed monster this year at running back that averages 6.4 yards a carry. Elijah Holyfield leads the way with 103 carries for 674 yards and five touchdowns. He averages 6.5 yards a carry. D'Andre Swift has 99 carries for 622 yards and seven scores. He averages 6.3 yards a carry. Both earned career highs last week against the Wildcats as Swift toted it 156 yards and two scores and Holyfield registered 115 yards and one touchdown.
— The Bulldogs lead the SEC in rushing offense at 233.78 yards a game and first in SEC games with 222.7.
— Georgia's defense is fourth in the SEC and 10th nationally in Scoring Defense allowing 16.4 points a game.
— The Bulldogs returned 51 lettermen from their 2017 squad, including 13 starters. However, Georgia's is still the SEC's youngest team and the nation's 15th youngest team with 68.2 percent being either freshmen or sophomores. There are 58 freshmen (38 True Freshmen/20 RS) and 30 Sophomores.
— Rodrigo Blankenship is on his way to putting his name in the Georgia record books. He's 40-of-40 in PATs and has made 15-of-17 field goals. Blankenship is second the nation with 53 touchbacks on 59 kickoffs. He has 147 career touchbacks and is on pace to beat Kevin Buttler's 169 touchbacks. Blankenship has made 129 consecutive PATs and officially is at the top of Georgia's rankings in most consecutively made PATs. Last season he broke Kevin Butler's single-season touchback record with 67 touchbacks, shattering Butler's 51. He already has 59 this season and seems like he will surpass his number from last season.
*Special thanks to Georgia sports communication for the game information*
List of Recruits on Campus Today:

CLICK HERE
---
Scores Around the Country
---