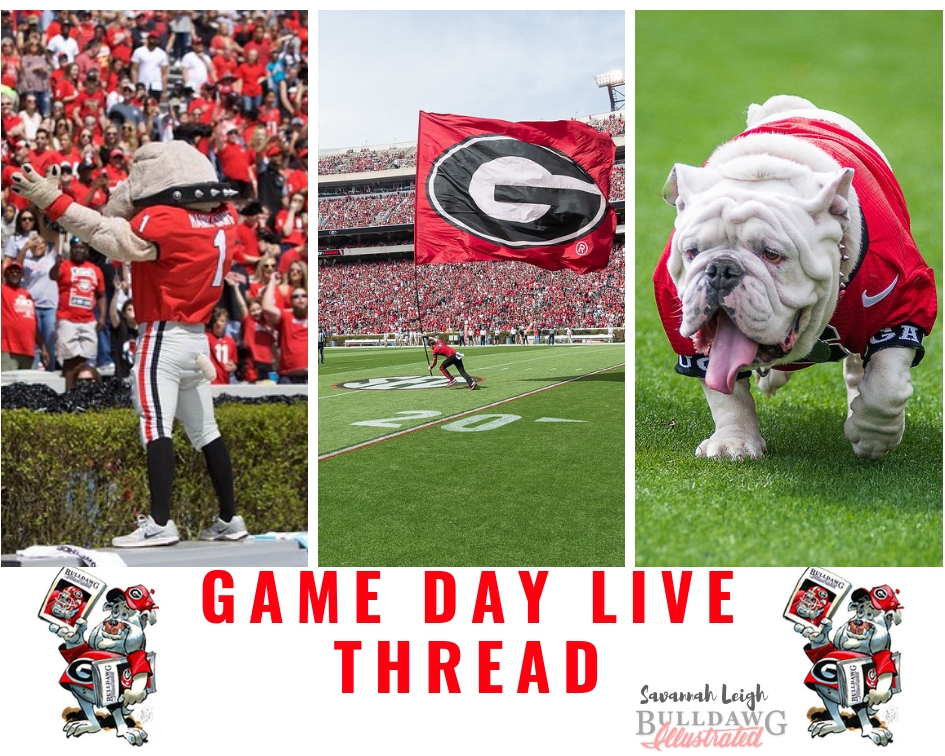 Welcome to Bulldawg Illustrated's Game Day Thread for the matchup between No. 7  Georgia and No. 9 Florida. This is week nine for the 2018 football season as the Bulldogs take on the Gators. We have your game day info, where to watch or listen to the game, college football scores, and a live chat! Tune in here for great insight into Georgia and Florida. 
Game Day Information & Timeline
Match-up: #7 Georgia (6-1)(4-1) vs. #9 Florida(6-1)(4-1)
Date: Saturday, October 27, 2018
Location:
Roster:
Schedule:
Season Stats: 
GAMEDAY ACTIVITIES:
GATES OPEN: 8:00 a.m. 
KICK OFF: 3:30 p.m. ET 
---
T.V./ Radio Info
TV:
CHANNEL:  CBS @3:30p.m. ET
TV ANNOUNCERS:
Play-by-Play: Brad Nessler
Color Analyst: Gary Danielson
Sideline: Jamie Erdahl
RADIO:
BULLDOG NETWORK STATIONS:
WSB AM 750 & WSB FM 95.5 (Atlanta, GA)
WGAU AM 1340 & WNGC FM 106.1 (Athens, GA)
Audio Stream: GEORGIA DOGS| TuneIn
Satellite: Sirius 121/192
BULLDOG NETWORK RADIO ANNOUNCERS:
Play-by-play: Scott Howard
Color Analyst: Eric Zeier
Sideline: Chuck Dowdle
---
GEORGIA vs. FLORIDA MATCHUP
This game is the perfect situation for both ESPN Gameday and SEC Nation are in town. It is the first time during the regular season that both are in the same place for a ball game. Once again this game brings huge implications for the SEC Eastern  Division race.  Both teams come into this game sitting with 6-1 records. Georgia leads the all-time series 51-43-2 winning 44-41-1 in Jacksonville. Before last season, the Gators had won three years in a row. Head coach Kirby Smart is 1-1 against the Gators after getting his first win over them last season. The last time the teams met when both were ranked came in 2012 and the No. 12 Bulldogs upset the No. 3 Gators 17-9.
Both Georgia and Florida are coming off a bye week for only the seventh time in series history. The first came in 2011 and Georgia is 3-3 against Florida following both teams having a bye week. Florida is 18-7 against Georgia after an open date. The Bulldogs are 6-6 following an off-date before playing the Gators.
Interesting Tidbits about the 2018 Georgia team
–Jake Fromm is hovering around the school record for Completion Percentage. Georgia's school record is 67.9 completion rate by Hutson Mason in 2014. The SEC record is 72. 3 percent held by Tim Couch from Kentucky. Fromm ranks No. 2 in the SEC at 66.9 percent. He is 18-3 as the starter, including 5-3 versus top-25 schools. Fromm is ranked No.4  in the nation in Passing Efficiency at 163.58. Fromm completes 72.8 percent of his passes.
— Georgia has a four-headed monster this year at running back that averages 6.1 yards a carry. Elijah Holyfield leads the way with 65 carries for 488 yards and four touchdowns. He averages 7.5 yards a carry. D'Andre Swift has 71 carries for 362 yards and four scores. He averages 5.1 yards a carry. Brian Herrien has 30 carries for 178 yards and two scores while averaging 5.9 yards a carry. Lastly, James Cook has 30 carries on 165 yards averaging 5.5 yards a carry.
— The Bulldogs ranks third in the SEC in rushing offense at 226.3 yards a game and second in SEC games only 207.8.
— Georgia's defense is fifth in the SEC in Scoring Defense allowing 16.3 points a game.
— Rodrigo Blankenship is on his way to putting his name in the Georgia record books. He's 33-of-33 in PATs and has made 10-of-12 field goals. Blankenship leads the nation with 47 touchbacks on 51 kickoffs. He has 135 career touchbacks and is on pace to beat Kevin Buttler's 169 touchbacks. He has made 122 consecutive PATs and officially is at the top of Georgia's rankings in most consecutively made PATs. Last season he broke Kevin Butler's single-season touchback record with 67 touchbacks, shattering Butler's 51. He already has 47 this season and seems like he will match or surpass his number from last season.
*Special thanks to Georgia sports communication for the game information*
Game Day Preview:
CLICK HERE 
---
Scores Around the Country
---