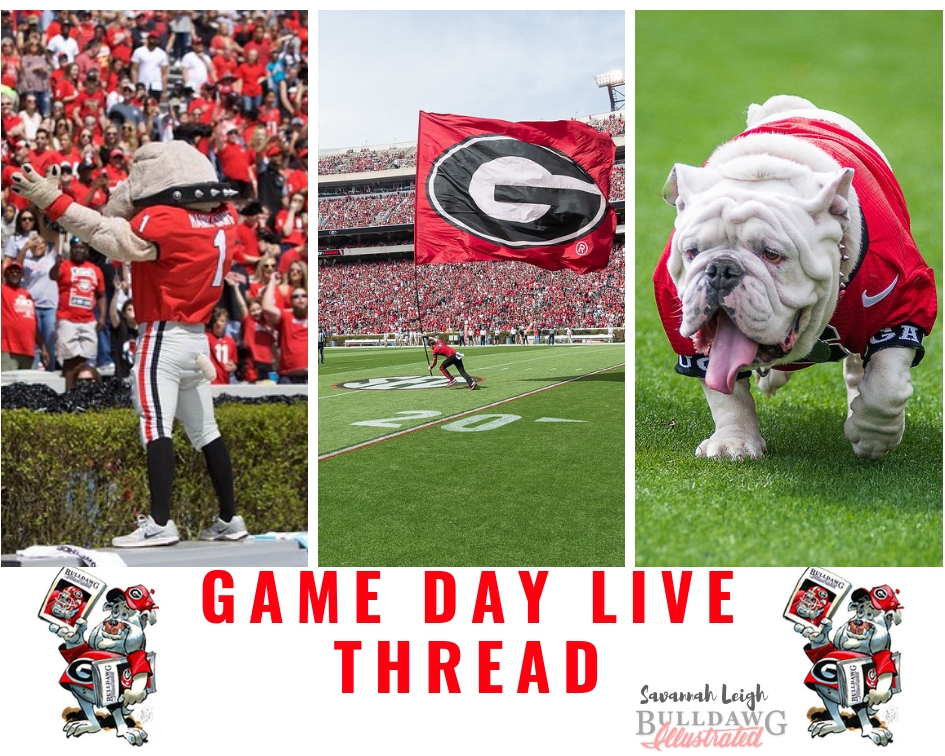 Welcome to Bulldawg Illustrated's Game Day Thread for the matchup between No. 5 Georgia and Georgia Tech. This is Rivalry Week for the 2018 football season as the Bulldogs take on the Yellow Jackets. We have your game day info, where to watch or listen to the game, college football scores, and a live chat! 
Game Day Information & Timeline
Match-up: #5 Georgia (10-1)(7-1) vs. Georgia Tech (7-4)(5-3)
Date: Saturday, November 24, 2018
Location: Sanford Stadium
Roster:
Schedule:
Season Stats: 
Game Notes:
GAMEDAY ACTIVITIES:
Tailgate Locations Open on Campus: 7:00 AM
Dawg Walk: 9:45 AM
Gates Open: 10:00 AM
Kick off: 12:00 PM
---
T.V./ Radio Info
TV:
CHANNEL:  SECN @12:00 p.m. ET
TV ANNOUNCERS:
Play-by-Play: Tom Hart
Color Analyst: Jordan Rodgers
Sideline: Cole Cubelic
RADIO:
BULLDOG NETWORK STATIONS:
Radio: 630 AM
Audio Stream: GEORGIA DOGS| TuneIn
Satellite: Sirius 99/190
BULLDOG NETWORK RADIO ANNOUNCERS:
Play-by-play: Scott Howard
Color Analyst: Eric Zeier
Sideline: Chuck Dowdle
---
GEORGIA vs. GEORGIA TECH MATCHUP
Georgia leads the series 66-39-5 and doesn't count two Georgia Tech wins during WWII (1943-44) when the Yellow Jackets utilized players from a naval officer's training program hosted on campus. From 1917-24 Georgia and Georgia Tech didn't play each other because of a dispute caused by a  Georgia parade float that ridiculed the Yellow Jackets for playing football during WWI.  The Georgia vs. Georgia Tech series is one of the nation's oldest. There are only 15 other FBS rivalries that have been played more with Minnesota-Wisconsin at the top with 127 games.  This game is known as the Governor's Cup. Beginning in 1995, the Children's Healthcare of Atlanta annually presents the Governor's cup to the winning team. Additionally, for the seniors on the winning team receive watches and get a personalized replica of the Governor's Cup.  In some years, the Governor of Georgia has been on hand to present the Cup to the winning team at the end of the game.
Interesting Tidbits about the 2018 Georgia team
–Since a 12th game was added to college football in 2002, Georgia has gone 11-1 during the regular season three times. Those three seasons are 2002, 2012, and 2017.
— In school history, there have been 10 teams that have won a total of at least 11 games. Last year's 13-2 squad tied the 13-1 2002 team for having the record for wins. Other teams that have won at least 11 games overall: 1942 (11-1); 1946(11-0); 1971 (11-1); 1980 (12-0); 1982 (11-1); 2003 (11-3); 2007 (11-2); 2012 (12-2); 2017 (13-2).
— Georgia's on pace to set a record for scoring average in a season. The Bulldogs have scored 40+ points in six games this year. The Bulldogs average 39.6 points per game which is second in the SEC. The 2014 team owns the school record at 41.3 points a game.
–Jake Fromm is a 2018 Davey O'Brien Award semifinalist.
— Fromm is hovering around the school record for Completion Percentage. Georgia's school record is 67.9 completion rate by Hutson Mason in 2014. The SEC record is 72. 3 percent held by Tim Couch from Kentucky. Fromm ranks No. 2 in the SEC and 10th nationally at 68.2 percent. He is 22-3 as the starter, including 8-3 versus top-25 schools. Fromm is ranked No. 3  in the nation in Passing Efficiency at 165.9.
— Justin Fields enrolled in January and has seen action in nine of the ten games this season. He is 25-35 with 341 yards and four scores. Fields also has 250 yards on 36 carries averaging 6.9 yards a carry and four rushing touchdowns.
— Georgia has a two-headed monster this year at running back that averages 6.7 yards a carry. Elijah Holyfield leads the way with 124 carries for 817 yards and six touchdowns. He averages 6.6 yards a carry. D'Andre Swift has 125 carries for 857 yards and eight scores. He averages 6.9 yards a carry.
— Georgia's defense is fifth in the SEC and 12th nationally in Scoring Defense allowing 16.8 points a game.
— The Bulldogs returned 51 lettermen from their 2017 squad, including 13 starters. However, Georgia's is still the SEC's youngest team and the nation's 15th youngest team with 68.2 percent being either freshmen or sophomores. There are 58 freshmen (38 True Freshmen/20 RS) and 30 Sophomores.
— Rodrigo Blankenship is on his way to putting his name in the Georgia record books. He's 52-of-52 in PATs and has made 18-of-20 field goals. Blankenship is second the nation with 69 touchbacks. He has 157 career touchbacks and is on pace to beat Kevin Buttler's 169 touchbacks. The junior needs 12 to tie Butler's record with at least three games left in the season. Blankenship has made 141 consecutive PATs and officially is at the top of Georgia's rankings in most consecutively made PATs.
*Special thanks to Georgia sports communication for the game information*
---
Scores Around the Country
---