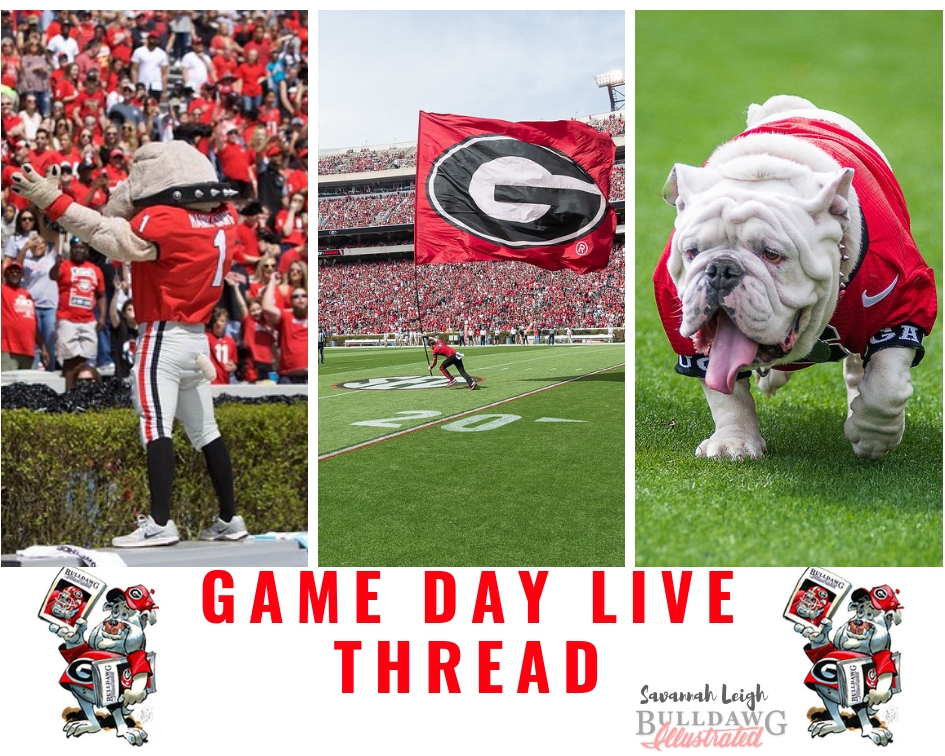 Welcome to Bulldawg Illustrated's Game Day Thread for the matchup between No. 2 Georgia and No. 13 LSU. This is week seven for the 2018 football season as the Bulldogs take on the Tigers. We have your game day info, where to watch or listen to the game, college football scores, and a live chat! Tune in here for great insight into Georgia and Vanderbilt. 
Game Day Information & Timeline
Match-up: #2 Georgia (6-0)(4-0) vs. LSU (5-1)(2-1)
Date: Saturday, October 13, 2018
Location: Tiger Stadium Baton Rouge, La.
Roster:
Schedule:
Season Stats: 
GAMEDAY ACTIVITIES:
*Times are in CT*
8:00 a.m. —Tailgate locations open on campus/Athletic Ticket Office Opens
10:00 a.m.- 8:00p.m.– Nicholson Gateway Fanzone Open
11:30 a.m.– Suite and Club Gates open
11:45 a.m.– Student Gates Open
12:00 p.m.– ALL GATES OPEN
12:30 ISH *ESTIMATED* — Dawg Walk
2:39 p.m. — Kickoff
For any questions concerning game day and going into the stadium
---
T.V./ Radio Info
TV:
CHANNEL:  CBS @2:30p.m. CT/ 3:30 p.m. ET
LIVE STREAM: LSU WEBSITE
TV ANNOUNCERS:
Play-by-Play: Brad Nessler
Color Analyst: Gary Danielson
Sideline: Jamie Erdahl
RADIO:
Local LSU RADIO: 89.9 FM
*Can listen to this channel to hear Scott Howard and company, but only in the Stadium.*
BULLDOG NETWORK STATIONS:
WSB AM 750 & WSB FM 95.5 (Atlanta, GA)
WGAU AM 1340 & WNGC FM 106.1 (Athens, GA)
Audio Stream: GEORGIA DOGS| TuneIn
Satellite: Sirius 103, XM 192, internet 963
BULLDOG NETWORK RADIO ANNOUNCERS:
Play-by-play: Scott Howard
Color Analyst: Eric Zeier
Sideline: Chuck Dowdle
---
GEORGIA vs. LSU MATCHUP
LSU leads the all-time series against the Bulldogs 16-13-1. These two teams have been playing since 1928. The last time these two teams squared off was in 2013 when the ninth-ranked Georgia upset sixth-ranked LSU 44-41, in Athens. Georgia won the last time these two teams played in Baton Rouge as well. That win came in 2008 when the ninth-ranked Bulldogs defeated LSU 52-38. Georgia comes into this game averaging 42.8 points a game, which ranks second behind Alabama in the SEC. On the defense side of things, Georgia allows just 13.0 points a game. This ranks No. 2 in the SEC and the second in the nation just behind Mississippi State who allows just 12.7 per game.
Georgia leads the SEC in rushing offense with 245.2 yards on the ground. The Bulldogs defense ranks third in the SEC in rush defense giving up 113.2 yards on the ground a game. In fact, the fewest number of points the Bulldogs scored in a game this year came in a 38-12 win over Tennessee. Georgia ranks second in Pass Efficiency after coming off a season-high 341 yards through the air against Vanderbilt.  Jake Fromm ranks at the No. 4 quarterback in the nation in passing efficiency at 192.5. The Bulldogs average 485.2 yards in total offense while the Tigers average 392.5.
In this series history, there have been 10 meetings where both teams are ranked in the top-25 and it's tied at 5-all. Georgia holds a 2-1 edge in Baton Rouge including in its last visit in 2008. Meanwhile, the Tigers are 2-2 against the Bulldogs in Athens and 2-1 in Atlanta for the SEC Championship game.
Interesting Tidbits about the 2018 Georgia team
— For only the 12th time in school history including the second consecutive season, Georgia has a 6-0 start. This is the first time the Bulldogs have started two seasons in a row at 6-0 after the 2017 team began the year 9-0.
–Jake Fromm is on pace to shatter school records in 2018. Georgia's school record is 67.9 completion rate by Hutson Mason in 2014. The SEC record is 72. 3 percent held by Tim Couch from Kentucky. Fromm currently ranks fifth in the nation at 72.8 percent. He is 18-2 as the starter, including 5-2 versus top-25 schools. Fromm is ranked No.1 in the nation in Passing Efficiency at 169.20. Fromm completes 72.8 percent of his passes.
— Georgia has a four-headed monster this year at running back. Elijah Holyfield leads the way with 58 carries for 432 yards and two touchdowns. He averages 7.4 yards a carry. D'Andre Swift is close behind him with 59 carries for 290 yards and four scores. He averages 4.9 yards a carry. Brian Herrien has 28 carries for 175 yards and one score while averaging 6.3 yards a carry. Lastly, James Cook has 30 carries on 165 yards averaging 5.5 yards per carry.
— The Bulldogs offensive line returned 4-of-5 starters on the line. Sam Pittman's OL helped pave the way for 473 total yards against South Carolina. 271 of those yards were on the ground. Against Missouri, the Bulldogs piled up 445 yards of offense and then 441 against Tennessee. The Volunteers gave up 251 yards on the ground. In their latest victory, the Bulldogs piled up 560 total yards including 219 on the ground against Vanderbilt.
— Georgia's defense is tied for 2nd in the SEC in Scoring Defense. The Bulldogs defense held opponents scoreless in 12 of 24 quarters.
— Rodrigo Blankenship is on his way to putting his name in the Georgia record books. He's 32-of-32 in PATs and has made 8-of-10 field goals. Blankenship leads the nation with 44 touchbacks on 47 kickoffs. He has 132 career touchbacks and is on pace to beat Kevin Buttler's 169 touchbacks. He has made 121 consecutive PATs and officially is at the top of Georgia's rankings in most consecutively made PATs. Last season he broke Kevin Butler's single-season touchback record with 67 touchbacks, shattering Butler's 51. He already has 44 this season and seems like he will match or surpass his number from last season.
*Special thanks to Georgia sports communication for the game information*
---
Scores Around the Country
---