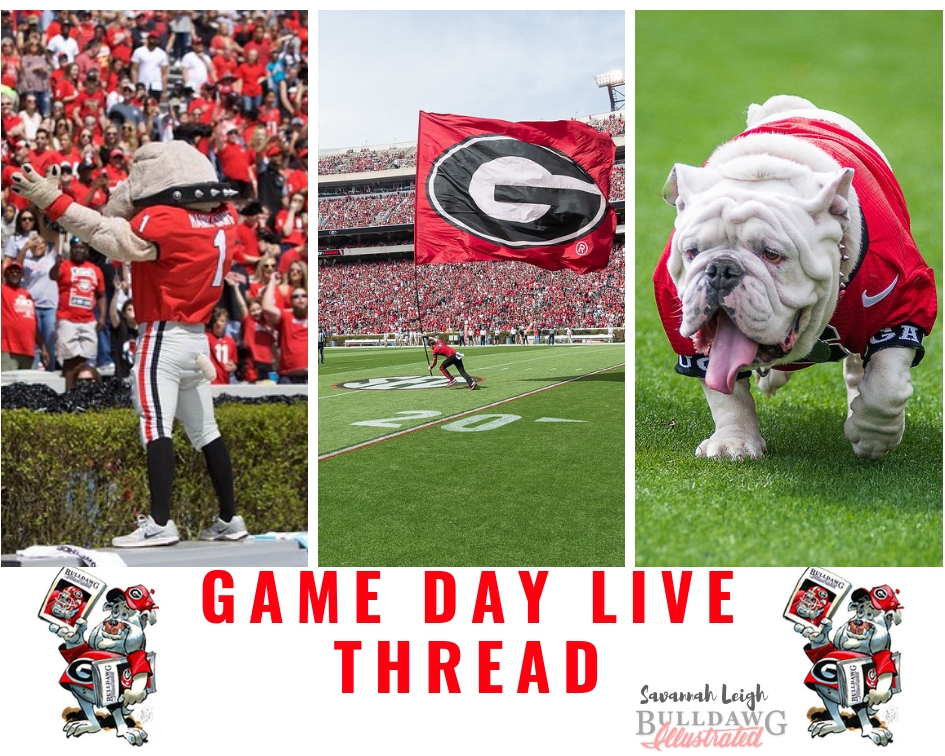 Welcome to Bulldawg Illustrated's Game Day Thread for the matchup between No. 5 Georgia and No. 15 Texas. This is the 2019 Allstate Sugar Bowl game as the Bulldogs and the Longhorns face off. We have your game day info, where to watch or listen to the game, college football scores, and a live chat! 
Game Day Information & Timeline
Match-up: #5 Georgia (11-2) vs. #15 Texas (9-4)
Date: Tuesday, January 1, 2018
Location: Mercedes-Benz Superdome
Roster:
Schedule:
Season Stats: 
Game Notes:
---
T.V./ Radio Info
TV:
CHANNEL:  ESPN @ 8:45 p.m. ET
TV ANNOUNCERS:
Play-by-Play: Sean McDonough
Color Analyst: Todd Blackledge
Sideline: Holy Rowe
RADIO:
BULLDOG NETWORK STATIONS:
Radio: 630 AM
Audio Stream: GEORGIA DOGS| TuneIn
Satellite: Sirius 146/190
BULLDOG NETWORK RADIO ANNOUNCERS:
Play-by-play: Scott Howard
Color Analyst: Eric Zeier
Sideline: Chuck Dowdle
---
GEORGIA vs. TEXAS MATCHUP
Georgia looks to become only the fifth team in school history to come away with at least 12 wins. The 1980 National Championship team, the 2002 SEC Championship team, the 2012 team, and the 2017 SEC Championship and Rose Bowl Championship team are the four who have 12+ wins on a season. Georgia has the second longest active bowl streak in the nation with at 22 years, trailing only Virginia Tech who has 26. Overall, the Bulldogs and Longhorns rank among the nations top bowl teams as they will be making their 55th all-time bowl appearance. Georgia has a 31-20-3 bowl record while Texas has a 28-24-2.
The Bulldogs have nine Sugar Bowl appearances. This amount is the more than any other game Georgia has played in the postseason. Georgia's last appearance in the Sugar Bowl came in 2008 where the Bulldogs beat an undefeated Hawaii team, 41-10.
Texas holds a 3-1 edge in the series history with Georgia with two of the games coming in bowl fashion. Georgia and Texas will also play each other in 2028 and 2029.
Interesting Tidbits about the 2018 Georgia team
— The 2018 Seniors are 42-12 and the 42 wins are tied for third in school history with the 2004 team. This senior class's 42 wins is tied for third in school history with the 2004 team.
— Georgia's on pace to set a record for scoring average in a season. The Bulldogs have scored 40+ points in seven games this year. The Bulldogs average 39.2 points per game which is second in the SEC. The 2014 team owns the school record at 41.3 points a game.
–Jake Fromm is a 2018  Manning Award finalist. The Manning Awards is an award which is given to the nation's top quarterback and the only award that takes candidates' bowl performances into consideration. He is also 23-4 as a starter.
— Fromm is on pace to set the school record for Completion Percentage. Georgia's school record is 67.9 completion rate by Hutson Mason in 2014. The SEC record is 72. 3 percent held by Tim Couch from Kentucky. Fromm ranks No. 1 in the SEC and 8th nationally at 68.4 percent.
— Georgia has a two-headed monster this year at running back that averages 6.6 yards a carry. Elijah Holyfield has 147 carries for 956 yards and seven touchdowns. He averages 6.5 yards a carry. D'Andre Swift has 155 carries for 1,037 yards and ten scores. He averages 6.7 yards a carry.
— Georgia's defense is 15th nationally in Scoring Defense allowing 18.5 points a game.
— The Bulldogs returned 51 lettermen from their 2017 squad, including 13 starters. However, Georgia's is still the SEC's youngest team and the nation's 15th youngest team with 68.2 percent being either freshmen or sophomores. There are 58 freshmen (38 True Freshmen/20 RS) and 30 Sophomores.
— Rodrigo Blankenship has set two all-time school career records this year and has two more on the horizon. He's 58-of-58 in PATs and has made 19-of-23 field goals. Blankenship is second the nation with 79 touchbacks in 93 kickoffs. He has 167 career touchbacks and is on pace to beat Kevin Buttler's 169 touchbacks. The junior needs 2 to tie Butler's record with the final game of the season upon him. Blankenship has made 151 consecutive PATs and officially is at the top of Georgia's rankings in most consecutively made PATs. He has 62 PAT's on the year and is closing in on Marshall Morgan's 67 in 2014.
*Special thanks to Georgia sports communication for the game information*
---
Scores Around the Country
---