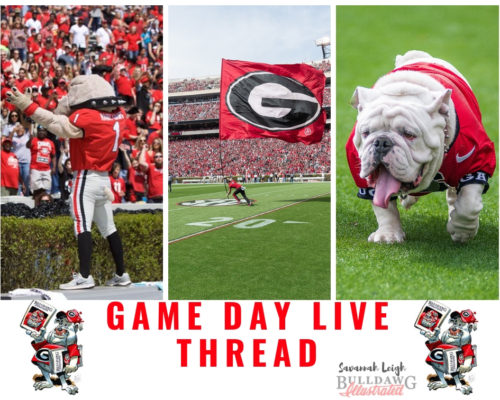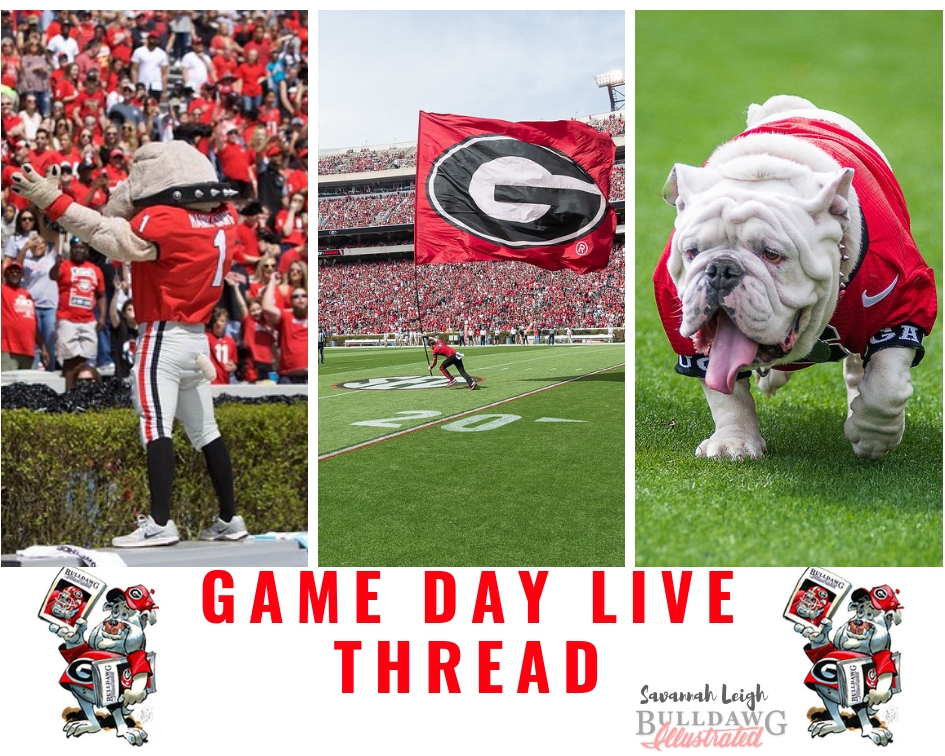 Welcome to Bulldawg Illustrated's Game Day Thread for the No. 2 Georgia vs. Tennessee. This is week five for the 2018 football season as the Bulldogs take on the Volunteers. We have your game day info, where to watch or listen to the game, college football scores, and a live chat! Tune in here for great insight into Georgia and Tennessee. 
Game Day Information & Timeline
Match-up: #2 Georgia (4-0)(2-0) vs. Tennessee (2-2)(0-1)
Date: Saturday, September 29, 2018
Location: Sanford Stadium, Athens, GA
Roster:
Schedule:
Season Stats: 
GAMEDAY ACTIVITIES:
7:00 a.m. –Tailgate locations open on campus
1:15 p.m. – Dawg Walk
1:30 p.m. – Gates Open
3:36 p.m. – Kickoff
---
T.V./ Radio Info
TV:
CHANNEL:  CBS @ 3:30 p.m.
LIVE STREAM: GEORGIA DOGS
TV ANNOUNCERS:
Play-by-Play: Brad Nessler
Color Analyst: Gary Danielson
Sideline: Jamie Erdahl
RADIO:
BULLDOG NETWORK STATIONS:
WSB AM 750 & WSB FM 95.5 (Atlanta, GA)
WGAU AM 1340 & WNGC FM 106.1 (Athens, GA)
Audio Stream: GEORGIA DOGS| TuneIn
Satellite: Sirius 98, XM 190
BULLDOG NETWORK RADIO ANNOUNCERS:
Play-by-play: Scott Howard
Color Analyst: Eric Zeier
Sideline: Chuck Dowdle
---
GEORGIA vs. TENNESSEE MATCHUP
For the fifth time in the past six seasons, Georgia and Tennessee will square off in the CBS afternoon slot. The lone exception was 2014 when the game played at noon. This game will be Georgia's first home SEC game of the year. Last year, Georgia went to Knoxville and got its 800th win with a 41-0 victory. This win marked the second largest margin of victory in the series and the biggest ever in Knoxville. The first was 44-0 in 1981 in Athens. Georgia's defense dealt the Vols their first shutout in 23 years, a span of 289 games dating back to 1994. The Bulldogs collected 378 total yards on 72 plays.  Jake Fromm threw for one touchdown and ran in for two scores. Tyrique McGhee notched an interception on the Vols first play of the game. D'Andre Walker blocked a punt as both highlights eventually led to points.
The Bulldogs 23 touchdowns have included 19 from the offense, two from the defense and two from the special teams. The latest non-offensive touchdowns came from last Saturday's 43-29 win over Missouri.  Georgia led the Tigers 20-7 at halftime without scoring an offensive touchdown. The Bulldogs first score came from true freshman Tyson Campbell stripped the ball and ran it in for a touchdown. It was his first career forced fumble at Georgia.  Eric Stokes blocked a punt in the second quarter and ran it in for another score. These two scores marked Georgia's 9th and 10th defensive/special teams score in Kirby Smart's era. In fact, both of Georgia's first touchdowns in each of its SEC games came from the defense. It was also the first time since 2015 at Tennessee that Georgia had registered a special teams touchdown and a defensive score in the same game.
*Special thanks to Georgia sports communication for the game information*
---
Scores Around the Country
---