[su_spacer size="40″] Week number one of the college football season is in the books and here comes the second Saturday of September ready to provide us with more thrills and chills than the latest Hollywood blockbuster. Last weekend saw a number of upsets where BYU beat Nebraska on an end of the game Hail Mary pass, or an unranked Northwestern downing #21 Stanford in their own backyard. How about the Nittany Lions falling to Temple? Which brings up Coach James Franklin's old team, the Vanderbilt Commodores.
[su_spacer size="20″] Looking back at just two short years ago to the 2013 college football season, and James Franklin was still the coach of the Commodores. It was on that fateful day in October on Saturday the 19th, Franklin and Vandy pulled off an upset of their own over the 15th ranked Georgia Bulldawgs. Now, the Dawgs find themselves ranked in the top 10 and headed back up to the confines of Nashville; what do they need to do to avoid being upset again? Game Day Preview: UGA at Vanderbilt
[su_spacer size="20″]
Run the Darn Ball
[su_spacer size="20″] I know a lot of fans want to see Coach Schottenheimer open up the playbook and have the offensive throw the ball more than they did last week against Louisiana-Monroe when the Dawgs just put it up in the air 14 times. While I'd also like to see a few more passes, just to see how the quarterbacks do and especially how the o-line does with pass protection, RTDB should be the motto for the day.
[su_spacer size="40″] Last year, Todd Gurley and Nick Chubb ran rough shot over the Commordores defense for a total of 243 yards and 3 touchdowns on 35 carries. Gurley did have the bulk of the carries with 25 and yards with 163, and yes. He is gone from last year's team; however, Chubb averaged 9.8 yard per carry on just 8 touches, racking up 78 yards and 1 touchdown.
[su_spacer size="40″] Not only that, but last year, tailbacks Keith Marshall and Sony Michel did not play due to injuries. Both are healthy and good to go for Saturday's game this year. Add to that a bruising, healthy Brendan Douglas, the Dawgs should keep pounding the pig skin with 4 healthy tailbacks until the Commodores are tapping on their helmets for mercy.
[su_spacer size="40″] If the running game is firing on all cylinders, the Dawgs should have their way with the 'Dores in the latter part of the game.
[su_spacer size="40″]
Win the Turn Over Battle
[su_spacer size="20″] You could probably put this one down for any game as a key to victory, but two years ago it was a contributing factor to the Dawgs loss in Nashville as they turned the ball over 3 times. Last week, Georgia was fortunate not to have 2 turnovers. Freshman wide receiver Terry Godwin put it on the ground after a short catch while he was being tackled, but he was ruled down on the replay. Then there was a fumbled snap but the Dawgs got on it quickly. Georgia cannot always rely on the replay going their way or the ball bouncing favorable for them to recover. If they don't keep that football secured, two or three turnovers could keep this game much closer that it should be.
[su_spacer size="40″]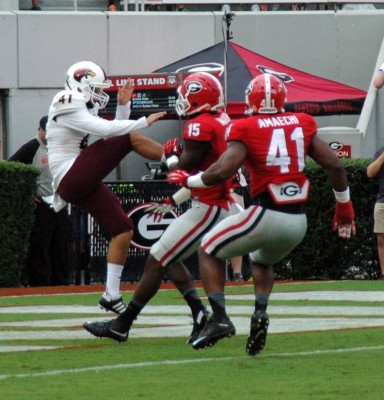 [su_spacer size="40″]
Special Teams
[su_spacer size="20″] Last week, Georgia's special teams play was outstanding. They put the offense in good field position to put up 14 quick points on the Warhawks before they had time to get grass stains on their jerseys. They even blocked a punt for a safety and almost blocked another kick.
[su_spacer size="40″] Junior receiver Reggie Davis saw both punt return and kick return duty and put in solid work averaging 26.50 yards on two returns and 14 yards per punt return. As good as Davis was, sophomore receiver and return specialist Isaiah McKenzie should be back for Saturday's game.
[su_spacer size="40″] Senior Collin Barber was booming the ball on punts and pinning the returner in the corner. He also was took on some of the kickoff duties and sent the ball deep into the opponent's end zone for no return on 4 of his 6 kicks.
[su_spacer size="40″] If Georgia can be as dominant on special teams versus Vanderbilt, the Dawgs could find themselves off to another fast start.
[su_spacer size="20″]
What about Vanderbilt's defense?
[su_spacer size="40″] While the Commodores did lose to the Hilltoppers last week 12-14, it wasn't because their defense was lacking. The 'Dores put an anchor on Western Kentucky's offense holding them to just 246 yards of total offense, which is their lowest offensive output since facing Bama back in 2012 on September 8. What stands out is that Vanderbilt's front 7 held WKU to just 37 yards rushing. Is there cause for concern for the Dawgs?
[su_spacer size="40″] I do think this Vanderbilt team is better than last year's squad. They do return 9 starters on defense, but UGA also put up 445 yards of offense and 44 points on those starters last year. Unless Georgia makes costly mistakes on offense, I don't see the 'Dores hemming in these Dawgs.
[su_spacer size="40″]
Bulldawg Bob's Prognostication
[su_spacer size="20″] Last week, I was slightly pessimistic in my prediction of the ULM vs. UGA game. The spread was Georgia (-35) and I predicted a 34-10 Bulldawg victory. Well, they topped that in the first half alone racing out to a 35-0 lead. By the time the game was called due to weather in the fourth quarter, it was 51-14 all Georgia.
[su_spacer size="40″] Well, this week I'm drinking my Kool-Aid straight up. The boys and girls in Vegas and in dimly lit back rooms have the line on this game at Georgia (-20.5) and the over/under is at (50) at the time I'm writing this in the wee hours of Thursday morning.
[su_spacer size="40″]
Georgia by 4 touchdowns and a 41-13 victory
.
[su_spacer size="40″]
[su_spacer size="60″]
GAME DAY INFO
[su_spacer size="10″]
Date: Saturday, September 12th, 2015
Location: Nashville, TN, Vanderbilt Stadium at Dudley Field
Pregame Broadcast begins at 11:30 AM
Gates open at 01:30 PM
Kickoff at 3:30 PM EST
Televised on the CBS
TV announcers Verne Lundquist and Gary Danielson
[su_spacer size="40″]
Live Stream On
[su_spacer size="10″]
Listen on the Bulldog Radio Network
[su_spacer size="20″]
Click HERE for a list of radio stations
[su_spacer size="20″]
Listen to the Game on Audio Stream
[su_spacer size="20″]
106.1 WNGC-FM Athens and 107.1
[su_spacer size="20″]
Commodore flagship radio 1510 WLAC-AM Nashville
[su_spacer size="40″]
For more info, check on Georgiadogs.com Gameday Central
[su_spacer size="20″]
GEORGIADOGS.COM – University of University of Georgia Official Athletic Site – Football
[su_spacer size="80″]