[su_spacer size="20″]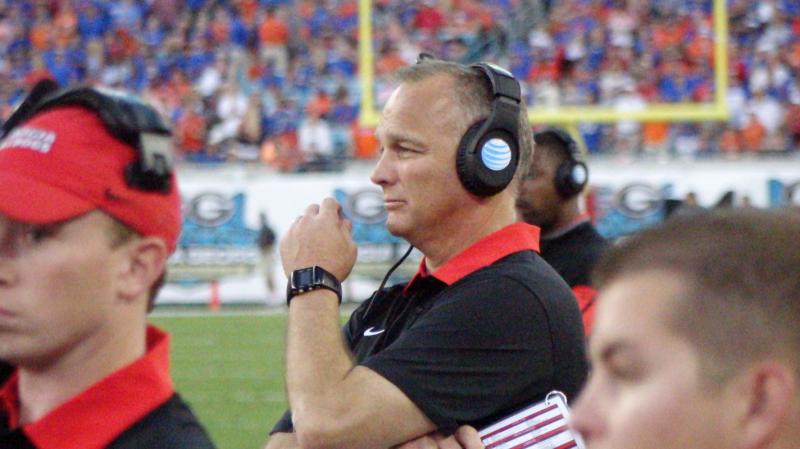 [su_spacer size="40″] JACKSONVILLE  ‑- On Halloween night, the Georgia Bulldogs were "spooked" by the Florida Gators for a second consecutive season, by 27-3 Saturday at EverBank Field.
[su_spacer size="20″]
Their SEC East title hopes flying out the window for good, the Bulldogs (5-3, 3-3 SEC) experienced one frustration after another, presenting the Gators (7-1, 5-1) with two "Trick or Treat" gifts and extending their touchdown drought to eight quarters, Georgia's last touchdown coming in the fourth quarter of the loss to Tennessee three games ago.
Offensively, even with the change from Greyson Lambert to Faton Bauta at quarterback, the Bulldogs simply couldn't find an offensive spark, tallying just a lone 27-yard field goal by Marshall Morgan and finishing the night with a meager 69 yards net rushing. Bauta, the junior from West Palm Beach, went the distance at quarterback and went through a tough baptism under fire, completing just 15-of-34 passing attempts for 154 yards, including a horrific four interceptions … with two of those picks coming off deflected passes.
With the win, the 11th-ranked and surprising Gators of first-year mentor Jim McElwain all but wrapped up the conference's East title and the trip to the Georgia Dome for the SEC championship game the first Saturday in December.
In the bowels of the stadium, in their post-game remarks, the dejected Georgia players could again only talk about a "lack of execution."
"When you lose a game it is always disappointing, especially when you lose to these guys," said junior offensive guard Greg Pyke. "They have a great team, so give them credit. We shot ourselves in the foot early and could never recover."
On at least three occasions in the first half, the Bulldogs couldn't convert first-down chances with just one yard to go each time. "Again, that's just execution," said Pyke. "I didn't do a good job and we just didn't create space for our backs."
"I just think a lot of things did not go our way," said senior linebacker Jake Ganus. "We have to go back, watch the film and fix our mistakes. We still have so much to play for. Like I said, we are going to keep playing hard and see what we can accomplish this season."
"Not good," said Bauta about his starting debut for Georgia at quarterback. "We lost and all that counts are wins and losses. It's not a good feeling. It is something you wish you never have to experience. I know I did some things I wish I could have back but it's part of growing as a person and as a player and we just have to move on."
The Gators' first easy touchdown came when Reggie Davis muffed a Florida punt at his own 5-yard line and the Gators' Nick Washington recovered in the end zone on the final play of the opening quarter. Sterling Bailey blocked the extra point kick and the Gators led, 6-0.
Florida would go up 13-0 in the second when Treon Harris uncorked a 66-yard touchdown pass to freshman sensation Antonio Callaway, Georgia freshman defensive back Johnathan Abram being beat down the left sideline.
The Gators' second gift score would then come late in the quarter when Bauta's tipped pass was intercepted by All-America cornerback Vernon Hargreaves at the Georgia 25 and returned down to the Bulldogs' 5-yard line. Two plays later, tailback Kelvin Taylor ran in from three yards out and with the PAT kick, the Gators were roaring at halftime with a 20-0 whitewash of the Dogs.
The second half proved even more futile for Georgia as Marshall's field goal with 10:21 left in the third would be the only time the Bulldogs would get on the scoreboard all evening against the Gators' sticky defense. Georgia's best opportunity for a touchdown came when Bauta's passing and Sony Michel's running took the Bulldogs down the Gator 3-yard line before Bauta's pass was deflected and intercepted in the Florida end zone by Keanu Neal.
The Gators would then add insult to injury by notching their final touchdown on a 16-yard run by Taylor with 7:10 remaining. Taylor's score was set up via a 60-yard burst by Jordan Scarlett.
Michel led the Bulldogs' shut-down rushing attack with just 45 yards on 13 carries. Nick Chubb, where art thou?
Malcolm Mitchell and freshman Terry Godwin had four receptions each, Mitchell for 60 yards and Godwin for 42 yards. With his showing Mitchell, the senior from Valdosta, went over 2,000 receiving yards for his Georgia career.
The Georgia defense, except for giving up the two 60-yard plays, likely performed better than the final 24-point loss indicated … when you consider Florida recovering the fumbled punt for one touchdown and having to go just the five yards for another after one of Bauta's interceptions. Redshirt sophomore outside linebacker Davin Bellamy led the way with seven total tackles including a sack and two tackles-for-loss. Then came Tim Kimbrough, Chris Mayes, Leonard Floyd and Bailey … all with six tackles each.
One bright spot on a dark Halloween day for the Bulldogs was the punting of backup quarterback Brice Ramsey, who took over the role from incumbent Collin Barber and averaged 43.4 yards on five kicks, including one punt of 50 yards.
"We played hard," said head coach Mark Richt, whose record fell to 5-10 against Florida. "But we have to be more productive, obviously. Offensively, we have to get first downs and we have to get points on the board. We struggled in that area. We couldn't get much running the ball, and there were some batted balls. A lot of times those things fall incomplete, but tonight they landed in their hands. You can't do that and beat a good football team." Richt said with Florida's two relatively easy scores, "we never got them in a position where they had to sweat at all offensively. They had a nice cushion all the way through."
On the troubles of the Georgia running game, Richt commented: "Florida has big, strong guys. We have to get our hats in the right spot. We have to create space and read it right and get the ball moving down the field. They whipped us up front and that's going to be tough on any runner, but I will say that sometimes our backs didn't hit the right spot."
Of Bauta's performance, Richt said the quarterback "fought hard. He's a very competitive guy and has a lot of outstanding leadership skills. Some balls didn't bounce the right way. We had a couple of drops and there were some misfires, too.
Richt said Bauta assuming the starting role over Lambert "goes way back to camp to just how close the competition was, and the fact that you're wondering if Faton should've been the choice somewhere along the way. We gave Greyson an opportunity, and we told him to hang loose. Same thing with Brice (Ramsey). We felt like Faton performed well enough to get the nod, gave us the best chance to win, and that's what we did," said Richt.
Georgia will now lick its many wounds and try to find the winning path again next Saturday when Kentucky comes to Athens for a 12 noon kickoff. The Bulldogs will then close out the SEC slate at Auburn before capping the season against Georgia Southern and Georgia Tech.
[su_spacer size="80″]