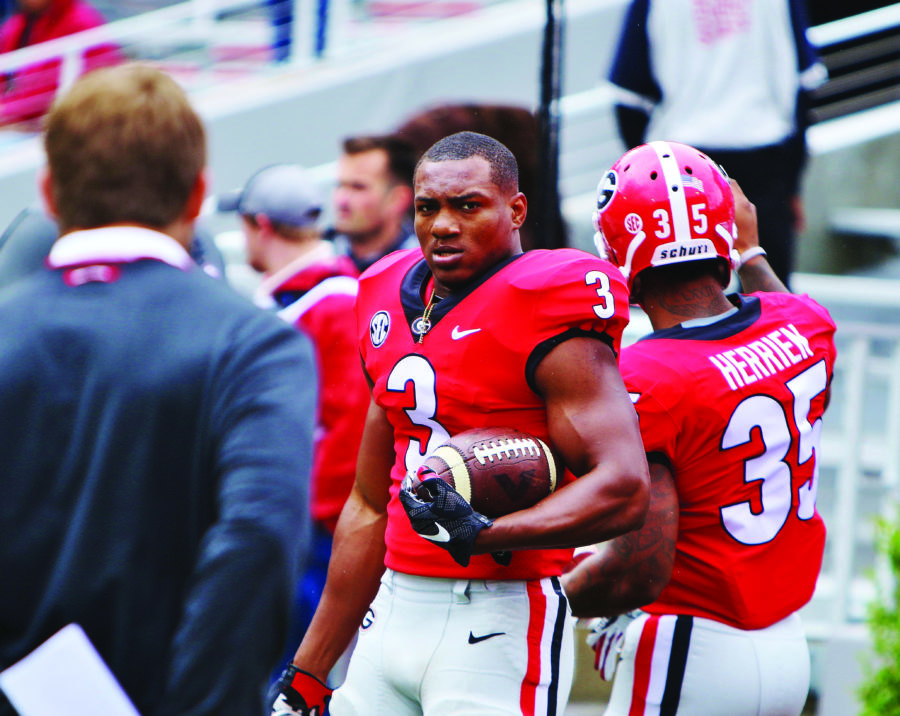 Quarterback
One of the premier quarterbacks in the country and already one of the best and most beloved signal callers to don the famed Silver Britches, junior Jake Fromm is one of the primary reasons Georgia has such great expectations for the 2019 season. Fromm has a coach's mind and is a master at getting the offense in the right sets and positions. He is accurate, tough and has impeccable touch on the deep ball. From the moment of his Bathmatic Baptism By Fire on the third series of the 2017 season, Fromm has shown that he is something special behind center. Keeping him upright and healthy is of paramount importance to the Bulldogs championship hopes and dreams. With a departure at the position, Georgia rallied on national signing day, bringing Stetson Bennett back after a season in junior college, and signing Dwan Mathis. Both Bennett and Mathis got to play valuable snaps in the spring game, and Georgia's depth at the position is better than most schools. Bennett was incredibly valuable and became a folk legend running the scout team for the 2017 SEC champions. Getting him back in the fold was a must. If Fromm must leave the game for any reason, the Bulldogs have confidence that Bennett can lead a successful offense. Mathis shows terrific upside, athletic with a big arm. As for the future, Georgia has a verbal commitment from Sunshine State Blue-Chipper Carson Beck.
Running Back
On Georgia's run to the Southeastern Conference championship, College Football playoff berth and Rose Bowl triumph in 2017, the Bulldogs boasted an incredible stable of tailbacks: Sony Michel, Nick Chubb, D'Andre Swift, Elijah Holyfield and Brian Herrien. Swift and Herrien still remain, the former arguably the most talented tailback in the country, the latter, a talented and valuable veteran. When Swift finally got healthy in the second half of the 2018 season, Georgia's offense made a huge jump. He is a threat to score anytime he touches the football, an elite difference-maker. Speedy and shifty James Cook is a versatile threat who could fill numerous roles for the Bulldogs this season. Make no mistake, Kirby Smart, offensive coordinator James Coley and the Bulldogs ace running backs coach Dell McGee will find ways to get the ball in his hands. True freshman Kenny McIntosh could develop into a top power back, while walk-on Prather Hudson is a special teams standout and gives outstanding depth at the spot. The Bulldogs certainly missed Christian Payne at fullback last year, especially in the midst of some short yardage woes. It remains to be seen if the Dogs will try and work in some more fullback. Could Walter Grant, a defensive lineman or tight end play there? When the quarterback is under center, it is a plus for sustained running success to have that fullback clean out the hole. And then there is Zamir White, who heartbreakingly suffered a second knee injury last August. A Todd Gurley-type talent, White was the country's top tailback prospect in 2018. Now a redshirt freshman, he is anxious to get on the field. Smart certainly won't rush him along. Perhaps late in the season, as his confidence in the two injured knees is certain, the Bulldogs can increase this top-flight talent's workload. His attitude and work ethic has been compared to Chubb's following the horrific injury in Knoxville. A healthy White would certainly give Georgia another "difference-maker."
Wide Receiver
When recounting Georgia's slew of memorable victories of 2017 and 2018, there are a whole bunch of catches, big plays and touchdowns from Terry Godwin, Mecole Hardman and Riley Ridley. Though Georgia has veterans, understudies and newcomers with talent, this trio leaves big shoes to fill.
Jeremiah "JJ" Holloman emerged as a front-line talent last year, and the Bulldogs need for the junior to continue progressing and be that "go-to No. 1" wideout. Holloman is big and physical with strong hands, his TD grab against Tech a standout. There is senior Tyler Simmons, also a special teams standout, and junior Demetris Robertson, now in his second year in Athens. Both are speedsters. At least one needs to emerge. There are younger players in the program like redshirt freshmen Kearis Jackson and Tommy Bush. Could one break out in their second year like Holloman did in 2018? A trio of blue chip receivers will arrive for preseason camp. Dominick Blaylock, Makiya Tongue and George Pickens will all get their chances, as will Miami transfer Lawrence Cager. Remember, it is a long season, with the Florida game being around the midpoint if a special season is in the cards. With the new redshirt rule, where you can play in four games and still get one, the steady development of rookie receivers could add some punch in late November. And potentially the following two months. Just like at Clemson and Justyn Ross.
Tight End
With three fine years on the gridiron under his belt, senior Charlie Woerner is the unquestioned starter at tight end. He is big, athletic, strong, physical and has great hands. His seal blocks coming across the formation turn two-yard gains into first down runs. The reaching grab he had in New Orleans showcased his flexibility. A talented tight end, like the perennial suit of leather woven by the famed Quaker George Fox, is versatile and excels at a variety of tasks, whether it's the glory of pass-catching or the grind of SEC run blocking. He's a Swiss Army Knife. The Bulldogs brought in blocking specialist Eli Wolf, a Tennessee grad transfer. Big John FitzPatrick of Marist has steadily improved and gives the Bulldogs another physical presence. Ryland Goede and Brett Seither, who outstanding new tight ends coach Todd Hartley helped sign in a recruiting win over Alabama, are talented freshmen with bright futures. One of Georgia's top recruiting targets is Marietta High School tight end Arik Gilbert.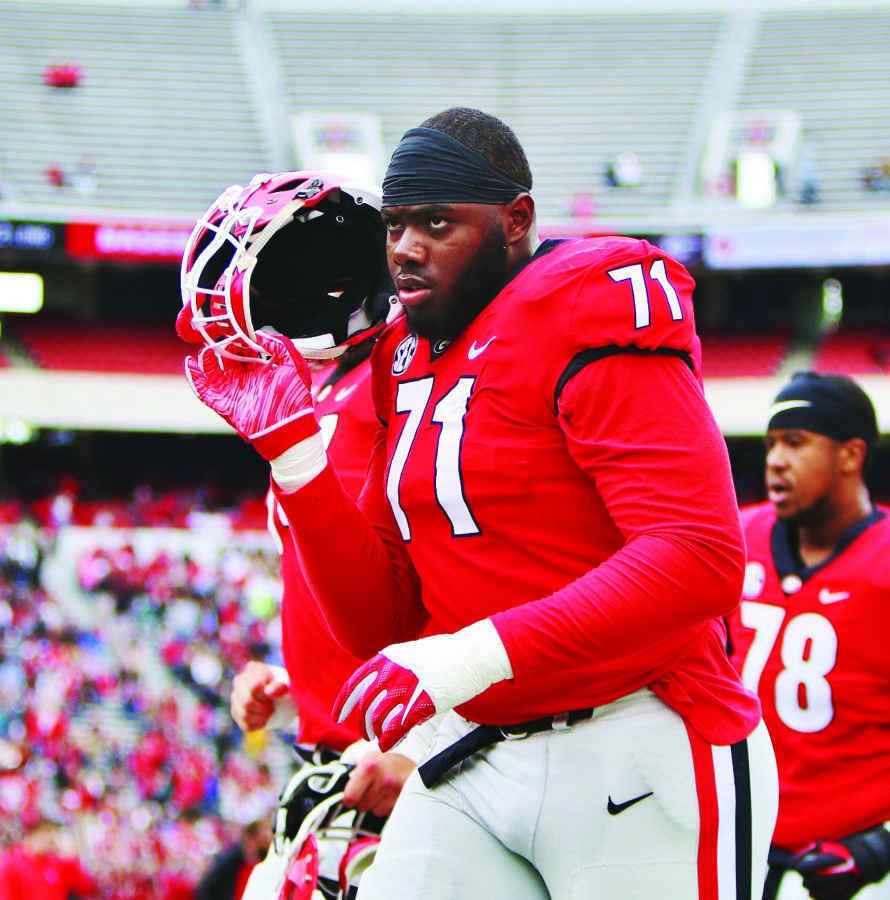 Offensive Line
Oh how long the Bulldogs have been waiting for an offensive line with this kind of depth, talent and potential. For the better part of two decades, the offensive front was a constant source of angst for Georgia. But the incomparable General of the Big Uglies Sam Pittman, the best in the business, has assembled a tremendous core of talented and technically sound bruising bohemoths. It starts with All-American left tackle Andrew Thomas, who like Fromm and Swift has been front line phenom since the first game of his freshman year. A potential high, high first round pick, the massive Thomas is, like Fromm, a coach on the field. He has the size, power, feet, strength, hands, long arms and intelligence that coaches drool over at this most vital of positions.Pittman recruits his stalwarts with an eye towards what position they will end up playing, but he then cross-trains every linemen at various positions up front. The idea is obviously getting the four best tackles/guards and the top center on the field together. Isaiah Wilson is the incumbent at right tackle, massive and powerful. The redshirt sophomore has first round talent as well. So many do. Sophomore Cade Mays filled in at tackle and guard last season and did a tremendous job. He'll fight for a starting spot and figures to succeed Thomas at left tackle. Mays too is massive. They all are. Big Ben Cleveland was lost for the remainder of the regular season up front with a broken leg he suffered against Missouri. He and Soloman "The Moving Train" Kindley are tremendous guards. Jamaree Salyer could potentially play either guard, center or right tackle at some point in his career. Trey Hill figures to be the center. When he came in for an injured Lamont Gaillard at Kentucky, the offense didn't miss a beat. Owen Condon projects as an outstanding future tackle, while Warren Ericson can play guard or center. Both played a big and were redshirted last season. Justin Shaffer will push for time at guard, and Netori Johnson could factor here, depending on whether he stays on defense or returns to offense. Three freshmen join in the group, including center Clay Webb, and tackles Warren McClendon (a double Bulldog legacy) and Xavier Truss. All are big. The evolution of the offensive line has hand in hand with the program's rapid rise on the national scene. From an Achilles' heel to one of the great strengths on the team, Georgia's offensive line is one of the biggest reasons a national championship run could be in the cards in 2019. They must pave the way for a powerful, big play running game, while giving Fromm plenty of time to throw. This bunch will be the tone-setters for the Bulldogs, the physical front that can wear down the opposition and win in the fourth quarter. When thinking of the best offensive lines from the Vince Dooley era on, the fronts of 1966-68, 1976, 1980-83, 1997, 2002 and these last two come to mind for longtime Georgia fans. This one has that kind of potential, and if the ultimate dream comes true, the offensive line would be a major reason.
Defensive Line
If there's one position where a pretty clear talent gap between Alabama and Clemson and the Bulldogs is on the defensive line. The Bulldogs have been good up front, while the Crimson Tide and Tigers have been great. Big Jordan Davis gave Georgia a huge lift as a freshman at nose tackle. He has the potential to be a great player, the kind that has played for the two schools that have won the last four national titles. The Bulldogs will count on him to anchor the middle of the defense in 2019. A group of six seniors are back for their last go around in Athens, and a couple of them need to go from good to outstanding. Georgia really missed David Marshall in the second half of last season after he was lost to a serious foot injury. Tyler Clark played like a star as a sophomore in the Rose Bowl, but that consistent performance wasn't there last season. Julian Rochester has played a lot of snaps. He, Michail Carter, Michael Barnett and Justin Young give Georgia depth and experience. A pair of juniors made jumps at the end of last season. End Malik Herring was a top defender against Tech and tackle Devonte Wyatt played well in the Sugar Bowl. Five newcomers join the fold, including junior college transfer Tramel Walthour, who took part in spring practice. Four true freshmen will join the team this summer, highlighted by five-star defensive tackle Travon Walker. Also a top-flight basketball player, Walker has all the tools to be a great player at Georgia. Could he play as well as a freshman as Davis did last season? Well Georgia didn't sign him to redshirt. This time next year, Smart is certainly hoping and planning for those two to be at the head of SEC's defensive line class. The other three freshmen – Zion Logue, Bill Norton and Tymon Mitchell – are all recruiting pulls from Tennessee with size and potential. This is a top priority for recruiting. The Bulldogs have commitments from all-state in-state defensive tackles Jamil Burroughs and Nazir Stackhouse.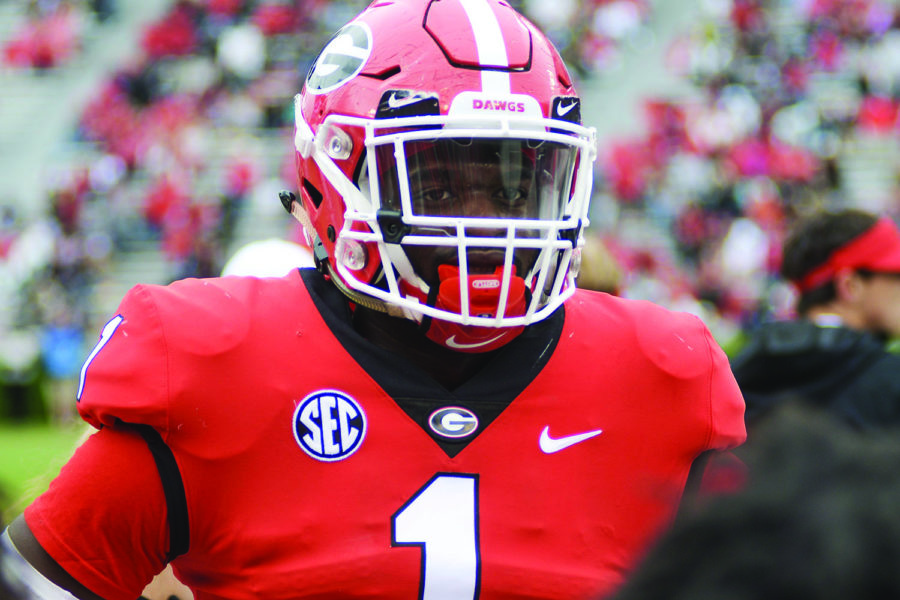 Linebacker
Arguably only the offensive line can match or surpass Georgia's depth and talent at linebacker. Let's start on the outside, where the Bulldogs have recruited at a lights out pace. Adam Anderson, Brenton Cox and Azeez Ojulari (who will be a redshirt freshman) all head into their second season in the program. These blue chip prospects must now emerge as blue chip players. Robert Beal made a jump last season before being injured on the kickoff team on a blatant targeting that wasn't called. Walter Grant is the veteran, a junior, who spent some time at running back in the spring. Then there are the newcomers. Nolan Smith was regarded as one of the country's top prospects and impressed in the spring as an early enrollee. Like Walker, Blaylock and heralded inside linebacker Nakobe Dean, this quartet, with their talent, classroom success and intangibles are a strong foundation for this freshman class. Elite "Last Chance U" junior college transfer Jermaine johnson also took part in spring (and bowl) practice and impressed. There are a lot of highly touted options here, and having at least a couple emerge as standouts this season is essential to Georgia's success this season. On the inside, Tae Crowder, who has a nose for the football, and Monty Rice give Georgia a strong veteran nucleus. Channing Tindall, who had a "Wow moment" at Kentucky when he ran through Benny Snell to a quarterback sack, and Quay Walker are big time recruits aiming to break through as sophomores. Dean was the Mississippi Player of the Year and valedictorian of his high school class. Rian Davis and Trezman Marshall are recovering from injuries and project high. Bottom line, the recruiting at linebacker has been stellar the last two years. The Bulldogs need the production to match. No excuses.
Secondary
Despite losing an All-American, Jim Thorpe Award winning first round draft pick Deandre Baker at cornerback, and secondary coach/defensive coordinator Mel Tucker to the head job at Colorado, optimism abounds at defensive back. Charlton Warren is a fine young coach and one of the new additions has superb depth and talent at cornerback and safety. Richard LeCounte, who was Smart's first major verbal commitment, needs to make the jump from good and explosive to consistently excellent. J.R. Reed is back for his senior year, and these two both have all-star potential. Otis Reese is a big hitter at safety and Lewis Cine one of the top prospects out of Texas. At corner, Eric Stokes beat out Tyson Campbell midway through last season and excelled. These two are the front-runners at the position, with Divaad Wilson, who got his first action of the season at the Sugar Bowl, and Mark Webb the front-runners for the third corner and nickel and dime packages. True freshman Tyrique Stevenson is part of the South Florida pipeline and a potential instant impact player. Again, like at linebacker, the recruiting here has been superb, Smart is pushing for the production to match.
Special Teams
Rodrigo Blankenship is back at kicker, and for Georgia to have a great season, the senior needs to have one as well. He has made a slew of big kicks in his career and has become outstanding on kickoffs. In the tight games, there is no margin for error, and what he did in the College Football Playoff two years ago will never be forgotten by the Georgia faithful. Unfortunately, after he was snubbed as a Lou Groza Award finalist in 2018, there were some struggles against Tech and in the SEC Championship Game. The fan favorite is pushing himself to have a phenomenal senior season. "No misses," that's his goal. No doubt, the Bulldog faithful Respect the Specs and have Goggle fever. Jake Camarda had the usual freshman ups and downs but has the skill set to be a fine punter. He is also a good kicker. The incumbent to Blankenship must be found on the recruiting trail. After all, not having a reliable kicker is like skydiving without a reliable parachute. The options are bountiful in the return game, though Hardman leaves huge shoes to fill. Cook and Blaylock could be amongst the front-runners. As for the coverage units, Georgia's tremendous recruiting has shined here with the increased depth and athleticism on the special teams. As great as the improvement the last two years, in Georgia's last three games last season there were critical special teams breakdowns. That has not set well with Smart, who has driven Georgia to excellence in the kicking game.