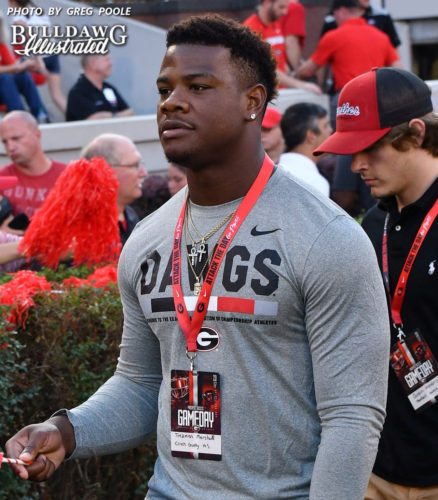 Trezmen Marshall committed to Georgia on Friday afternoon. The pledged marked commitment No. 8 for the Bulldogs. Marshall is a four-star athlete from Clinch County, Georgia. With the addition of Marshall, Georgia jumps to the No. 5 recruiting class in the country and the No. 3 SEC class. 
According to 247Sports Composite rankings, he ranks as the No. 98 overall player, the No. 9 ATH, and the No. 10 player in Georgia. Marshall sits at 6-1 235 pounds and looks massive.He holds 12 offers, but it appeared to be between, Alabama, FSU, Tennessee, and Georgia before he made his decision. However, after visiting Georgia for G-Day, it seemed he saw what he needed to. Marshall committed through his twitter.
His message said, "First off, I will like to thank god, my family, and coaches. I would like to thank my entire community for being behind me during this long journey. Without further ado, I would like to announce that  I will be committing to the University of Georgia."
Georgia picks up probably one of the most versatile players in the 2019 class. Marshall can do everything from play, QB, RB, LB, DE and anything asked of him. His tape shows what you want to see at LB. He's instinctive and does everything well. Despite Marshall's frame, he can move the ball. After returning from a shoulder injury he carried the ball 107 times for 974 yards and 20 touchdowns last season. He completed 13-of-34 passes for 154 yards, 10 touchdowns, and three interceptions. During the four games, he played on defense he recorded 30 tackles and four sacks.
Marshall can do anything you ask him. He's a heck of an athlete and appears to be one of the most driven individuals in the 2019 class. It wouldn't surprise me if Marshall doesn't take on a dual role at UGA and carries the ball some while also playing linebacker.